UTV Test: 2009 Honda Big Red; Making history again
Honda's long awaited UTV is here. It's called the Big Red. Honda used to have a 200cc, no rear suspension, balloon-tired, utility, three-wheeler back in 1982 with the same name. That three-wheeler sold for $1648 and made history by being one of the first ATCs with front suspension and the first to have a front and rear cargo rack.
Well, times have changed and the new $11,399 Big Red is a two-passenger, steering wheel vehicle with 675cc and fully independent front and rear suspension. Thoughts of a machine like this back when we were riding the original Big Red only happened in our dreams.
MORE HISTORY
In 2009 the Big Red makes history by being the first modern UTV to offer a three-speed automatic transmission. This hydraulic torque converter system is similar to what is found on many automobiles, including Hondas. There are three forward speeds and one reverse gear like on the Honda Rincon ATV. Unfortunately, unlike the Rincon, you cannot manually shift this machine. The pushbutton manual shift option is one of our favorite features on the Rincon.
What makes this engine totally unique is that the single camshaft is located half way up the cylinder instead of over the head or down in the bottom half of the engine. So, small rocker arms are then used to operate the valves. Honda claims the design lowers engine height and the machine's center of gravity. In reality an overhead cam wouldn't bring too much weight up high and would perform better. That's how their 450's are built.
Honda uses 675cc, in the Big Red, liquid-cooling and a 40mm electronic injection system pumping fuel into the cylinder to create fire. The engine has electric starting, a keyed ignition and an automatic choke.
BIG CHASSIS
Shying away from the norm, Honda installed the Big Red powerplant in a very big frame. The Big Red measures 64 inches wide, 76.9 inches tall and 114 inches long. Those measurements are larger than all other UTV's sold today. Good luck loading this puppy into the back of a pickup, or even in an enclosed trailer. Most other UTVs are in the 50 to 60-inch with range.
On the positive side, 10.3 inches of ground clearance is found and a rough road taming 75.7-inch wheelbase results from the larger chassis. Those measurements give the Big Red a healthy curb weight of 1431 pounds.
The cab frame or roll bar is built strong to protect occupants. Inside the cockpit, Honda gave both passengers plenty of elbow room. The two adjustable bucket seats are positioned well inside the cab so you won't feel vulnerable to hitting objects whizzing by. In the center there is enough space so the occupants don't rub shoulders or bang helmets on a jarring road. Further protection is provided by upper body nets and half doors that cover the rider's legs and feet.
In front of the riders, the Big Red's cockpit is well laid out and all of the controls are within an easy reach. Our base model unit did not have a closing glove box or digital instrument panel. Those are optional accessories. One 12-volt power supply, two cup holders and two other storage pockets are supplied. There is no under hood or under seat storage available except as an accessory.
To access the motor for service, you have to loosen six Phillips head screws and remove the center cowling. The airfilter can be service without tools by accessing it underneath the dump bed. And the oil can be check by removing the driver's seat base. No tools are required there either.
One complaint about the controls we had was that the shift lever is set up backwards, in our opinion. To put the machine in drive, you have to move the lever down or back. To put the transmission into reverse you have to push the lever up or forward. We wish it were opposite of that.
Automotive type 3-point seatbelts comfortably restrain the occupants and Honda took extra measures to keep the retractable components of the belts protected from dust and debris.
To the rear of the cabin, Honda supplied their UTV with a big cargo bed with dumping capabilities. The bed can be dumped via a lever on either side of the machine and the tailgate has two truck style latches to keep it closed. With that gate in the open position, the Big Red's bed can haul a full sized pallet loaded up to 500 pounds. Towing capacity from the standard two inch receiver hitch is rated at 1200 pounds.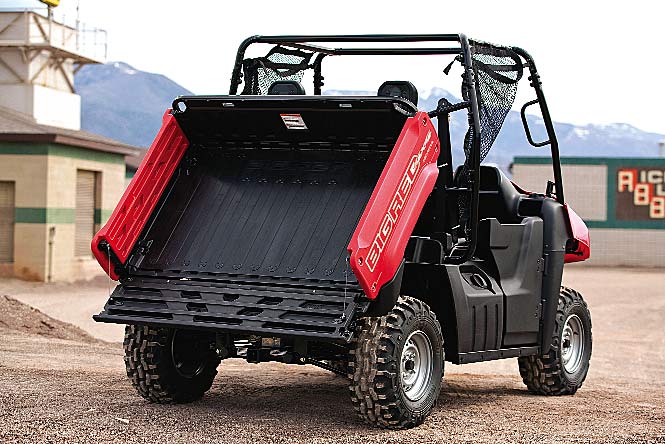 Like most UTV's, the Big Red comes with a dumping cargo box. This one holds 500-pounds and can fit a full sized pallet. On this model, the bedsides can be removed for oversized loads.
SUSPENSION & MORE
Below the cab and cargo area, Honda supplied a very plush yet capable suspension system. All four corners have a double A-arm setup with the front traveling 5.9 inches and the rear moving 7.1 inches. Although the shocks are only preload adjustable, Honda claims their new variable damping shocks will offer a very plush smooth ride while still providing good bottom-out protection.
Four-wheel disc brakes handle the stopping duties on the machine. Honda built the brake system in a way that in case of one line or caliper failure the other three lines will retain hydraulic pressure and continue working. Engine braking is also supplied with help from the Big Red's three-speed transmission.
Braking and forward traction is provided by 25×10-12 tires on all four corners. This setup is unique because all four tires are the same size. On most ATV/UTV's the rear tires are wider than the front tires. And on some UTV's the taller 26-inch tires are becoming more popular.
Honda's four 25X10 tires are a plus for those times you want to take along a spare for longer trips. One size fits all! However, when we go for long trips in other UTV's we only take one spare anyway. A front tire and wheel will work fine for a front or rear flat in a pinch.
Speaking of longer rides, 7.9 gallons should get you anywhere you want to go for a day trip, and spare gas can be stowed in the bed for even longer expeditions. Most UTVs have fuel tanks between 7-8-gallons and we usually expect to get around 100-miles per fill up. We got the same results with the Big Red. The best mileage we have ever gotten was from the 700cc Artic Cat Prowler at 130 miles. Miles driven at a much less aggressive pace would decrease fuel consumption dramatically. But you would have to get those numbers from Readers Digest or the AARP magazine.
TEST DRIVE
We took the Big Red out on our usual UTV test loop. This course has a good mix of rough rocky terrain, mud, sand, steep hills, fast roads and twisty trails. After burning a couple of tanks of fuel at this place, any ATV/UTV is put to the ultimate test.
The Big Red starts instantly thanks to the keyed ignition and the Electronic Fuel Injection system.
The engine is relatively quiet and we didn't feel any vibrations or rattling of bodywork. The doors and entry to the vehicle are very convenient. However, a suicide door might have been a cool touch to this machine.
There is tons of room in the cockpit for two large passengers. Even if the driver is not large you can still adjust the seat back to accommodate. Tools are required here, however.
Acceleration is not as exciting as we are used to with most big-bore UTV's. It's more on par with or a little better than the 450s and 500s we have driven.
On flat roads, Honda's three-speed automatic transmission does a good job going through the gears without hesitation or lurching. Downshifting is just as smooth under normal situations. Along with the use of the brakes, the engine braking does a decent job helping the machine crawl down the steepest hills at no more than twenty miles per hour.
Climbing up hills was just as easy; the Big Red had just enough torque to claw up the steepest trails at our test area. However, this is the first time we wish the transmission had a manual shift option. Although the transmission downshifted on its own, we wish we had more control in the very technical situations like hill climbing.
AGGRESSIVE DRIVING
Back on the twisty trails, we were reminded of how light the steering effort is on this machine. Whether at slow or high speeds, the Big Red's large wheel is no challenge to spin. Speaking of spinning, the turning radius is very tight even for such a wide vehicle. And if you wanted to be a little aggressive, you could spin a doughnut if the terrain was slippery enough. The wide machine gives no hint of tipping on flat or off-camber turns.
On the bumpy trails, the Big Red's suspension performed great if you drove at about seventy five percent. The shocks provide a very supple ride at slow speeds but it's not hard to find their limits. Jumping is definitely not the Big Red's strong point. Even little water bars and drop offs test the suspension's abilities. The rear shocks bottom-out before the fronts do. The bottom out protection is not as good as on Honda's other ATV's.
Being driven aggressively is not what Honda intended this machine to do. If you are on and off of the throttle, the transmission jumps from gear to gear and doesn't keep up with driver input. Our test driver also noted that the floor became slippery when sliding around corners. A small stop or hump in the center of the floorboard would take care of the complaint here.
On the positive side, the steering and brake systems could keep up with any driving situations. And even after some abusive driving, the machine didn't seem worse for wear. All of the fasteners and body-work pieces stayed completely intact.
CONCLUSIONS
Honda's 2009 Big Red UTV is a great machine. For trail riding, it's wide, stable, powerful and fun. However, if it is driven aggressively, its limits will be apparent. And getting it to the trails can be a hassle unless you have at least a medium-sized flatbed trailer.
For work chores around the farm, house or job site, the Big Red is about as good as they get. The cargo bed dumps, has low, strong tie down hooks, and the bed sides can be removed or replaced if needed. With the sides removed the bed doesn't turn into a flat bed because the corner posts that the tailgate latches to are in the way. But with the sides removed you could haul larger items if needed.
Construction quality and durability have proven on a few long rides that the Big Red will help Honda's reliability reputation. The lack of a rubber drive belt, a wide strong chassis and having an engine that is hard to modify will keep breakdowns to a minimum.
If you're looking at the Honda Big Red as an alternative to the other UTVs offered today; as a pure sport machine, it may not keep up. As a utility workhorse, it is one of the best. If your trails are wide, you're not into jumping, you don't have a heavy throttle foot and need a UTV for part time chore duties, we would recommend taking a close look at the Honda Big Red.

2009 HONDA BIG RED