UTV TEST: 2017 HISUN SECTOR 1000 CREW
— Lots of room, convenience and power —
The last full-size Hisun UTV Dirt Wheels tested was a Sector 750 regular cab model. Like this Sector 1000 Crew, the 750 featured impressive levels of standard equipment and convenience. With the 1000 being a higher-spec model, the standard equipment list is actually up a few rungs from that nicely equipped 750cc, single-powered model. All of the larger Sector models feature doors—four in this case—and each with chrome door handles. A full roof is standard, as are side mirrors, turn signals, a horn, a winch, tow hooks, a hitch, bumpers, adjustable gas-charged shocks and electric power steering.
The 1000 Crew is upgraded from that standard option list. The 3500-pound-capacity winch of the 750 is a 4500-pound capacity winch for the 1000. And where the 750 has a manual dump bed, the 1000 has a standard electric dump bed. We aren't sure if the electric feature or the greater weight of the Crew model mandated the reduction, but where the 750 bed may carry up to 500 pounds of cargo, the 1000 Crew is limited to 350 pounds.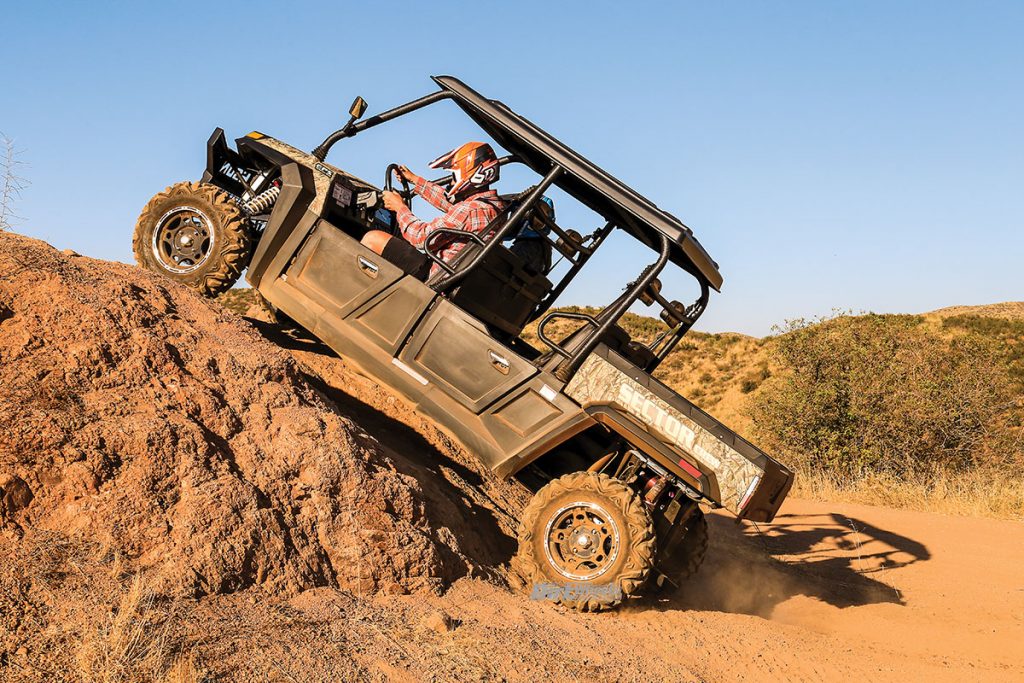 ENGINE BAY
Under the dump bed is located a liquid-cooled V-twin with electronic fuel injection. Power from the potent engine is routed to the wheels via a CVT. In this case, it is a CVTech Trailbloc IBC clutch system that is super responsive. Power gets to the wheels via shaft drive. Both front and rear differentials may be locked or unlocked. We applaud that option. We love a locking front differential for serious work and four-wheeling, but work also demands that you be able to unlock the diffs so the machine is gentle with turf surfaces and doesn't leave excessive tread marks on your driveway.
Oddly enough, the 1000 has a slightly smaller fuel tank at 7.3 gallons than the thriftier 750cc single. We didn't notice that the range was insufficient, but if you are running a 1000cc engine hard, you may want to keep extra fuel on hand.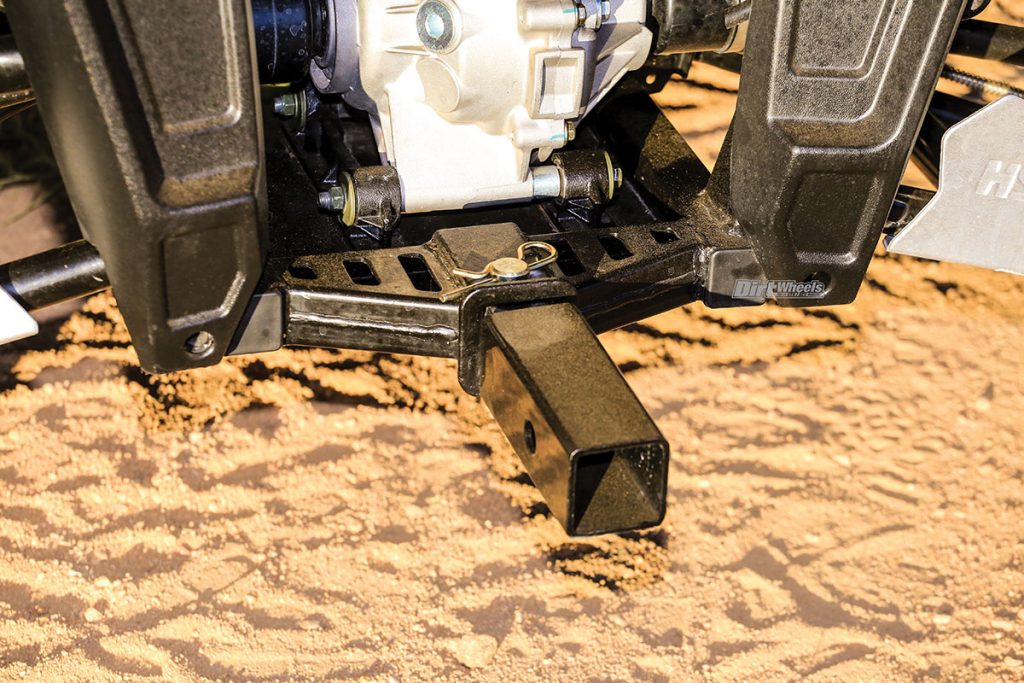 The Sector's CVT doesn't have park mode. Reverse, neutral, high and low are your shift options. When you park the car, there is a foot-operated parking brake high on the left side of the machine just under the dash. The parking brake holds the machine extremely well. The problem for us is that when stepping on the rear brake pedal, it releases the parking brake. We would park on a steep hill while working and hold the machine in place with the foot brake while setting the parking brake with your left foot. It is hard to trust the parking brake and release the foot brake, but you must or the parking brake will not set.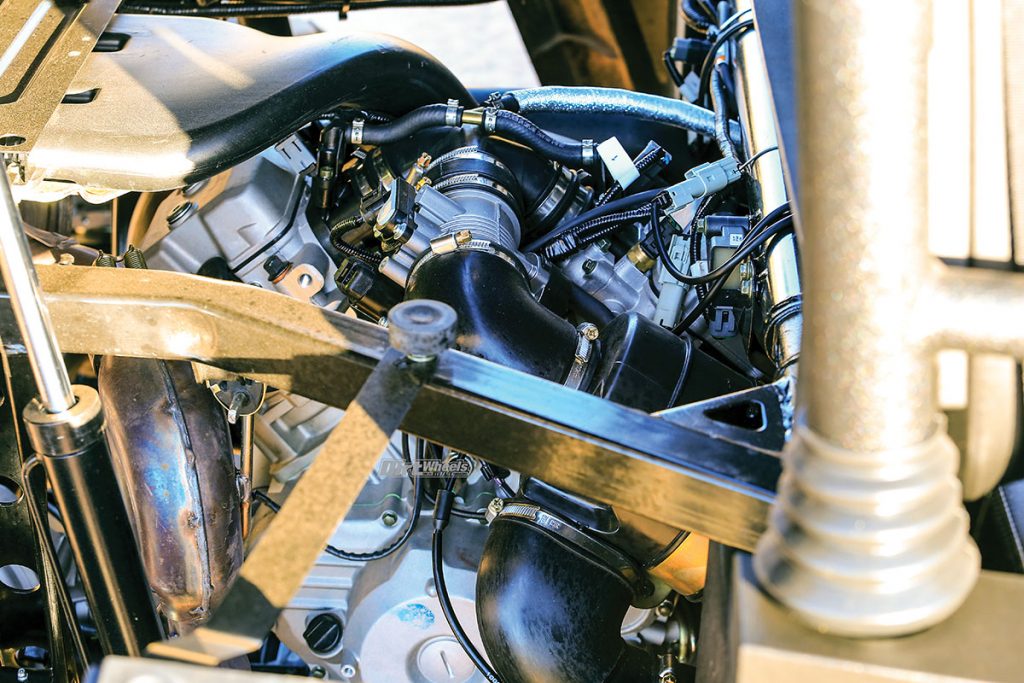 SPEED CONTROL
Engine braking is enthusiastic, but if you rely only on engine braking long enough, it releases somewhat and rolls faster, then you must compensate with the brakes. We actually like this type of engine braking. We usually shift to high for descents to make the engine braking a little less abrupt. Fortunately, the brakes are more than up to the job and, in fact, require a little care with the machine empty. That makes sense in a machine designed to tow and carry cargo and humans.
We felt that the 750 wasn't too different in terms of speed in both high and low range. That certainly isn't the case with the 1000. Even though this Crew model is a heavier machine, it has ample power and acceleration in every situation. Low range is nicely responsive, and we found only one case where we had to lock the front differential to get up a rock ledge. Acceleration and response from a stop are very snappy, and we found that riding the brake a little helped to smooth the response. Our test area has no smooth roads of any length. All are rough, rocky, twisty or lined with cliffs, or otherwise not conducive to top-speed testing. At 50 mph it was still accelerating with gusto.
STYLE POINTS
The fit and finish of the machine are nice, with durable graphics, glossy plastic and even metal kick plates on the door seals. The dash is clean, but it does have a significant array of switches to engage the lights, high and low beams, hazard lights, turn signals, bed dump, 2WD and 4WD, front and rear diff-lock and winch controls.
The seats aren't deeply padded, but are comfortable and supportive. They are wide enough for three, but only have seat belts and headrests for two.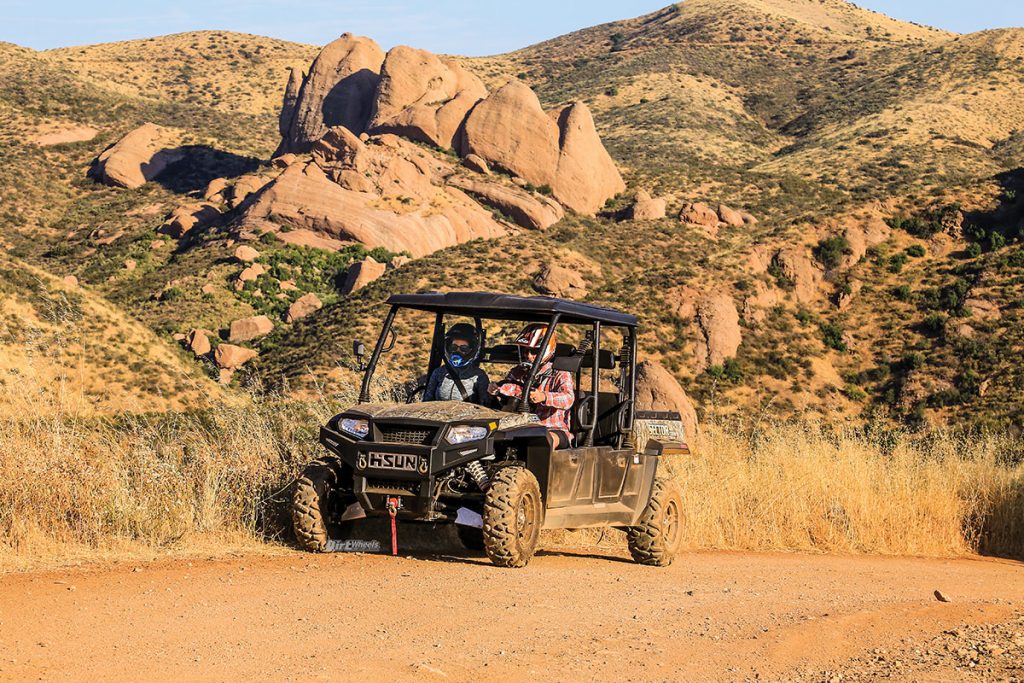 TRAILS AND WORK
Despite being a heavier vehicle, the engine performance is substantial. It is a powerhouse that runs well, climbs hard and gets work done without drama. There is some engine noise in the cab, but no odd intake moan or harmonics. It is far from the loudest mechanical level we have heard inside a UTV.
Overall suspension travel of 10.75 inches in the front and 9.25 inches in the rear is on the short side for a sport UTV but fairly normal for a utility model. While the shocks are not a name brand with an aftermarket presence, they are infinitely preload adjustable, have damping adjustments that work and feature reservoirs on the shocks, and that is unusual in this category. Suspension action is fine at utility-appropriate speeds, and the long wheelbase aids in keeping the ride effective. Start slamming rocks and stutters at speed and you will find the machine protesting.
We hit some extremely steep and rough trails with rock stair-step-type areas, and we never had a hint that the Sector wouldn't handle it. We'd have liked doors a little taller for our more aggressive trail use. All four doors have a cup holder mounted low, and you have to watch catching your feet on those as you enter and exit the machine.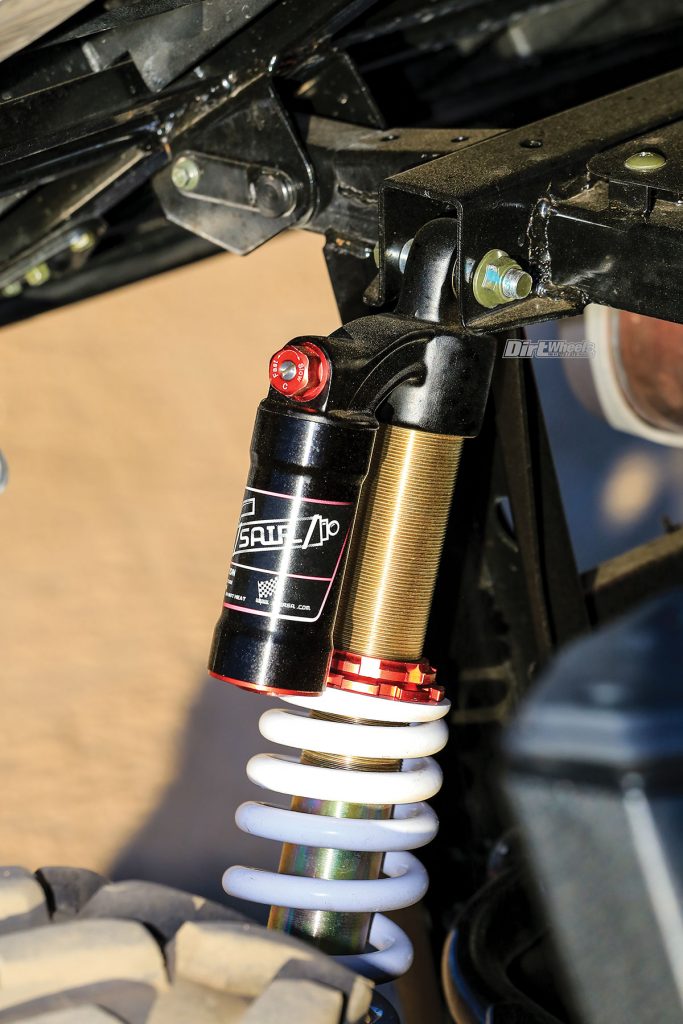 Like most utility UTVs, the Sector is happiest on trails and roads. It was most effective during slow, technical driving. For any crew model with a long wheelbase, at times there are ground-clearance issues, but more often the long machine stretches between obstacles, so for a 60-inch machine, it is very calm and stable-feeling. Hisun has done a good job keeping the weight low, so it feels planted on cambers if you stay within reason.
We helped set up a mountain bike course at a local park. We were impressed with the ease of loading and unloading the Sector. We used the back-seat area to do some hauling as well. When moving tents and pop-up canopies around on the grass, we unlocked both diffs to save the turf.
CONCLUSION
For work, the Hisun Sector 1000 offers a 350-pound capacity in the bed and a modest but acceptable towing capacity of 1200 pounds; it can get the job—whatever the job—done in style. It is certainly capable and fun on trails, but it prefers lower speeds.
For those who live in states that allow UTVs to be registered for light and rural street use, the lights, horn and signals are another bonus on a machine that is already nicely equipped. We truly enjoyed the roof, doors, mirrors and the idea that we had a beefy winch handy. The EPS is a bonus on a machine this size. We like the one-year warranty as well. The Hisun comes with roughly $2000 to $3000 in accessories that most machines in this class consider options. Those options can make a day of fun or a day of work, especially the winch, much better, and there is clearly value to go with performance in the Hisun.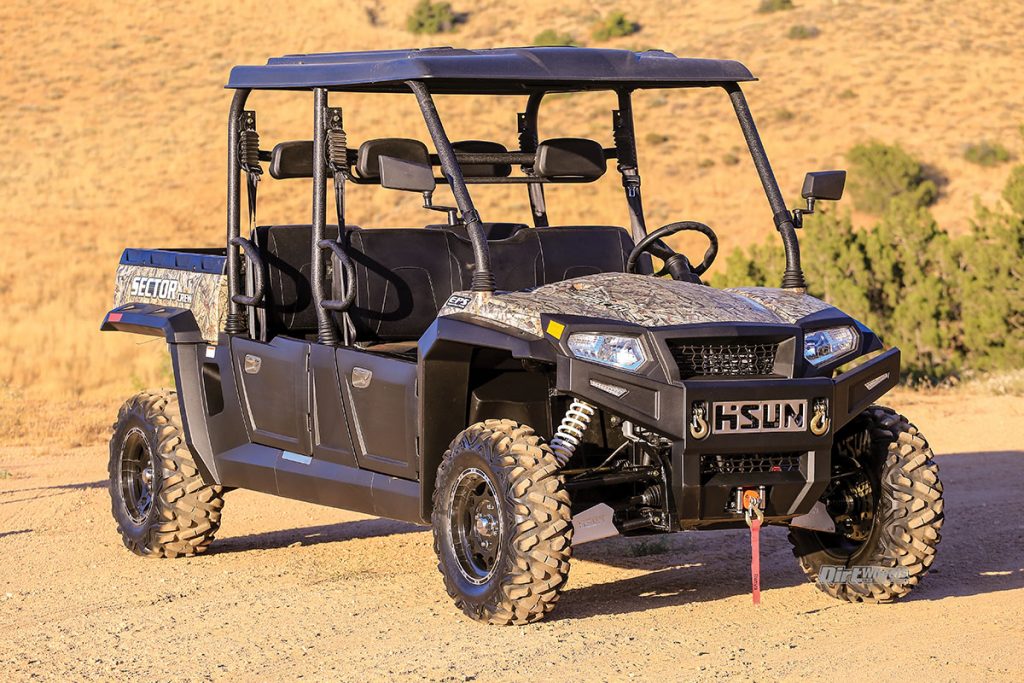 HISUN SECTOR 1000 CREW
Engine 976cc 4-stroke OHV V-Twin
Bore x stroke 91mm x 75mm
Fuel system Delphi electronic fuel injection
Fuel capacity 7.3 gallons
Starting system Electric
Final drive Shaft
Suspension/wheel travel:
Front Independent double wishbone/10.75″
Rear Independent double wishbone/9.25″
Tires:
Front 27×9-14 radial
Rear 27×11-14 radial
Brakes:
Front Dual hydraulic disc
Rear Dual hydraulic disc
Wheelbase 117 in
Ground clearance 13.0 in
Cargo capacity 350 lb.
Towing capacity 1200 lb.
Curb weight 1881 lb.
Color White, black, red, Vista Camo
MSRP $15,999; $16,299 in Camo