2018 KAWASAKI MULE PRO-FXR
— UTV TEST —
  By the staff of Dirt Wheels
— The Kawasaki Mule line has been around for 30 years, and for much of that time these were bare-bones utility machines that were all about work. Then Kawasaki introduced the Mule Pro lineup. Kawasaki fully intended for the Mule Pro line to be better-appointed utility machines but still basically worker bees. It wasn't long before market research showed that Mule Pro machinery was spending a lot more time on the trail than Kawasaki expected. The new-for-2018 Mule Pro-FXR is an all-out push to encourage Mule trail miles without watering down the work and utility capabilities.
PLENTY OF POWER
Kawasaki chose an 812cc, liquid-cooled, four-stroke three-cylinder engine that is digitally fuel-injected to power the Pro-FXR. Wisely, Kawasaki doesn't claim horsepower numbers but does call out torque ratings, and, in this case, the numbers tell a story. The Kawasaki Teryx's 783cc V-twin is a responsive and effective motor, and it generates 47 foot-pounds of torque at 5500 rpm. The Mule's 812cc triple makes 48 foot-pounds of torque at 3500 rpm! We have grown accustomed to three-cylinder engines from Can-Am and Yamaha making all their power at high rpm, but this triple makes awesome bottom power.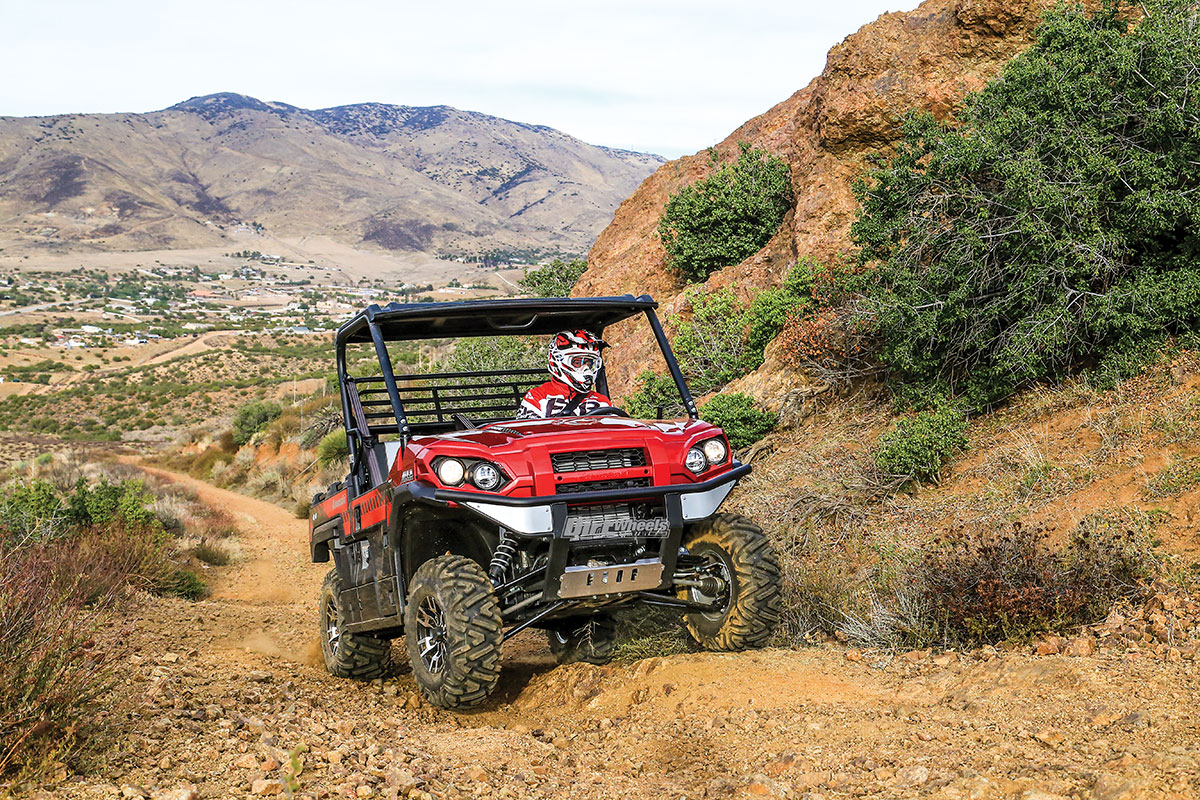 Combining this motor's low-rpm torque feeling with a CV transmission makes for a smooth and pleasant engine character. We like the fact that the Pro-FXR employs a convenient dash-mounted gear shifter with high, low, neutral and reverse to choose from. There is no park in the transmission, but there is a parking brake lever that you should always utilize when parking the UTV.
Selecting the Mule Pro-FXR for serious work remains one of the best reasons to own one. It can carry 1000 pounds (600 in California) in the bed and tow up to 2000 pounds with the built-in receiver. The cargo bed has a steel floor, and the inward-facing sides of the bed are molded with closely spaced grooves that allow a variety of cargo dividers to be employed. Kawasaki also offers a sleek and handy bed extender as well.
On some tailgates the latches have to be finessed closed, but the Mule gate latches are captive. Release them and the gate opens. Close the gate and the latches are aligned. Just slap them shut and you are good to go.
THE COCKPIT
Abundant comfort awaits in the Mule Pro-FXR passenger compartment. We are torn on the seating. Bucket seats would feel more secure on the trail, but the contoured bench seat is nicely padded and comfortable. It will seat three people, and it has retractable shoulder belts for all three seats rather than a simple lap belt like most use for the middle seat. Entry and exit from the cab is easy, though the only door latches are on the outside of the door. Our machine's doors closed easily but didn't work reliably when slammed. Shifting is light with a minimum of crunchy noises. If you forget to release the brake, the Mule's performance is muted, so you can't drive off that way. Drivers over 6 feet tall have plenty of room in the cab, the steering is light and accurate, and the wheel is comfortable with a thick rim and a sewed cover. Naturally, the wheel is adjustable, and there is a glove box and an open cubby designed into the dash. Switches on the dash let you select two- or four-wheel drive. You can also unlock the rear diff for driving on turf or concrete. The back of the cab isn't really open. It has a built-in steel headache rack to prevent cargo from shifting forward into the cab.
SUSPENSION & STEERING
We compared the specs of the Mule Pro-FXR to the Teryx LE, since both are priced at $14,999. For that price the Teryx includes coil-over reservoir Fox Podium shocks that are spring preload and compression adjustable. The Mule has basic twin-tube shocks with nothing but multi-position preload adjustability, but it actually has marginally more travel than the Teryx, though the Teryx has an edge in ground clearance.
It is obvious that Kawasaki spent plenty of time refining the suspension settings. At the speeds the Mule will likely see on the trail, the suspension is very able, and it protects the occupants from most trail chop and rock and root impacts. The suspension numbers obviously aren't up to par with pure sport machines, but that simply isn't what this UTV is designed for. If you ride in tight or wooded terrain, you won't need more than what the Mule Pro-FXR offers.
The steering on the machine is smooth and easy to operate thanks to an electronic power steering system. You don't feel too much feedback through the wheel, and thanks in part to a short wheelbase, the turning radius is a super-impressive 14 feet! That is almost 3 feet less than the Teryx requires. This is one nimble machine. One of our favorite trail sections has a steep-decreasing radius drop down onto another trail. On some sport machines we have to turn the simple left turn into a figure eight or a three-point turn. The Mule turns super tight and makes the turn with no drama at all.
Kawasaki mounts Duro Power Grip II tires on the Pro-FXR's 12-inch cast-aluminum wheels. The 27-inch-tall Duro tire is large for a 12-inch wheel, but that does allow a tall sidewall for traction and a smoother ride. The tire handles most types of terrain and wears well.
RIDE IT OUT
We used our Mule Pro-FXR for some work and used it to pull an 8-foot ATV trailer. Mostly, though, we enjoyed some trails with it. These are trails we routinely navigate with sport UTVs. They have serious up- and downhills, and frequently there are ruts that must be straddled to get through safely. When you start the Mule, the three-cylinder engine has a pleasant, almost automotive rumble, though the engine is quiet when parked, and the sound level in the cab while driving is quite low.
That compact turning radius makes the Mule exceptionally nimble on tight trails, but it never feels nervous or darts around. Low range runs out of steam around 25 mph. It accelerates well in high range, but it takes a little room to push the speed over 30 mph. It is obvious that this is not a speed demon, but we found driving it pleasant.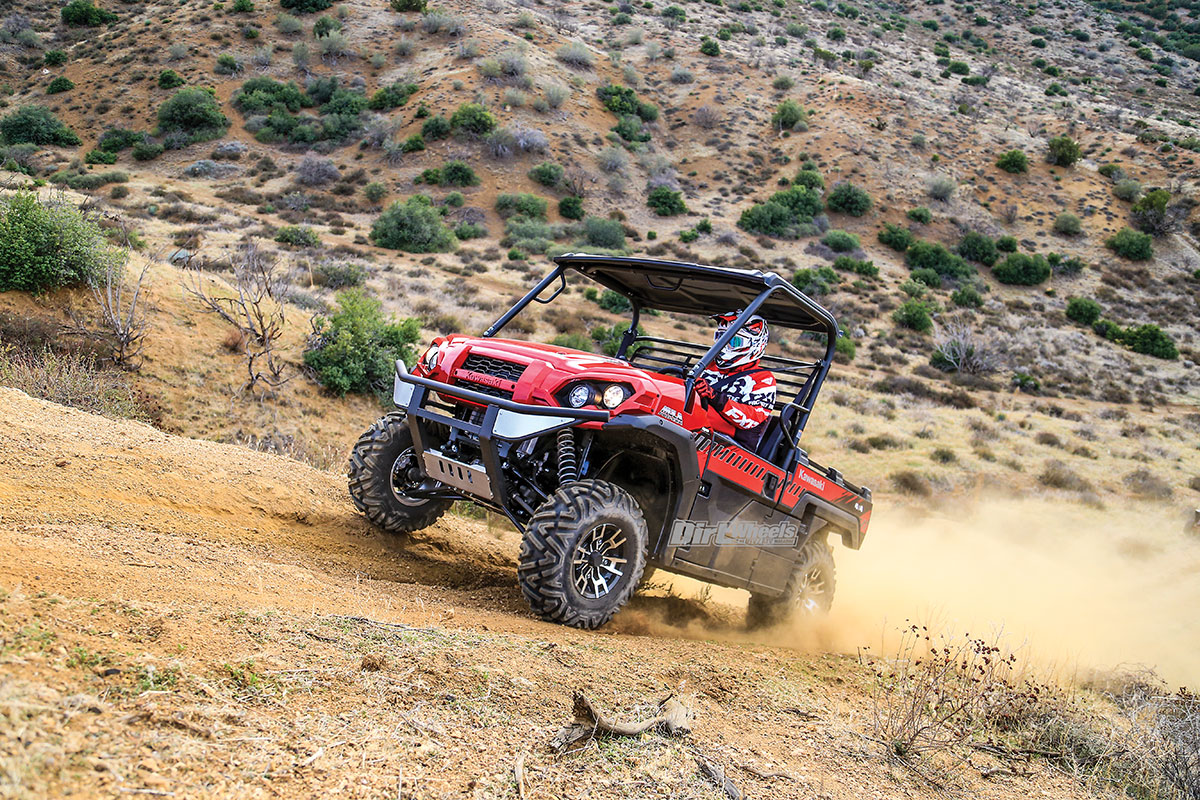 Short, steep climbs like rock ledges let that short wheelbase feeling return. We backed off from some ledges that we would have tackled with a longer wheelbase. Kawasaki did give the Mule engine braking, but if you coast long enough, the CVT releases and the Pro-FXR basically free-wheels. It wasn't a problem. We simply employed the powerful four-wheel disc brakes.
Any time we were working with the Mule, the entire character of the machine seemed amplified. The power delivery and quantity are perfect and smooth. We couldn't even feel the trailer behind, and we believe that hunting or camping with a loaded Mule Pro-FXR would be great. We also like the tough, truck-like look of the new machine.
ANYTHING ELSE?
We were frankly surprised at how effective the Mule was as a trail mount. Our Candy Persimmon Red unit looks fantastic in person. When we washed it, it was apparent that Kawasaki considered that owners might need to clean the machine. It is easy to wash and get looking great again. This may not be a speed weapon, but it is a great utility machine that is comfortable, happy and willing to support your sporting side. This machine comes well equipped, but Kawasaki also has a wide range of parts to personalize it. Go to www.kawasaki.com to check out their full lineup of UTVs and ATVs.
KAWASAKI MULE PRO-FXR
Engine Liquid-cooled, DOHC four-stroke, 3-cylinder
Displacement 812cc
Bore and stroke 72.0 x 62.5mm
Fuel system DFI (digital fuel injection)
Fuel capacity 7.9 gal
Starting system Electric
Final drive Shaft
Suspension/wheel travel:
Front Double wishbone/8.7"
Rear Double wishbone/8.5"
Tires:
Front Duro Radial Power Grip II 27×9-12
Rear Duro Radial Power Grip II 27×11-12
Brakes:
Front & Rear Disc
Wheelbase 79.7"
Length/width/height 121.5"/64.0"/77.2"
Ground clearance 10.8"
Curb weight 1,768 lb.
Colors Atomic Silver, Candy Persimmon Red
MSRP $14,999