2018 POLARIS RZR XP 4 1000 RIDE COMMAND EDITION
— UTV TEST: Four-seat fun with technology —
By the staff of Dirt Wheels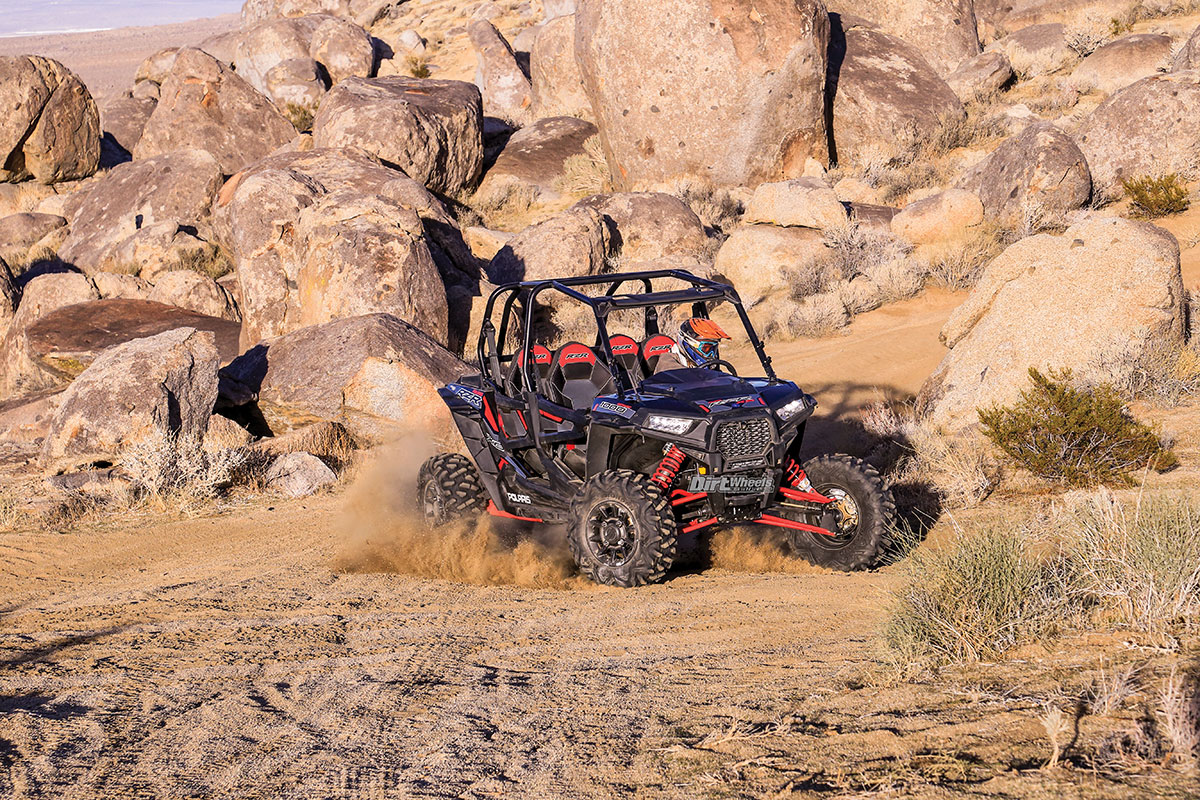 Powersports king Polaris builds one of the best family-fun machines available. Droves of RZR XP 4 1000s rove the deserts and dunes of the western states. Some are filled with passengers enjoying a smooth and fun ride. Others have a single occupant enjoying the smooth, long-wheelbase four-seater's handling and ride. Polaris has a variety of popular four-seaters, including models with three levels of suspension specification, turbo-inducted models and now the 2018 Ride Command Edition. The Ride Command is packed with electronic goodies, such as a 7-inch touchscreen display and a sound system. The two-seat Ride Command was first introduced in 2017, and now you get all the same tech with four seats for $21,999.
TECHNOLOGY
The extras that come with this model make a lengthy list. The 7-inch touchscreen display on the RC is operable while wearing gloves. The display features Polaris' GPS system that can record rides. You can share these rides with others through the Ride Command mobile app, as well as utilize the group-ride feature that allows you to see other Ride Command-equipped machines as icons on the display. An in-vehicle communications system is also available, so you and your passengers can chat during the ride.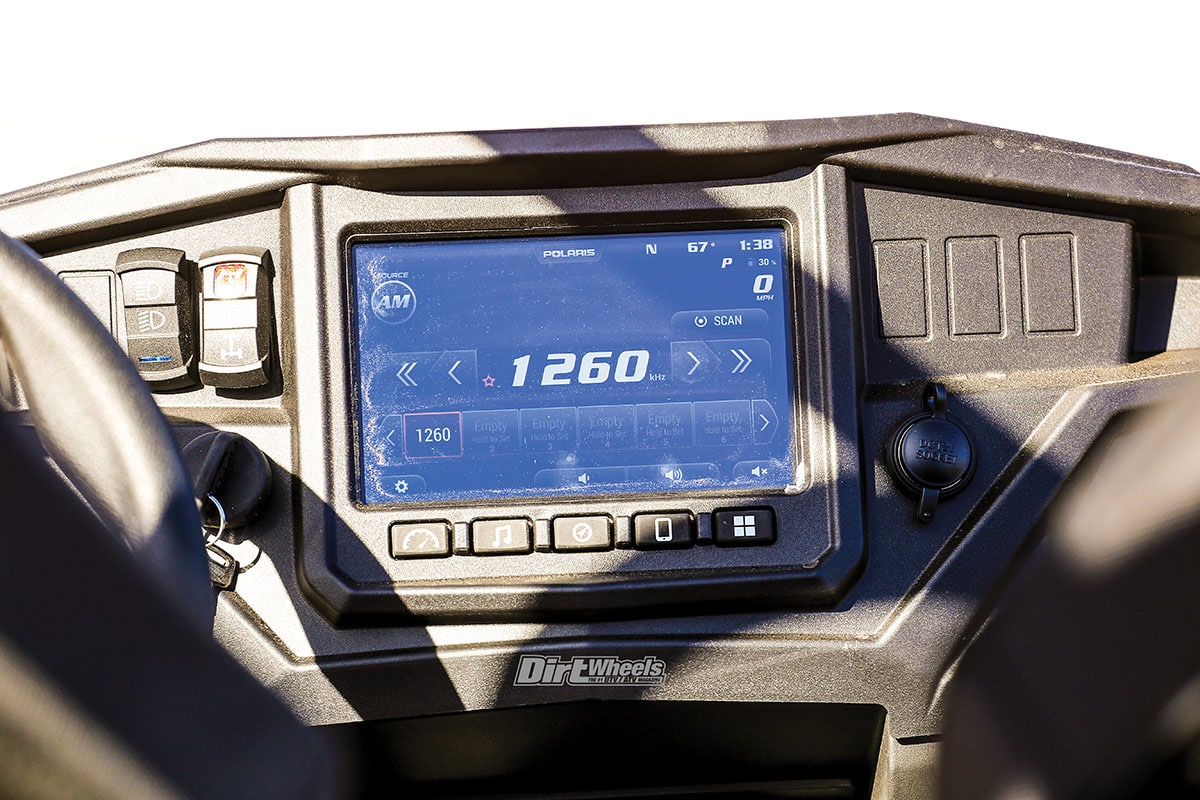 There are four speakers on this model, one on each door that are controlled through the Ride Command system. It has an AM/FM and weather radio, along with Bluetooth and USB smartphone connectivity. You can play your tunes from your phone or iPod while you shred some sweet trails, or play over-the-air radio stations when they are available.
There are front and rear cameras incorporated in the Ride Command system, so you can back up easier or watch for other machines behind you. The front camera can only be utilized under 10–15 mph as a safety precaution. Polaris paired with GoPro to allow you to control multiple sport cameras with the RC system, but the cameras aren't included.
Finally, you still get all of the general gauges, meters and indicators that come on most of their machines. A speedometer, odometer, hour meter, trip meter, tachometer, service indicator, gear indicator, fuel gauge and more are included in the package, and they are all easily accessible through the display.
POWER TIME
The engine and drivetrain of the Polaris RZR XP 4 1000 Ride Command Edition is exactly the same as the base XP 4 model. The EFI ProStar engine pumps 110 horsepower out of a DOHC, four-stroke, 999cc parallel twin-cylinder engine. A 9.5-gallon fuel tank feeds the torquey motor.
The ProStar is paired to a fully automatic CVT that utilizes a belt-type clutching system. You have the option of high and low forward gears, along with neutral, reverse and park. The options are selected via a non-gated shifting lever.
The RZR utilizes Polaris' On-Demand all-wheel-drive system. You select two-wheel drive with a switch in the dash. The front differential doesn't have a fully locking feature; instead, it will start turning the front wheels once the computer senses the rears slipping.
SUSPENDED
The Polaris RZR doesn't have the most suspension travel in the class or the most advanced system design, but it works. The front suspension utilizes dual A-arms with 16 inches of travel, and the independent rear uses trailing arms with 18 inches of wheel travel. Preload-adjustable Walker Evans Racing needle shocks with piggyback reservoirs and 16-position compression adjustment come standard. The fronts are 2.0 inches, while the rears are 2.5-inch bodies. The fronts have progressively wound springs, and the rears are dual-rate springs.
A sway bar is part of the rear suspension system, and it helps the machine stay stable, run straight and smooth at speed, and reduces body lean. Turbo models have a front sway bar, and we like driving with one, but the XP 1000 doesn't have one. There are aftermarket sway bar setups you can purchase.
CREATURE COMFORTS
Polaris' RZRs are known for a simplistic cockpit that is functional. The dash is easy to reach, and there are locations to mount new switches for accessories. There is a small glove box that doubles as a phone holder on the dash, and there is a big glove box on the passenger side that can hold quite a bit. The steering wheel is height-adjustable, and the driver seat is adjustable to fit tall and short riders.
There are cup holders in the front and rear. The automotive-style three-point seat belts are height adjustable for comfort, but we always suggest four- or five-point harness-type belts. Finally, the RZR isn't a towing machine, but the cargo bed can hold up to 300 pounds, and there are tie-down points in the bed.
TESTING TIME
The Ride Command system is a great addition to any RZR. It even comes in the Polaris General platform. The speakers are loud enough to be heard while driving, the touchscreen is easy to operate and having a GPS system is very beneficial. The only thing we wish it did have was the ability to enter coordinates manually. The group-ride and ride-sharing abilities are great, and being able to set waypoints and find your way back to camp is awesome. The only part of the Ride Command system that we can do without is the front camera. We rarely use it.
The power of the ProStar engine is torquey down low and pulls well through the midrange, but it falls flat up top. We would love it if the RZR had some more get-up-and-go in the higher range, especially when carrying three passengers. At that point spending the extra dough on a turbo isn't a bad idea.
The suspension system of the Polaris does quite well. It's a plush ride over chop and even when going fast. One aspect we like about the XP 4 models is that they corner surprisingly well for how long they are. For the Ride Command Edition, Polaris selects a two-turn steering rack, which means you have to put more input in to get the machine to go where you want it to compared to the Turbo models that have a 1.5 turn steering rack. Most drivers will never notice the difference. The electronic power steering feels loose and buttery, which is nice in tight sections, and when things get rough, you don't have a twitchy steering system to throw you off track.
FINAL THOUGHTS
The 2018 Polaris RZR XP 4 1000 Ride Command Edition is a great machine that is proven to handle well in the desert and dunes. It is long for making U-turns in the woods or on tight trails, but it is otherwise quite nimble, and it handles great for rocks and climbs. The Ride Command system is beneficial and very user-friendly. We wish every stock RZR came with it. The bottom line is that the price is right with this RZR if you desire the music and technology. At $21,999 you are literally choosing between electronic tech and engine performance. You can get a RZR XP 4 Turbo for a few hundred dollars less than the Ride Command. It has the same suspension but 50 more horsepower. On the other hand, it doesn't have any of the RC features. There are many good reasons that the XP 1000 is such a popular RZR. It has strong response, a quality ride and great technology.
2018 POLARIS RZR XP 4 1000 RIDE COMMAND EDITION
Engine Twin-cylinder, DOHC, liquid-cooled, 4-stroke
Displacement 999cc
Bore x stroke 93mm x 73.5mm
Starter Electric
Fuel system EFI
Fuel capacity 9.5 gal.
Transmission Automatic CVT
Final drive Shaft
Suspension/wheel travel:
Front Dual A-arms w/ 16.0"
Rear Trailing arm w/ 18.0"
Brakes:
Front Dual hydraulic discs
Rear Dual hydraulic discs
Tires:
Front 29×9-14
Rear 29×11-14
Length/width/height 146"/64"/73.75"
Ground clearance 13.5"
Wheelbase 117"
Curb weight 1586 lb.
Payload capacity 900 lb.
Cargo bed capacity 300 lb.
Towing capacity N/A
Colors ..Matte Silver Pearl
Price $21,999