— A new definition of UTV from Mahindra —
By the staff of Dirt Wheels
— Roxor is an all-new UTV built by the Mahindra Automotive Group. No doubt there is something a little familiar about it? Yep, it does look like a classic Jeep CJ-5 or CJ-7. When we first looked at the Roxor, we wondered if it was a smaller-scale vehicle than a CJ, but the Roxor is basically the same footprint. That should not be too big of a surprise. In the early days of Mahindra, the Indian company manufactured Jeeps under license from the American Willys car company for sale in Asia, including India. Mahindra has since become an enormous company with a diverse line of products.
It should come as no surprise that Mahindra still sells a Jeep-like platform called a Thar. The Indian Thar and the American-assembled Roxor share much in common.
ENGINE A GOGO
You wouldn't expect to find a run-of-the-mill UTV engine and CVT under the hood of a heavy-duty steel UTV. The original Jeep concept was a quarter-ton, light-duty, general-purpose "truck" that would aid battlefield maneuverability. It is said that the name Jeep was shortened slang for "GP," which was itself shortened from "general purpose." The original light military truck and many Jeep models after that were powered by a modest, in-line, four-cylinder, flathead engine. Under the Roxor hood you will find a quiet-running, 2.5-liter, inline four turbo diesel.
The engine is not paired to a CVT but to a five-speed manual transmission with reverse. A Dana T-18 transfer case allows selection of 2WD, 4WD and 4WD low. This is a brave choice in a time when few potential drivers are adept at using a clutch pedal, but this is perhaps the easiest stick shift and foot clutch we have ever used. In spite of the fact that the engine is turbocharged, it makes all of its power at exceptionally low rpm by UTV standards. As a consequence, it is quite difficult to stall. We put the Roxor in 4WD low, in first gear, left the engine idling and let our left foot slip off the clutch. It motored off with no hint of stalling, hopping or jerking, and that was on pavement!
HANDLING BUSINESS
You will not be surprised how different the suspension and running gear are by UTV standards. Instead of independent suspension, the Roxor relies on straight-axle front and rear differentials suspended by leaf springs and controlled by oil-damped shocks. For rolling stock, the Roxor relies on 235/70R16 tires on 16-inch alloy wheels. Roxor didn't have any travel numbers, but it is certainly modest. Obviously, this traditional automotive 4×4 suspension isn't built for speed work. There is a reason Jeep guys call what they do on trails "crawling."
On the positive side, to call this suspension setup "proven" is a massive understatement. It should be tough, reliable, easy to fix and easy to upgrade as well.
We were somewhat surprised that the Roxor is so nimble and narrow. The overall width is 62 inches, but unlike many UTVs, the Roxor keeps the tires fully under the fenders. Our guess would be that the track is approximately 60 inches—basically common for a trail UTV. The 96-inch wheelbase puts the Roxor dead in the middle between the Polaris RZR at 90 and the Can-Am X3 at 102.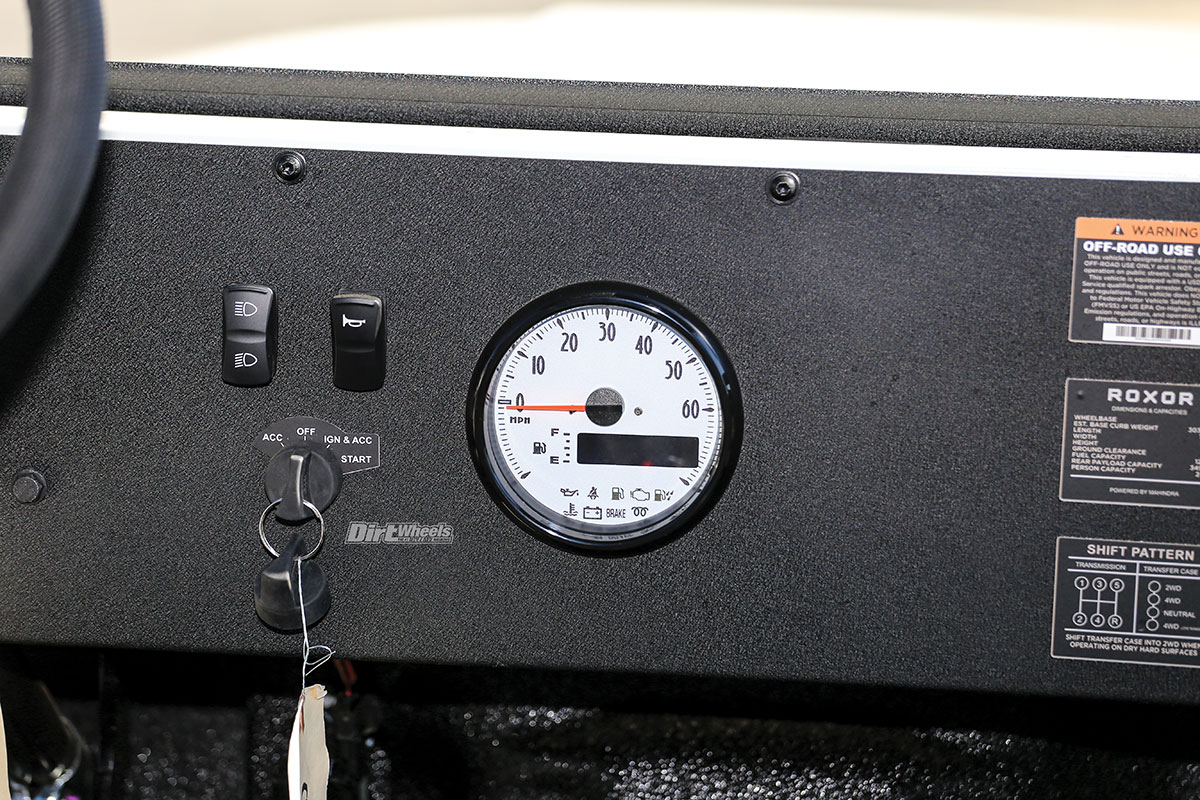 INSIDE THE BOX
The Roxor is a classic two-seater. The seats are buckets, but are pretty flat and easy to move around on. There is a low center console with cup holders and storage boxes under the seats. Doors will be an option, as will other cab options like windshields, but as delivered, the standard model has only door nets, and the Limited Edition has a canvas soft top. All interior surfaces are steel with a wrinkle black finish that Roxor says is a type of bed liner.
The LE's three-spoke steering wheel is padded, and it has a good feel in your hands. Passengers have a dash-mounted grab bar, and the LE models have additional soft handles mounted to the cage. Spots are provided on the dash for additional switches. Switches are already added for the light bar and winch on the LE.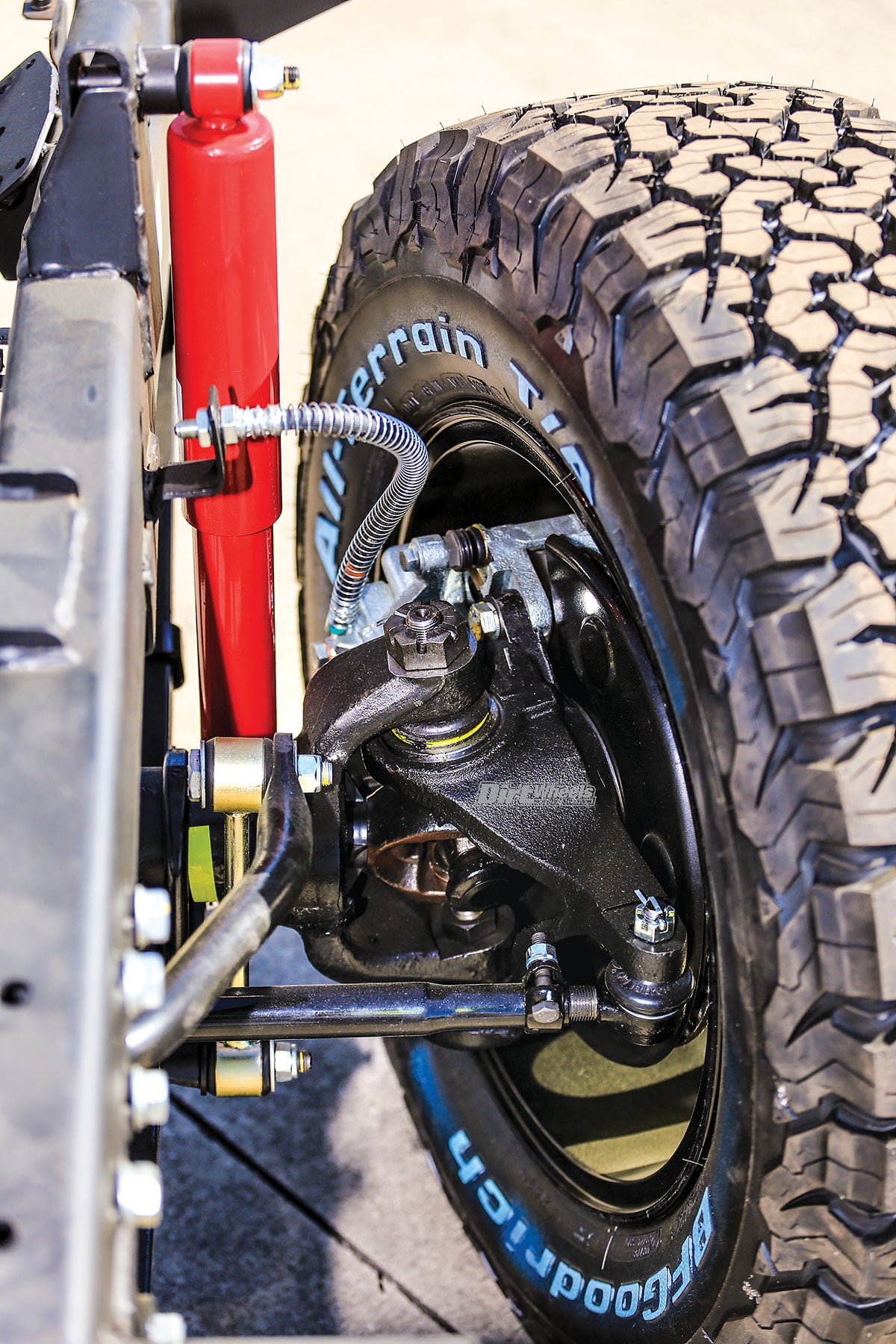 Some of us require a UTV that can tow. Towing is a strong point here. You need power, torque and gearing to tow, in addition to big brakes. It is also important how much the tow vehicle weighs. Roxor has the biggest engine in the class by 150 percent, loads of torque and the proper gearing. Add in the fact that the Roxor weighs over 3000 pounds, and you can understand the 3490-pound towing capacity. It is suggested that you not tow over 15 mph, though. The "bed" portion of the body's tub has a tailgate, and it looks sizable, but the rear-wheel wells intrude. You can pack up to 349 pounds in there, and it has multiple tie-down points for light rope, bungees or nylon straps. Only those on the sides will take small tie-down hooks.
RIDE TIME
Roxor provided a brief but enlightening real-world trail ride at a cattle ranch in the Texas Hill Country near San Antonio, Texas. The rest of the drive impression was on a man-made obstacle course in a parking lot at the Alamodome. It featured paved transfers between obstacles. Included were a left-right transition that displayed suspension flex, a series of low dirt mounds, large rocks buried in dirt, a log road, a radically off-camber turn, and a steep climb followed by a steeper descent.
It was immediately apparent that revving this engine is a waste of time and fuel. It does business at very low rpm. Keep shifting to keep the rpm down, and the turbo diesel makes strong forward motion. Roxor has the car limited at 45 mph, but it feels to us like low range might hit 45 or close to it in fifth gear. Low gear in low-range 4WD felt super low until you hit the rocks, then as slow as you can go didn't seem slow enough. The hydraulic clutch is easy to use, has a nice engagement and feels well up to the task at hand.
The steering is light and smooth with a belt-driven power-steering pump run off the engine. Suspension flex is mild but it does happen. It is bouncy in the rocks, smooth on the log road, and remarkably planted on the off-camber turn. We saw drivers ride the angle until the suspension looked bottomed on the downhill side, and the Roxor looked fully calm and planted. The climb was easy as well, but the stick shift's engine braking on the descent was truly amazing—just smooth and controlled stopping without touching the brakes.
IN CONCLUSION
We'll be honest, we've made fun of the drivers out on the trail with Jeep-type vehicles. They are like UTV driving in slow motion. After experiencing the Roxor, we have changed our tune. We can see the appeal. This is a solidly built, planted off-road machine that will get you wherever you want to go. It may not be in a hurry, but it will get the job done with no fuss. We can honestly see the Roxor doing decades of hunting, fishing and work around the homestead. For a mix of work and play, this will be a beast. See www.roxoroffroad.com for more info.
2018 ROXOR LIMITED EDITION
Engine In-line four-cylinder turbo diesel
Displacement 2500cc
Bore x stroke 88.9mm x 101.6mm
Starter Electric
Fuel system EFI
Fuel capacity 12.0 gal.
Transmission 5-speed stick shift w/ foot clutch
Final drive Shaft
Suspension/wheel travel:
Front Dual leaf springs w/straight axle/6″
Rear Dual leaf springs w/straight axle/6"
Brakes:
Front Dual hydraulic discs
Rear Dual 11-inch drum
Tires:
Front 235/70R16
Rear 235/70R16
Length/width/height 148"/62"/75"
Ground clearance 9.0"
Wheelbase 96"
Curb weight 3035 lb.
Payload capacity 349 lb.
Cargo bed capacity 349 lb.
Towing capacity 3490 lb.
Colors Carbon Black, Classic White, Fire Orange, Tahoe Blue
Price Base $14,999, LE $18,999