UTV TEST: 2022 POLARIS GENERAL XP 1000 DELUXE RIDE COMMAND VS. GENERAL XP 4 TROY LEE DESIGNS EDITIONS
Which General for your battle? By the staff of Dirt Wheels
Polaris' General has a do-it-all combination of sport performance and rugged utility that has made it a Dirt Wheels favorite and a sales success. With a claimed 100 horsepower, the General has always been close to the 110-horsepower, normally aspirated RZR XP 1000 in power. With the 2020 General XP and XP 4's longer suspension travel and wider stance, the handling and ride quality finally approached RZR XP 1000 territory. On top of the performance are tow and carry capabilities that rival the men-at-work Polaris Ranger. An interior we love to spend time in is a further bonus. A roomy four-seat version only made us bigger fans.
Since the General XP and XP 4 1000 hit, most model changes have been special editions rather than changes in specifications. What we have here are a two-seat General XP 1000 Deluxe Ride Command Edition facing off with a General XP 4 1000 Troy Lee Designs Edition. We have tested various General models before, but this is the first time we have had a two-seat and four-seat of equal specifications and equipment level together on the same rides. We went in not expecting a winner, but were curious to see the various strong points of each platform.
THE EASY STUFF
Except for two passenger doors and seats, some extra steel and the wheelbase needed to accommodate them, the two- and four-seat Generals share almost everything—same wheels, tires, control arms, interior components, dump bed and so forth. Perhaps the four-seater has stiffer springs to deal with the added weight and load potential of the XP 4. You would think that they would present an almost identical driving experience, but the differences are noteworthy.
Here are some basic dimensions. Though both are special editions and have close equipment lists, the Troy Lee Designs Edition has a few more options than our two-seater Deluxe Ride Command, so the weight difference is 381 pounds. Comparing identical machines, the weight difference between the Troy Lee two- and four-seaters is 318 pounds. Wheelbase is another significant difference with the XP 1000 at 83 inches and the 32-inch-longer XP 4 1000 at 115 inches.
You would be surprised how much difference those inches and pounds makes to a 100-horsepower machine, but both measurements contribute to giving these two vehicles their own identities. Both cars have front and rear sway bars, but the driver feed-back in off-camber situations between the two surprised us. When driving both cars on the same cambered trails, the two-seat car seems less stressed (tippy). Drivers and passengers were united, preferring the two-seat General to traverse a serious slope!
For some folks the choice of seat count is made for them. Those with ultra-tight trails and with limited real estate in the garage or on the trailer (or in the toy hauler) are committed to the two-seater. The opposite can be true for those with a family or friend group larger than two people—four-seater all the way. Interestingly, the retail price isn't as much as a factor. All Generals have commanded premium prices. Each has a lot of painted bodywork, many standard features and a high level of finish. Most notable are the doors. They are finished inside and out, and that is rare in the UTV world. Plus, these two machines have the latest Ride Command features and Rockford Fosgate stereo systems. The Troy Lee Designs machine has a 400-watt amplifier and a rear Rhino rack. As a result, the XP 1000 Deluxe Ride Command is $27,399, but the slightly higher-spec XP 4 1000 Troy Lee Designs Edition is $29,699. Financially, when you are already at 27K, a $2300 jump to get luxury seating for four people sounds like a deal.

TECH TALK
We have been fans of the Ride Command feature from the beginning, but Polaris continues to refine and expand its capabilities and features. Adding it does add a significant price jump, but in our minds, it can be (should be) a deciding factor in choosing Polaris. Ride Command (RC) is that good. RC machines have a center-dash, 7-inch glove-touch display. Even though the General has an instrument cluster, RC has digital instrumentation displays. In many cases they are easier to see and read on the touchscreen. Naturally, built-in GPS is the backbone of the system. It took no time to sync cars together, and it is easy to understand and follow the mapping. There are vehicle-to-vehicle functions like Group Ride, Follow the Leader and messaging. RC has always identified other Polaris models in the area that have RC, but you can now designate folks that are in your group and assign a leader. The display constantly informs you of the gap between you and the leader, as well as the speed the leader is traveling! It works fabulous for staying out of dust or away from mud roost.
With messaging, there is no need to chase down one vehicle that has broken away, just send a text to the RC screen!
Both our test machines have front and rear on-board cameras. The rear turns on whenever reverse is selected, and it is a great help. You can also use the RC screen to keep the rear camera on to watch those behind, or you can select and activate the down-looking front camera for tricky routes. RC also has Bluetooth and USB smartphone connectivity, AM/FM and weather radio. You need the correct headsets, but with them RC is in-vehicle communications capable. The Rockford Fosgate stage 3 audio is mated to the RC system. You use the buttons and screen to select the source and chase down over-the-air stations.
The sound system has two 6.5-inch, 50-watt front co-axial speakers and two 6.5-inch, 50-watt rear co-axial speakers with a 400-watt, four-channel amp with fade, automatic volume level and five-band equalizer in the Troy Lee Designs Edition. In all, Ride Command is a great addition.
As if Ride Command wasn't enough, there are dual-sweep analog dials with a 4-inch LCD rider information center. You can select blue or red backlighting and brightness. You can program service intervals in addition to having speedometer, tachometer, odometer, tripmeter, clock, hour meter, gear indicator, fuel gauge, coolant temperature, voltmeter, codes, seat belt reminder light, and a gear and 2WD/4WD/turf indicator. You have all the information you want and more.
ON THE TRAIL
We have a lot of time in the General XP 4 1000, and two members of our group have owned them, so we have a good idea what the machine is capable of and appreciate its trail manners. For starters, the General XP 4 1000 is an amazing machine! Riders and passengers are universally and pleasantly surprised how well a vehicle of this size can perform. In all but deep whoops you can drive the big General at a clip that would leave the sport models of just a few years ago in the dust. It corners great for a long-wheelbase car, and we rarely had to revert to a "Y" turn to get around a turn or obstacle. The four-seater is also exceptionally stable at speed, and trails with lazy S turns were quite fun to get the back end drifting.
Bringing the speeds down for crawling in the rocks was also impressive. There is enough ground clearance to let the long car get over and through most rocky encounters.
Prior to hopping in the two-seat General XP 1000 Deluxe Ride Command, we had pre-conceived notions that this was going to be a same-same scenario—maybe just a bit shorter! We were wrong. That 381-pound difference matters! The two-seater's power is more instant, the motor felt quicker-revving and more responsive. Regardless, the two-seater seemed to "get up on plane" quicker compared to her big sister.
Cornering the shorter two-seater is big fun! Both Generals have slower-ratio steering boxes than the RZR line, so while it takes more wheel work to get the corners cranking, the two-seater can whip around tight turns with the best of them. Add to that the responsive throttle, and rear-wheel steering comes into play for quick-turning fun! Climbing around in the rocks was no problem for the two-seat car. With a shorter distance between the axles, ground clearance is a bit less crucial.
It all boils down to what the intended usage is. Both cars are fun and are solid workers. The four-seater can haul around extra help at a slightly reduced velocity. Rear passengers are treated to what Polaris claims is the most elbow and knee room available for a back seat. Our 6-foot passengers found the rear compartment was comfortable and that visibility was good. Rear passengers easily enter and exit via suicide-style (open to the rear) doors. The front cabin is even nicer, and it is entered via normal doors. All of the seats are supportive, solidly mounted and feel secure. The driver's seat is fore-and-aft adjustable, and we like the forward visibility that the upright position provides.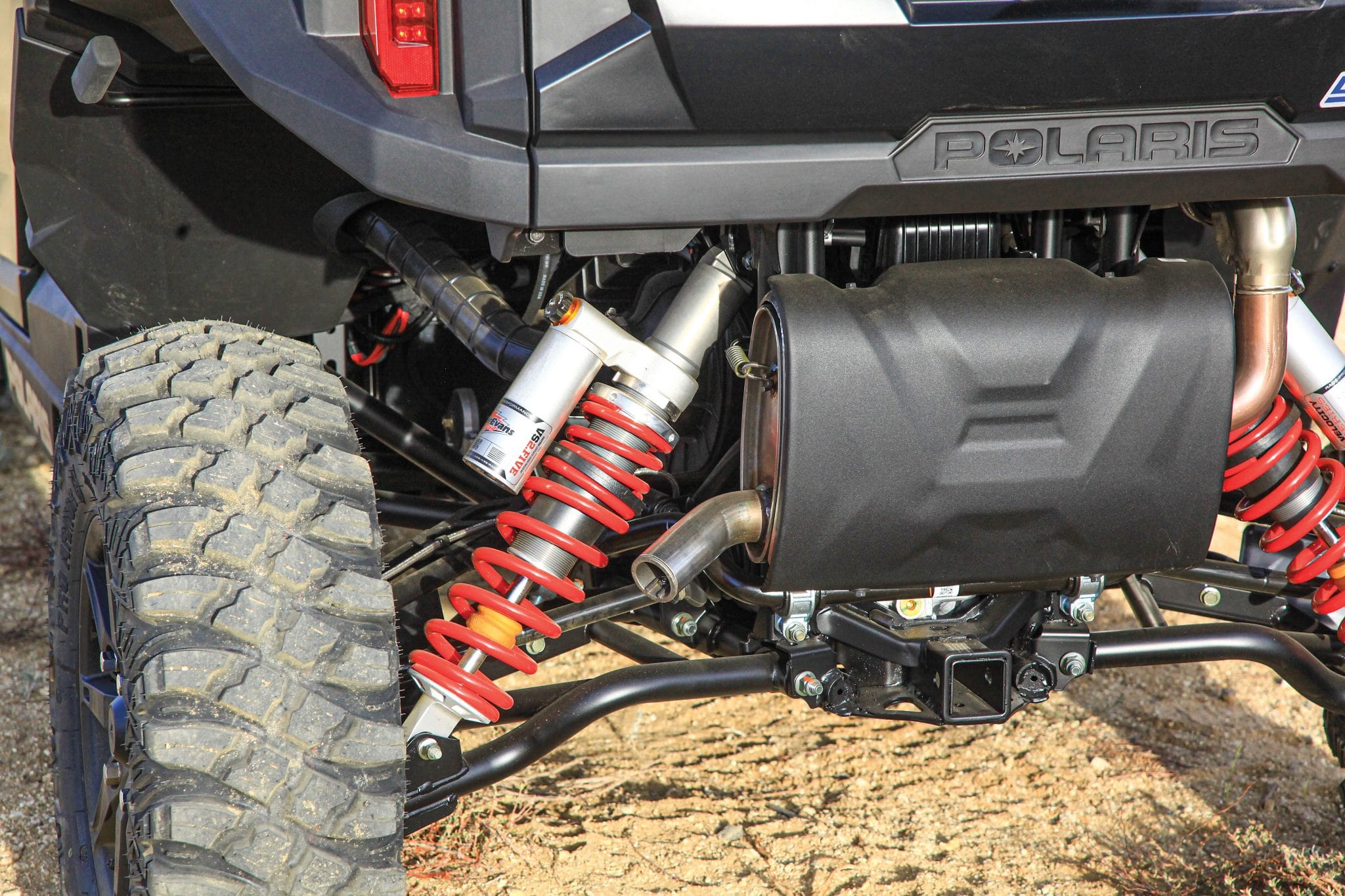 GENERALLY SPEAKING
Long, sandy climbs tested the limits of engine performance on both cars. The heavier four-seater obviously felt this the most. With a driver and two adult fun-size passengers, we got the belt warmed up some. We didn't smell burning rubber, but you could tell. The two-seater had only the driver, and it had plenty of power for that same incline. Either car was happier climbing at up to 30 mph in low range, spinning the engine a bit higher. That helped with belt temp as well.
Coasting downhill, the CVT eventually releases, and the cars freewheel. Give the gas pedal a quick blip to re-engage engine braking. On steep, loose descents, both cars do a bit of side-slipping following the contours of the trail. This is not a concern in either vehicle; you just notice it more with the shorter wheelbase.
We have a fun rock-canyon descent that has loose off-camber turns and a few "low gear and slow" sections that get both machines up on three wheels. It was fun and a little challenging in both. While the longer car required more precise front-wheel placement to clear the body panels in the sharpest turns, the two-seater easily cruised through these obstacles.
JUST STOP!
Both cars have outstanding brakes, and they do a great job of hauling them down from speed. The lighter car had a shorter stopping distance, but we never overshot a corner in the four-seater, either. One steep downhill required applying the brakes for a long time in the four-seater. At the bottom we had plenty of brake pedal left and no brake fade.
The Generals were designed with a different mindset than RZRs. While Generals can go fast, the terrain will be the limiting factor. But, at the same time, they can do things that RZRs can't. We hauled people and equipment. We went slow in the rocks. We pulled a trailer and a heavy drag to smooth up the camping area. You are not supposed to tow with any RZR!
You sit more upright for better over-the-front visibility. You have more headroom, and the dump bed enables you to carry almost anything like chairs, BBQs, big coolers and more. It is a portable picnic machine that will get you further into the backcountry than any normal 4×4 SUV. The possibilities are endless!
For convenience there are storage compartments and cup holders front and rear. Among our favorite features are the General's fully molded interior door panels and front and rear padded center consoles that offer storage and double as arm rests.
The front passenger has a handhold on each side instead of a center-mount T-bar. A cab-width bar acts as the rear passenger's hand hold. All these handy features work well with the tall standard doors. We tested every seat and drove with two adult couples filling the seats. This is one of favorite four-seat cabs. You could spend all day in the rear seats with no complaints. The steering wheel has a nice tilt function, and when combined with the excellent doors, getting in and out of this machine is far easier than the "stretch" maneuver required to enter most sport models.
CONCLUSION 
Testing the General XP 1000 siblings was a genuine pleasure. Every test pilot and passenger have logged many miles in high-performance sport models, but we had no shortage of smiling folks lined up for a seat in a General.