UTV TEST: HISUN SECTOR 750
4×4 for you and a friend By the staff of Dirt Wheels
Hisun lists its Sector 750 UTV as a utility model and prices it like a base model, but the specifications and equipment are more in line with a well-equipped general-purpose recreation machine. Like the Hisun Forge 750 two-up quad Dirt Wheels tested recently, the level of standard equipment is impressive for a machine that retails for a tick under 10 grand. For a base-price machine, it has a quality look to it, ample comfort, aggressive tires on cast-aluminum wheels and fully adjustable shocks. It also comes stock with A-arm guards, a roof and a 3500-pound-capacity winch. On top of that equipment are safety features like a horn and turn signals. You can buy a machine from one of the big brands at this price. One example is the Polaris Ranger 570. It is the same price and has approximately equivalent performance at the same price, but at this price the Polaris has steel wheels, no roof, no suspension guards, no winch and no mirrors.
ENGINE BAY
Flip up the dump bed and you will see a big single-cylinder engine with a single overhead cam and four valves. It has electronic fuel injection and transfers the power through a CVT. It is a willing engine that fires instantly and runs very cleanly. Throttle response is quite good from very low rpm. As the revs climb, the engine feels less content, though our unit was brand new and seemed to run better and better with more miles on it.
Inside the machine you do feel vibrations from the big piston going up and down. A twin would be smoother but likely more expensive. Our testing was conducted in high heat, and the cooling fan ran fairly often, even after the engine was turned off. We never saw any heat problems aside from the fan running as it is supposed to.
The Sector's CVT doesn't have park. Reverse, neutral, high and low are your shift options. When you park the car, there is a foot-operated parking brake high on the left side of the machine just under the dash. The parking brake—a disc on the rear drive shaft—holds the machine extremely well. You release the brake by depressing the normal brake pedal. It helps to be short or limber to stop and park on a hill. You hold the brake to keep the car in position while you press the parking brake with the other foot. Since the foot brake releases the parking brake, you must hold the parking brake while you relax your pressure on the foot brake.
SPEED CONTROL
Engine braking is enthusiastic, and the brakes are smooth and controllable with plenty of power for the weight and size of the machine. It has disc brakes on all four wheels, plus the added disc on the rear drive shaft for the parking brake. We usually chose to shift to high for tricky descents to make the engine braking a little less abrupt. Like the Hisun 750 quad we tested, there isn't as great a difference in low and high range as you would expect. Certainly the machine accelerates much more quickly in low range, and the engine stays consistently at a higher rpm. You have to run the machine hard to reach more than 25 mph in low range.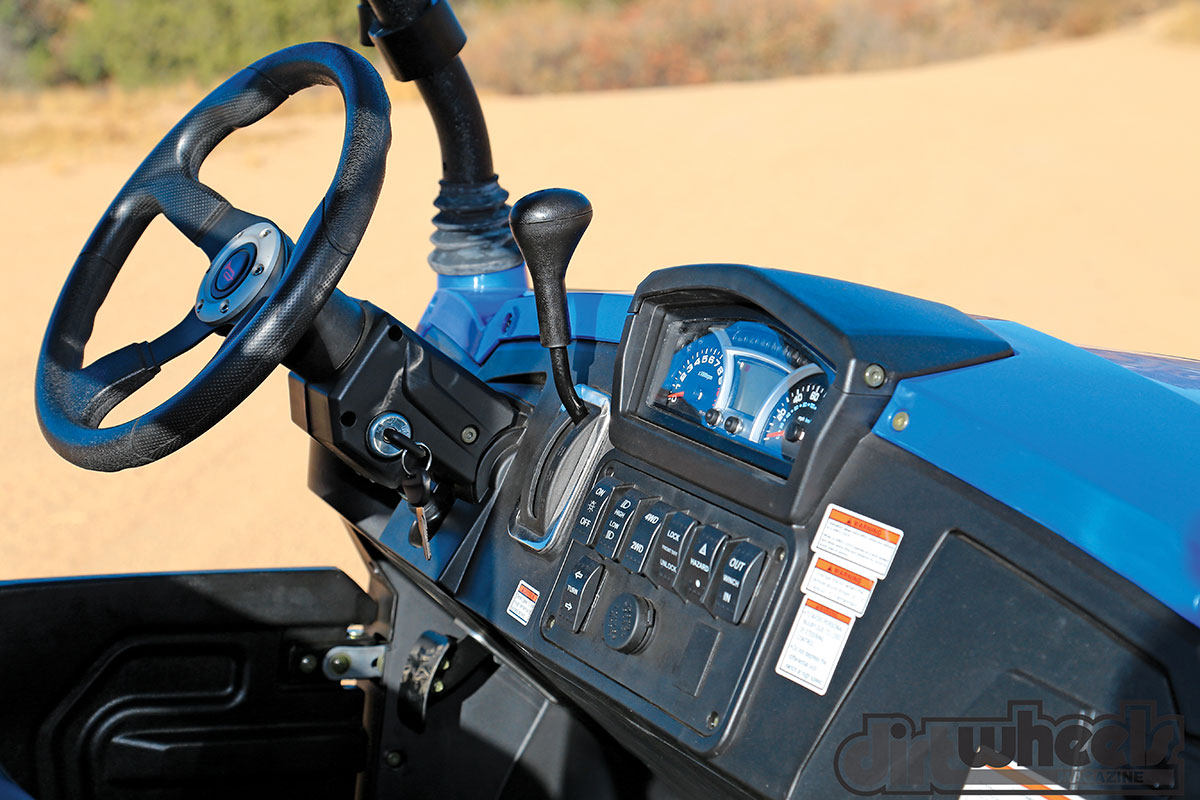 Shifting to high relaxes the engine note and rpm, as well as quieting the mechanical sound in the cab somewhat. We'd wager that the fuel economy is better in high range as well. Acceleration from a start is smoother, but on a grade or in soft terrain, it is easy to hit about 30 mph. The machine will go faster, but it wants packed terrain and some room to get there.
STYLE POINTS
Hisun hasn't gone wild with styling, and in fact its visual cues appear to be an amalgamation of several popular UTVs combined for a unique look. The fit and finish of the machine are nice, with durable graphics, glossy plastic and even metal kick plates on the door seals. The dash is clean, but it does have a significant array of switches to engage the lights, high and low beams, hazard lights, turn signals, 2WD and 4WD, diff-lock, and winch controls. Diff-lock is a nice option for a machine at this price point.
The seat isn't deeply padded, but is comfortable and supportive. It is wide enough for three, but only has seat belts and headrests for two. You can dump the 500-pound-capacity dump bed from either side, and there is a standard 2-inch receiver hitch.
TRAILS AND WORK
Despite being a heavier vehicle, we gained an immediate impression that the engine performance of the Sector 750 was better than the quad we tested with the same engine in it. It isn't a powerhouse in this displacement class, but it runs well, climbs hard and gets work done without drama. The lope of the big single allows its machinations to be felt and heard inside the cab, but it is far from the loudest mechanical level we have heard inside a UTV.
Overall suspension travel of 10.75 inches in the front and 9.25 inches in the rear is on the short side for a sport UTV but fairly normal for a utility model. At first it felt like the suspension was pretty rigid, but we remembered the lessons learned with the Hisun quad. We gave the machine some break-in time, set the tire air pressure at 12 psi at all four corners and softened up the suspension compression settings. Going full soft greatly aided ride comfort, but made the turning a little vague.
Going full stiff confirmed that the adjusters do indeed work. At full stiff the turning was great, but the ride suffered. We ended up at four clicks in from the full soft. Comfort crossing ruts, rocks and roots made big gains, and the turning remained accurate and planted. The shocks have rebound damping as well, but we were happy with that setting.
Like most utility UTVs, the Sector isn't wild about being thrown sideways. It is much happier on trails and roads. It was happiest during slow, technical driving. Without a lot of flex in the suspension, it did well crossing jumbled rocks that have defeated machines with more active suspension. The track is just over 60 inches wide, so you want to use care picking lines that straddle ruts, but when we were out crawling technical trails we were having the most fun. Our least fun was hammering sand washes or trails littered with sharp and abrupt rock impacts that taxed the suspension action.
CONCLUSION
For work, the Hisun Sector 750 is in go mode. With a 500-pound capacity in the bed and class standard towing capacity of 1200 pounds, it can get the job—whatever the job—done in style. As a recreation tool, it is happier in slow-going than attempting speed records. For steep, rough climbs it was more confident when the surface was rocky and firm than when it was soft. For those who live in states that allow UTVs to be registered for light and rural street use, the lights, horn and signals are another bonus on a machine that is already nicely equipped. There is no EPS, but it wasn't a big problem for this machine. There is a roof, and it extends forward from the cage enough to be a big help driving into the sun. We like the one-year warranty as well. The Hisun comes with roughly $2000–$3000 in accessories that most machines in this class consider options. Those options can make a day of fun or a day of work, especially the winch, much better, and there is clearly value to go with performance in the Hisun.
HISUN SECTOR 750
Engine 735cc, OHC 4-valve single
Bore x stroke 102mm x 90mm
Fuel system Delphi EFI
Fuel capacity 7.9 gal.
Starting system Electric
Final drive Shaft
Suspension/wheel travel:
  Front Independent double wishbone; 10.75"
Rear Independent double wishbone; 9.25"
Tires:
  Front 26×9 –14 radial
Rear 26×10-14 radial
Brakes:
  Front Dual hydraulic disc
Rear Dual hydraulic disc
Wheelbase 76.75"
Ground clearance 12.0"
Cargo capacity 500 lb.
Towing capacity 1200 lb.
Curb weight 1363 lb.
Colors White, black, blue, red, orange, Vista Camo
Price $9,999