UTV TEST: HONDA PIONEER 520
Practical utility in a small package By the staff of Dirt Wheels
Honda is known for quality through its whole line of different all-terrain machines. The legendary company has been producing a great variety of products for a long time. The Pioneer 520 is arguably less unique and innovative than the Pioneer 500 that it is based on. As UTVs go, the 500 was unique in having a large rear rack instead of a bed. Under the bed were fenders over the wheels that were likewise unique in the UTV arena.
In becoming a little more mainstream, the 520 gained a few useful features. There is a little more punch from the enlarged displacement and a true dump bed with a tailgate. The more time we spent in the 520, the more we appreciated what it can do and accepted what it can't do. If you haven't experienced a compact UTV, you may be surprised by the benefits of a smaller machine, not to mention that it's friendly price-wise for what you get.
WHAT MAKES IT NEW?
Both the Honda Pioneer 500 and the 520 are closely related to the Honda Fourtrax Foremen 4×4 ATV. They all share a motor that is longitudinally mounted. Compared to other quads and UTVs, the Honda engine looks like it is sideways in the frame. Instead of the crankshaft running side to side in the frame, it is aligned front to back. The advantage is putting the crankshaft in line with the driveshafts, taking away the need for power-robbing 90-degree turns in the drivetrain. The engine is a 518cc, single-cylinder, two-valve, push-rod engine.
It isn't a conventional push-rod engine. It has a cam chain that drives the cam, but Honda wanted to keep the engine short, so it employs short push-rods to actuate the valves via rocker arms. This isn't a high- or quick-revving engine, so a push-rod design works perfectly fine while keeping the head and cylinder short and compact for a 518cc, four-stroke engine.
In the Fourtrax the 5-speed shifts with push buttons, but the engine and transmission in the Pioneer have paddle shifters behind the steering wheel.
TALKING TRANSMISSION 
Honda gives the driver the option for either AT (fully automatic) or MT (manual shifting with an automatic clutch) transmission, and you can simply switch between the two with a small dial on the dash. We found both to be useful, although for us the manual option worked better for all-around use. Automatic was surprisingly appropriate for uphill, never lugging too much or trying to go between gears. In manual mode, the Honda downshifts automatically when you come to a stop, and you can shift manually in automatic mode. Typically in auto mode, we would downshift a little early for turns, then upshift to smooth response and keep the ride quieter.
Downhills were a different story, as automatic just doesn't feel natural. If we hit the brakes, it would drop gears and think you're slowing down more. The engine braking would lunge us forward by downshifting when we really didn't need to drop gears. Not that it was bad, just that we preferred manual because we could decide what gear to be in, especially since the paddle shifters were right at our fingertips and so easy to use.
In the automatic mode's defense, the transmission did a very nice job of shifting smoothly through the gears on slightly inclined hills or even easy fire roads.
The paddle shifters came back into play when we needed reverse. You need to pull a lever under the dash and then backshift into reverse. At first it was slightly confusing and took us a minute to get used to, but soon became second nature.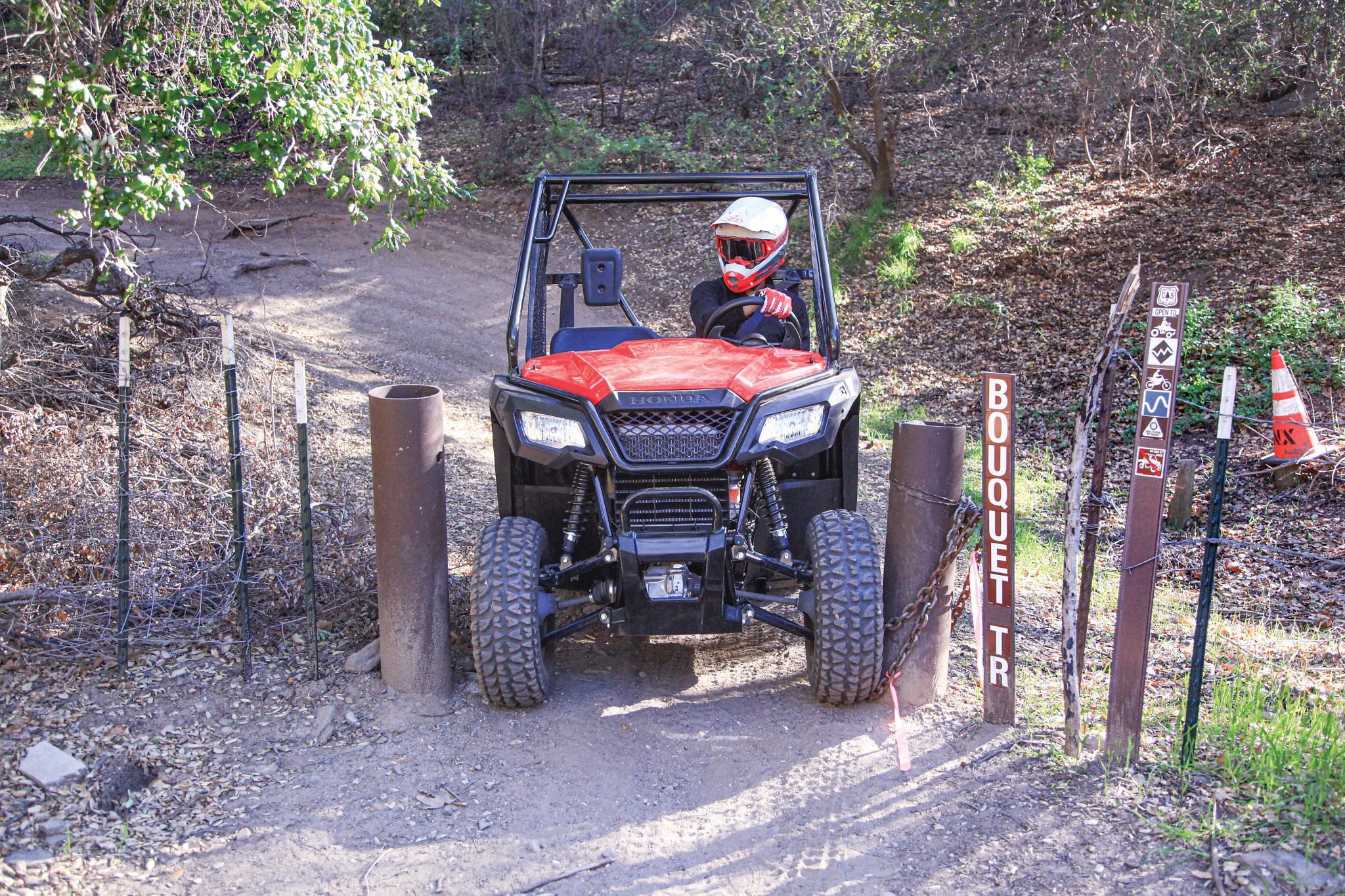 4WD VS. 2WD
The 520 has selectable two-wheel drive and four-wheel drive but no front differential lock. Since the 520 has manual steering, it has an open front differential to make steering a little easier. We can honestly say we didn't miss EPS on this small machine. This type of differential doesn't provide the traction that limited slip or locking front differentials can. Interestingly, the quads that share this engine do have front differential lock. We did manage some almost scary-steep and rocky climbs that left us impressed with the FWD capability.
FUN OR WORK?
Even though the Pioneer 520 is considered a utility model, we doubt that many are used exclusively for work. All will see at least some recreational use, even if that recreation is as a workhorse for hunting, camping or fishing. At an intro for another brand's 50-inch machine, the company pointed out that a 50-inch machine can go most places that the most powerful, long-travel UTVs can go, but the reverse is not true. You will never get a wider machine on a true 50-inch trail.
Though the power from the Pioneer is perfectly controllable, it doesn't give up on steep climbs. There is no low range in the transmission, but first gear is low. We found ourselves on some steep sections, and it continued to pull us.
Honestly, we found more instances where we were limited by the suspension travel and ground clearance than the power. Remember that the Pioneer 520 shares a close relationship with the Fourtrax Foreman quad, but the Pioneer has 8.5 inches of clearance—an inch less than the quad.
SUSPENSION
The suspension is double-A-arm front and rear with spring preload-adjustable shocks. There's just 5.8 inches of travel up front and 5.9 in the rear. Those numbers are roughly 2.5 inches less than the quad offers, and the Pioneer 520 has 24-inch tires, while the quad has 25-inch tires. The Pioneer is 50 inches wide, but the body extends over the wheels. The actual track width is approximately the same as the quad.
That narrow track does great things for maneuverability, and it can be taken down narrower trails than any standard side by sides would fit down.
We did hit some rocky, rutted, unmaintained fire roads, and it wasn't the smoothest ride. In some cases we bottomed out fairly easily through rain ruts. We soon learned to take it a little easy. If we didn't push too hard, it would crawl through just about anything on standard trails. We even descended some steep, uneven, rain-rutted hills and were thoroughly impressed with the way it handled. All in all, it handled most things we threw at it, but as we started to go faster, we found its limits, though not the limits of performance. It covers rough ground plenty fast, but the ride is not comfortable for the passengers.
WHERE IT WORKS
If thrill-seeking and speed aren't your thing but enjoying yourself is, the Pioneer is a solid choice. You simply must go easy in the rough or look for smooth routes. Obviously, the size of farm chores will be slightly limited with a machine of this caliber and size. But, we didn't find much we couldn't do. The turning radius is a compact 12.8 feet! The quad does a little better at 10.5 feet. The compact size could be perfect for the right person and place.
Still, the Pioneer 520 can get in tighter spaces than most full-size UTVs. Agricultural use could be a dream with the Pioneer. The ability to tow a small trailer or carry 5-gallon pails or materials in the tilting bed is perfect for work in the garden or fields. The bed can handle up to 450 pounds, and you can tow up to 1000 pounds.
We worried that we had the wrong Pioneer for our first work project. A 5-foot section of tree trunk needed to be moved. The low deck and metal rack of the Pioneer 500 would have handled it great. The Pioneer 520 needed the log to hang out the back or side of the small cargo bed. We worried about crushing the bed sides, but the move was easy, and the Pioneer shrugged off the load.
We found the tight turning ability handy around the property and out on the trails. It's even better if you live in a small area but need tight maneuverability, since it's so small it can fit in the back of a mini truck. A staffer put it in the bed of an old-style compact Ford Ranger. It fit, but he said he wouldn't do it again unless it was an emergency. Being slightly over 1000 pounds had him stressed over bending the truck bed front or tailgate. A full-size truck should carry it easily.
If the roads and trails are smooth, the Pioneer 520 gets with the program. Floor it in auto mode or hammer the paddle shifters and acceleration is brisk and fun. The power and engine sound have more character than a CVT-equipped machine. The top speed is just shy of 40 mph, but that feels plenty fast in a small machine. Turning is quick and accurate whether you are getting frisky or getting to work.
DETAILS
Honda's door nets produce mixed feelings. They can be a challenge to see through, but the safety is very comforting, and especially if the passenger is young. Other Pioneer models use nets, but the Pioneer 520 nets are the least intrusive. Open the door with a unique rotary latch and the door and net swing back. Other Hondas require opening the door and unclipping the nets.
The dash is really minimal, and the controls seem to blend in to the point of being hard to find when you first start out. After a while we, of course, got used to it, but any time a new driver climbed in the machine they would be scratching their head for a minute. It would be nice to see either more highlighted colors for the reverse and light controls or instructions that pop out visually.
FINAL THOUGHTS 
With a price under 10K (not including $885 in destination and freight charges), the little Pioneer provides a strong smiles-per-dollar value. It has a proven and famously reliable drivetrain and comfortable accommodations for two adults.
Having a tilting bed is a no-brainer, and we're glad that Honda gave that feature to this machine. For being more utility than sport, the Pioneer had us grinning at times with what we could crawl up and what we could make it down. Power delivery probably won't blow anyone away, but for its intended use its very practical and useful. Judging by our experience with Honda products, this little UTV will last for generations of riders, and every one of those riders will love it.
SPECS HONDA PIONEER 520:
Engine Liquid-cooled single-cylinder four-stroke
Displacement 518cc
Fuel system EFI w/36mm throttle body
Fuel capacity 4.1 gal.
Starting system Electric
Transmission Five-speed automatic transmission with AT/MT modes with paddle shifting and reverse
Final drive Shaft
Suspension/wheel travel:
Front Independent double wishbone/5.8"
Rear Independent double wishbone/5.9"
Tires:
Front 24×8-12
Rear 24×10-12
Brakes:
Front 200mm dual hydraulic disc
Rear 170mm hydraulic disc
Wheelbase 73"
Length/width/height 102"/50"/71.3"
Ground clearance 8.5"
Towing capacity 1000 lb.
Curb weight 1025 lb.
Colors Grey Resin, Moose Brown, red, Honda Phantom Camo
MSRP $9,599
Contact American Honda, https://powersports.honda.com