UTV TEST: ODES DOMINATOR X2 1000
A great UTV at a bargain By the staff of Dirt Wheels
With so many UTV brands that we can choose from today, it can be tough choosing the best rig for you. Most high-performance UTVs crest the $20,000 mark, so the price can be a tough pill to swallow for some off-road enthusiasts that want to get a great UTV and not break the bank at the same time. Dirt Wheels tries to help with that buying process by providing the best test possible. We had the chance to meet up with ODES UTV to test out their new Dominator X2 1000 UTV.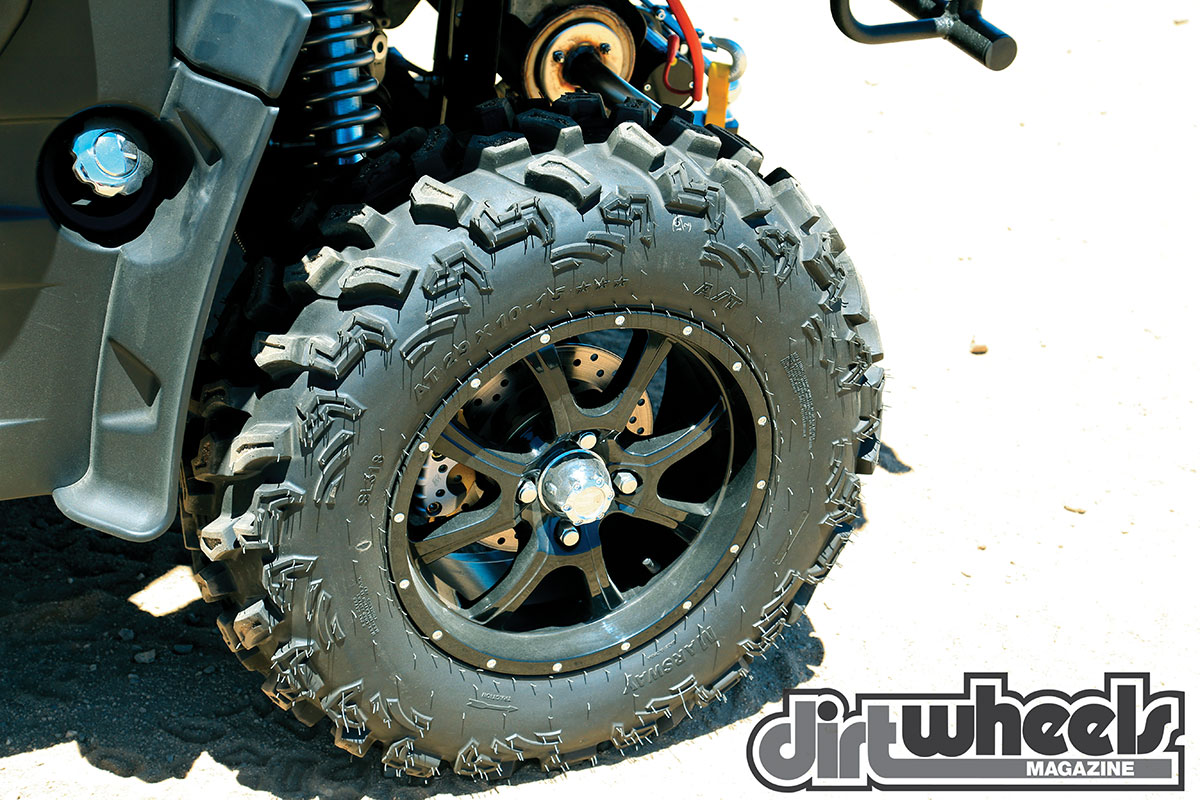 POWERPLANT
The Dominator X2 has a 1000cc, V-twin, fuel-injected four-stroke engine that packs 86 horsepower and 73 foot-pounds of torque. It's paired to a CVT automatic transmission with a gear selection of low, high, neutral, reverse, and park. ODES utilizes Royal Purple 10W40 synthetic oil to keep crucial engine parts oiled and working correctly. Once you put this baby in high and stab the throttle, it's apparent that this UTV does not lack in the power department. It has smooth power from the low end, and the rpm keep climbing through the top end. Via the throttle-body EFI, it has instant throttle response transferring the power to the ground and it will keep your excitement level high! We could take this rig up some pretty gnarly hills with ease. Coming down the hill, it has decent engine braking, but we were on the brakes a bit more than other UTVs we've tested. On the plus side, it rarely skidded the tires with engine braking alone.
The Dominator X2 loves to be in low range with four-wheel drive and diff-lock activated. It is simple to select between two-wheel-drive, four-wheel-drive and the diff-lock feature by a switch on the dash. We couldn't find anything on the trails we were driving where it would get stuck. One thing we didn't get to test was the top speed. The switchback trails wouldn't allow for it, but we expect it's comparable to other V-twins in its class. One thing is for sure: the X2 was begging for more throttle abuse!
CONTROLS AND HANDLING
One of the best things a UTV can have is great suspension. When you have a good powerplant, you want the rest of the UTV to perform as well, and the X2 did just that. The adjustable Fox shocks (upgrade from factory) that came with the X2 we tested worked amazingly well with ODES' front and rear boxed A-arm setup. With 14 inches of travel front and rear, it had the travel to handle the abuse we put it through. It worked so well that we rank it up in the top UTVs for low-speed ride quality. The rear suspension was a little on the soft side for aggressive driving, but with some minor adjustments we know we could've made it work even better. It wouldn't be our first choice for whoops, but whoops aren't our first choice to drive through. The suspension worked extremely well in the high-frequency stutter bumps or smaller rock sections. It has a total of 16 inches of ground clearance, which is enough to clear many obstacles that ended up underneath the X2.
It is a blast to rail corners in the X2. We could pitch it hard into a corner by applying the brake pedal with the four-wheel disk brakes working in unison, cranking the steering wheel and putting the gas pedal to the metal (or plastic in this case). The 29-inch Mudder tires supplied ample traction along zero flats during the test. Fifteen-inch aluminum wheels look great, and the quality seemed to be on par with competitors' wheels. We were excited to see that it has electronic power steering; this helps a lot with handling the X2, especially when it's in four-wheel drive. One thing we noticed when we were driving the X2 is the headroom. Being that our test drivers were both over 6 feet tall, they were complaining about banging their heads on the underside of the roof when they were going fast over obstacles. Taller drivers make sure to take that into consideration when looking at purchasing the X2.
THE GOODS
The Dominator X2 1000 has some really cool features that come installed from the factory that you'll love. It has a 3500-pound winch system front and rear that will help you on some of those stickier situations. Controls for the winch are inside the cab via a switch, and it has a handheld wireless remote as well. It has an electric dump bed that you control from the cab as well. That's a feature that we don't see often, and we could get used to that! On each side of the bed there are lockable storage boxes to keep your gear or tools out of harm's way. A cool feature that the X2 has is the LED headlights, daytime running lights, LED taillights, a horn and turn signals. This means it's ready to be street-legal from the factory. However, most states don't allow quads or UTVs to be street-legal, so it is a bonus if your state allows it. Be sure to check your own state's laws before driving on roads.
There are two LED light bars—one is mounted on the roof and one is located on the front bumper. The X2 comes with a plastic roof and a full windshield. The windshield sits below the plastic roof when not in use. You slide it down the front of the roll cage to keep the wind or dust off of the driver. To protect the body from any harm are front and rear heavy-duty bumpers, along with half doors that will keep the passengers secure inside the UTV. The seats have a long back rest, which is a nice touch, and the standard seat belts do a good job of holding you in securely.
FINAL THOUGHTS
The Dominator X2 is a great competitor in its class. The X2 has many standard features that are options on other brands, and that will end up saving you money at the dealership. Even though it's manufactured in China, this is a very trail-capable machine that has a smooth ride that we love. The X2 comes with a two-year warranty, and you can extend that if you would like. With some minor gripes about the headroom for the taller drivers and a soft feel in the suspension, the pros outweigh the cons on this one. The ODES Dominator X2 1000 starts at $14,495 and goes up to the mid-$15,000 range depending if you want the upgraded Fox suspension that we tested with. If you want to see the Dominator X2 for yourself, check out your nearest ODES dealer or visit www.odesutvs.com.
ODES DOMINATOR LT X2 1000
Engine V-twin 4-stroke EFI SOHC
Displacement 976cc
Bore x stroke 91mm x 75mm
Fuel system EFI with single 46mm  throttle body
Fuel capacity 9.0 gal.
Starting system Electric
Final drive Shaft drive front/rear
Suspension: Front Adjustable Fox shocks  w/ dual-box A-arm  Rear Adjustable Fox shocks w/ dual box a-arm
Tires:  Front Mudder 29×8-15  Rear Mudder 29×10-15
Brakes: Four-wheel hydraulic disc brakes
Wheelbase 79"
Length/width/height 115"/64"/82"
Ground clearance 16"
Towing capacity 2200 lb.
Curb weight 1741 lb.
Colors White and black
MSRP $14,495