UTV TEST: YAMAHA WOLVERINE RMAX2 1000 LIMITED EDITION
Amazing dirt performance with sport-sedan interior luxury By the staff of Dirt Wheels
When Yamaha introduced the new Wolverine RMAX2 and RMAX4 to the press, they released both at the same time. At that point we chose to concentrate on the luxurious Wolverine RMAX4 Limited Edition, thinking that it made sense with the $1500 price difference. That initial seat time was at an intro in Utah, but now we have had the Wolverine RMAX2 1000 Limited Edition out on our own trails and have spent time in a wider variety of conditions. We have a new respect for the RMAX2, and there are far better reasons to choose it than to avoid the station-wagon look.
THE WOLVERINE RMAX
Compared to the Wolverine X2, which is also a somewhat new Yamaha platform, the RMAX2 is a major step up in both power and suspension. Both machines have been a sales success, but for our western conditions, the RMAX2's added travel and 999cc engine makes sense. Yamaha and the RMAX2 are facing worthy competition from the Can-Am Sport and Commander, Polaris General, and the Honda Pioneer 1000 or Honda Talon 1000X. All easily deliver between 90 and 1000 horsepower, but the Yamaha combines that power with an unmatched feeling of interior luxury. The RMAX2's appeal is about more than the tactile interior experience or the sublime automotive levels of fit and exterior finish. The RMAX2 excels on serious trails. We credit Yamaha's Ultramatic CVT with a built-in centrifugal clutch for much of that prowess. It provides smooth hook-up and usable power transmission. The Ultramatic is so easy on belt life, Yamaha offers a 10-year belt warranty!
With Ultramatic, the drive belt remains engaged. A side benefit is positive engine braking. Unlike some brands, Yamaha's On-Command 4×4 system is always engaged when it is selected. You always have 4WD, so you always have four-wheel engine braking as well. Four-wheel engine braking is a big deal for control in technical driving. In addition to 4WD, the On-Command system also provides a handy differential lock that truly works.
All RMAX models have D-Mode capability, but it is stock on the RMAX2 LE (and on the XT-R versions). On base models, you must buy the switch and plug it in to get D-Mode. D-Mode provides push-button power delivery control with Sport, Trail and Crawl modes. D-Mode allows 100-percent power in all modes. It simply modulates how fast the EFI throttle plates open. The difference between the three modes is easy to feel, and for maneuvering technical sections, selecting Crawl makes a huge difference.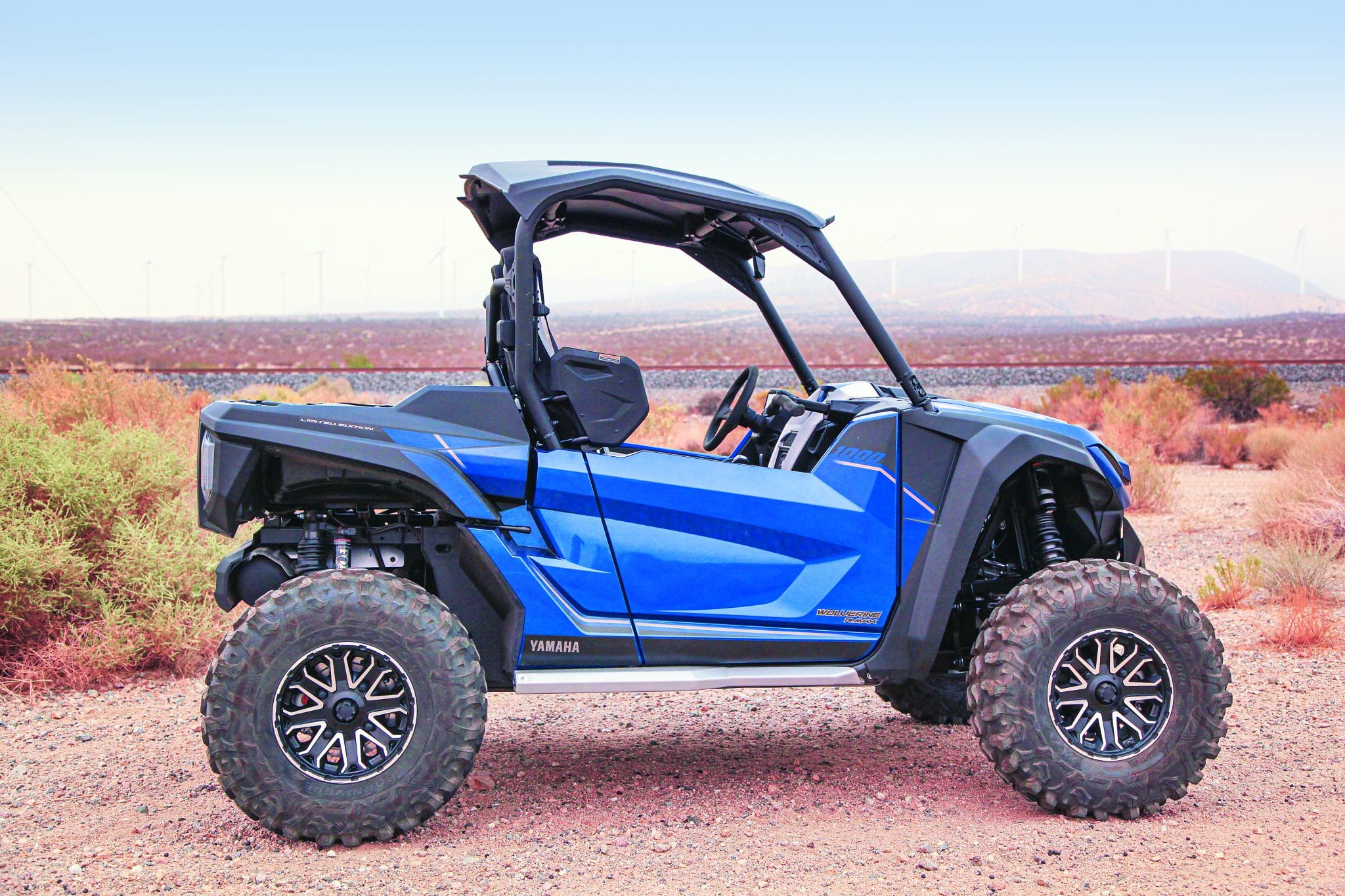 CHASSIS CLASS
The track width of our RMAX2 LE is a full 64 inches. Until just a few years ago, that was the widest of any sport UTV! For the best of machines in this sport-rec class of UTVs, 14 inches of suspension travel seems like the benchmark, and that is where the General XP 1000, the Talon 1000X and the two Can-Ams are. Yamaha matches that with 14.2 inches of front-wheel travel and is close with the RMAX4 with 13.3 inches of travel. Even though the RMAX2 and RMAX4 could be confused for versions of the same machine, they are different.
The RMAX2 has just over 16 inches of rear travel, or 3.6 inches more travel! And, that is not the only significant difference. A tape measure would reveal that the RMAX2 is roughly 9 inches shorter overall with a 3.5-inch-shorter wheelbase. Without the cage needed to clear the rear seats, the RMAX2 total height is 6 inches lower!
Yamaha also chose to give the RMAX2 a "square" tire setup with the same-size Maxxis Carnivore tires employed front and rear. Compared to the RMAX4, the tires are an inch taller at 30 inches, and slightly wider in the front and narrower in the rear. With all these changes, the RMAX2 is 174 pounds lighter. You can trust us; the weight and suspension differences are not just numbers, but make a difference you clearly feel on the trail.
In addition to more travel, the RMAX2 LE has Fox iQS piggyback shocks. Fox iQS shocks have three levels of damping adjustment, like the Fox QS3 shocks on other RMAX models (except the new RMAX2 Sport), but the damping can be adjusted on the fly via a dashboard switch. It isn't smart suspension, like the Polaris Dynamix, Can-Am Smartshox, Kawasaki Teryx KRX 1000eS or the Honda Talon 1000X Live Valve, but it is very nice to have instant adjustments with a dash-mounted knob. Aiding the suspension and handling are front and rear sway bars.
LOOKING INSIDE
Of all RMAX varieties, the LE is the most luxurious, and it may have the most in-cab sophistication of any UTV made. Everything you touch or that contacts your body feels like it could be in a high-end luxury sedan. The tactile experience of every control, knob and switch is truly a cut above the competition. Yamaha added molded soft touch-points on the doors and side of center console. Your knees will appreciate them after a long day on the trail. It is interesting that the actual seat specs and interior finish are not upgraded in any way you can see, but there is a feeling of luxury the other trim levels do not have.
RMAX2 pedals are angled down with a longer throttle face than the X2. Both changes make a big difference for taller drivers. Yamaha employs a non-slip dead pedal for the driver and passenger. The tilt-adjustable steering wheel has the YXZ shape, but the rubber cover is softer for better grip and feel. There is a parking brake instead of Park in the transmission.
The unusual passenger grab handle shape was exhaustively tested in the Yamaha watercraft division, and it works well. It adjusts in small increments, with no pin to pull to make those changes. There is an easy-to-see and -feel open-gate shifter.
DIGGING DETAILS
With the RMAX2, there are six height positions for the shoulder portion of the seat belts. LE (and XT-R) models have USB power ports. The LE has Yamaha's Adventure Pro GPS, speakers and a built-in stereo. Even though the screen is built in, it is easy to unlock the large-screen GPS and remove it from the car.
Adventure Pro comes with GPS mapping and navigation, online adventure planning, 115,000+ pre-loaded trails and waypoints, the Yamaha-exclusive Timing Mode, social-sharing functionality, vehicle integration and customization, and more. There is an SD card slot for loading GPX files. Add your trails or download them from Yamaha's site. Timing mode lets you set a course and keep lap information.
All in-cab switches are backlit, and switch settings are indicated at the switch and on the meter. There is blue LED floor lighting that is great for night driving. For further customization, there are 10 switch knock-outs since the standard winch already uses one. The little knock-out covers are the same as the floor-drain covers.
Under the hood are the CVT and engine air intakes. There is an oiled foam air cleaner with a back-up paper filter downstream to protect the engine. There are washer bottle mounts as well. Yamaha's accessory glass windshield is sold complete with a wiper motor and washer installed. The RMAX is pre-wired for accessories. Simply buy the appropriate pigtail for a clean, water-resistant connection.
RIDE AND PERFORMANCE
We experienced slick-rock technical and sand dunes at Sand Hollow State Park in Hurricane Utah, and then we were able to spend more time in our local high desert. As soon as you enter the car, you feel the exceptional comfort and feel of the premium interior. Entering and exiting the RMAX2 is no sweat. Our taller staffers always want more legroom, but there is enough. Like the General XP, the Yamaha seating position is upright, comfortable and supportive with excellent visibility forward. It doesn't take long to start relying on the D-Mode drive settings. We chose Sport for the dunes, but it is abrupt for technical trails. Trail is great, but we used Crawl mode a great deal for ease of throttle control and traction it offered. We saved diff-lock for the nasty stuff, but it is nice to have it. On slick rock (almost like pavement), it hung in diff-lock at times, but never in dirt.
It is easy to see why a 64-inch width is so common. It has stability on cambers, yet delivers a nimble feel on tight trails. Yamaha makes bold claims about the Yamaha Ultramatic CV transmission, and we never had one problem with the belt. We only used the winch to save other people. The Yamaha never needed it.
Avoid deep whoops with the RMAX2, but smaller or rolling whoops are in its job description with the iQS set on Sport. During all of our driving and in all areas, we frequently adjusted D-Mode and the iQS suspension settings. It is so nice to make changes on the fly. The same is true with 2WD, 4WD and 4WD with differential lock, though we routinely drive in 4WD.
PUTTING IT TOGETHER
We were lucky to get the RMAX2 in a very wide range of conditions. It proved wildly capable on the Utah tech trails, stair-steps and rock slabs. It was so calm and capable that it felt like the machine was glued to the terrain. The same was true of the more routine rocks and trails in the SoCal high desert. It was not so impressive in the deep dunes, but a tire change would make a huge difference there.
The new 1000cc engine and Ultramatic transmission combo are perfect for trail conditions. We did full-throttle starts and speed runs with 1000cc sport UTVs, and the Yamaha was right in the mix. We don't fault the brakes or steering. It has the great turning radius you expect from a short-wheelbase car. We had to deal with cambers and straddle some wide ruts. The car felt solidly planted and steered accurately, so we didn't hesitate straddling the ruts. We give part credit to the Maxxis Carnivore tires for the resistance to slipping into the ruts. Even with large rock steps, the ground clearance was fine, though we did lightly touch the skid plates.
CONCLUSION
Any time there is a price difference as small as $1500 for a four-seater, we usually lobby for the added cabin room. In this case, though, the lighter weight, superior rear suspension and overall capable feel would have us select the RMAX2, unless we really needed the seats.
YAMAHA WOLVERINE RMAX2 1000 LIMITED EDITION
Engine type Liquid-cooled twin four-stroke
Displacement 999cc
Transmission Yamaha Ultramatic V-belt with all-wheel engine braking; L, H, N, R
Final Drive Shaft
Fuel system EFI
Fuel capacity 9.2 gal.
Length/width/height 119.3"/66.1"/77.8"
Ground clearance .13.8"
Wheelbase .86.7"
Wet weight 1,884 lb.
Suspension/wheel travel:
Front Independent double wishbone w/ anti-sway bar, Fox iQS piggyback shocks/14.2"
Rear Independent double wishbone w/ anti-sway bar, Fox iQS piggyback shocks/16.9"
Tires:
Front 30×10-14 Maxxis Carnivore
Rear 30×10-14 Maxxis Carnivore
Brakes:
Front Dual hydraulic disc
Rear Dual hydraulic disc
Bed capacity 600 lb.
Towing 2,000 lb.
Colors Cobalt Metallic
Price $23,799
Contact www.yamahamotorsports.com