UTV TEST: YAMAHA WOLVERINE RMAX2 1000 XT-R
Eating a full plate of Colorado terrain with a side of elevation and views By the staff of Dirt Wheels
Next time we have a conversation about UTV destinations with our friends, Taylor Park, Colorado, will be at the front end of it. The Taylor Park area in the Gunnison National Park provides a crazy number of diverse trails and fire roads that bring you to other trails. Yamaha felt the area was the perfect spot to display the capabilities of the 2022 Yamaha Wolverine RMAX2 1000 XT-R. In fact, Yamaha based our two-day ride event in Almont, Colorado, at the Taylor Park trading post. It's a family-owned ranch where about 15 real log cabins are spaciously scattered around the property. The ranch is as authentic as it could be.
As visually amazing as the mountains of Taylor Park and the trading post are, that didn't distract us from our job of analyzing what the RMAX2 XT-R could do on the area's rocky and challenging terrain. Rather, it complemented the machine in ways we didn't expect. We knew it was capable, as we had spent a good deal of time driving the RMAX in 2021. In fact, our sister zine UTV Action magazine named it "UTV of the Year."
HANDLING THE TREACHEROUS
We must preface our handling thoughts with a brief description of the terrain you'll find on the trails near Taylor Park. The first day we headed southward, and 85 percent of our day was slow-speed, technical riding. In fact, some grades were so steep and rough, we can't imagine inexperienced folks would even enjoy it. There is a reason they call these the Rocky Mountains. Nevertheless, the RMAX tracked up everything easily, and trying to find its limits was a great way for us to test the machine's capabilities.
The RMAX2 has 14.2 inches of wheel travel up front and 16.9 inches of travel in the rear. The XT-R suspension is quite capable and adjustable. Three shock-damping settings are available for you to choose. The XT-R model requires manually switching the three-position adjustable compression knobs, unlike the Limited Edition model, which can be switched inside the car while moving.
Yamaha explained that they went with a rebound setting that allowed the wheels to get back on the ground quickly. This aids in maintaining traction while climbing rocky sections. As we followed other machines, we could see how the articulation of four-wheel, double-wishbone independent suspension benefited climbing and descending.
The downhills were just as sketchy and required full attention. Many trails were just wide enough to get the machine through, and that made driving more fun. Again, the wheels stayed on the ground, and that certainly benefited traction while cornering. For example, we would be bombing downhills with loose basketball-sized boulders scattered everywhere and still make tricky corners. Our pace was at velocities some drivers and most passengers would find unsettling. Even so, the XT-R would go right where we steered it.
Ride comfort is relative to which part of the trail you're on. We hit dirt roads and two-track where comfort was high. At our highest elevations we were on slow trails picking our way across roots and some rocks. Ride comfort at that pace was excellent. We maintained traction easily. We even aimed for bad lines to see if the wheels would break loose, but the XT-R kept pulling along. Other places we were amazed that the XT-R could even traverse the terrain without being damaged. It remains one of the most capable stock machines we've driven on technical trails. At times we literally had miles of boulders with no dirt. No machine will have ride comfort in those conditions. You are simply thankful to get through and continue down the trail.
While the Taylor Park trails are almost continuously challenging, they are rewarding. With a short-wheelbase car like the RMAX2, you'll get through all the trails fine. You may still require rare two-point turns. Longer cars would be limiting on certain trails. While the terrain was perfect for the RMAX2, it does get bumpy. If you're bringing passengers, make sure they know they're in for a rough ride at times.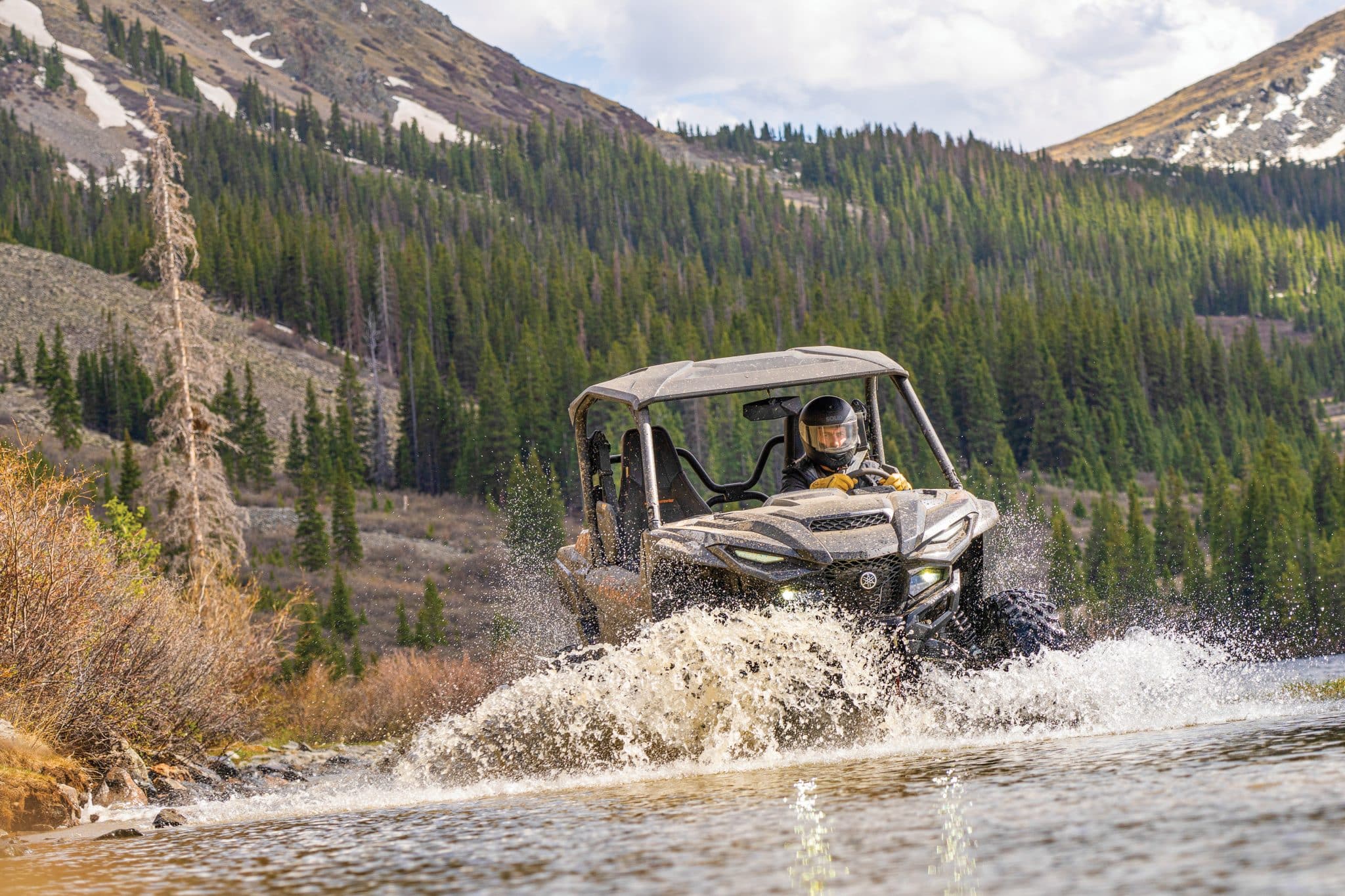 POWER AT ELEVATION
Did we mention elevation? The base camp sat at around 9000 feet. The altitude and challenging conditions were different than our past experiences in the RMAX, plus we brought new members of the Dirt Wheels staff to get another perspective. Altitude affects power quite a bit and it was noticeable. You lose about 3-percent horsepower for every 1000 feet of gained altitude. By starting at 9000 feet, we were already down roughly 27 percent on overall power! Our second day was less-technical, stair-step-style climbing. It was more of a rally day with fire roads and faster trails. Certain trails were rough and took concentration to pick lines. Traction was more important than all-out torque for most of the routes we traveled. Having power loss from the effects of elevation made the car even easier to control than normal and potentially helped as traction control.
The RMAX has three drive modes: Crawl, Trail and Sport. We already know there is plenty of low-end punch near sea level, particularly in Sport mode. Breaking the tires loose and drifting around corners was harder in Colorado compared to the typical elevation we ride at in California. You can expect the power loss to be comparable with any machine you bring to this area.
In terms of the drive modes, we found ourselves switching between Sport and Trail the most. Naturally, we used Sport mode for the fire roads and rally sections with minimal technical climbing. We would switch to Trail and Crawl for a tamer hit for climbing staircases and ledges. When getting jostled around through loose boulder segments, we felt Sport mode was too easy to accidentally press down on the throttle and break the tires loose. In other words, Trail and Crawl helped with traction control.
Under the bed you'll find a 108-horsepower, 999cc, parallel-twin-cylinder with Yamaha's Ultramatic V-belt CVT transmission. Ultramatic pairs the CVT with a centrifugal clutch to reduce belt wear and minimize shocks to the belt. The Ultramatic system is why Yamaha feels confident offering its astounding 10-year factory belt warranty. Yamaha's design allows you to use any drive mode in high or low, two- or four-wheel-drive in about any situation, and still get through it. Although they prefer you use traditional methods like using low for climbing, the RMAX belt can handle an unconventional approach if it must. Many machines will eat up belts if you drive with improper technique.
UNIQUE FEATURES
On some machines electronic power steering can assist too much at high speeds. Yamaha has developed intelligent steering that requires less effort at lower speeds and assists you less as the speed picks up. Basically, its predictive, and adapts to the conditions appropriately.
We put the Maxxis Carnivore tires through a lot of abuse and unavoidably subjected the tire sidewalls to sharp rocks. This tire choice was another testament to how Yamaha thinks about the details that make a machine fit more people's needs without modifications. Yamaha's detailing continues with ground clearance that was a standout feature to us. Many times, we thought we were going to hit the skid plate and missed it. Of course, line choice is important, but sometimes we tried to look for big rocks we thought might hit the belly just to find the limit. Once or twice we found it, but overall the clearance was impressive.
It's great to see UTVs giving folks the ability to have fun and get work done. In the RMAX's case, we would suggest that its suspension quality and high-engine performance orient it more towards fun and sport than utility. If work forces you away from the trails, it's rated to pull up to 2000 pounds and carry up to 600 pounds in the dump-able bed. Yamaha's research confirms that most people use the bed for a lot less than 600 pounds. Instead of setting the suspension for a fully loaded bed, they set it up for substantially less weight. It will still be fine with maximum payload, but Yamaha picked settings that benefited people who won't fill the bed with that much weight.
FIT AND FINISH
The details are never neglected at Yamaha. An exceptionally quiet cab is a fine example of one of those details. Nothing was rattling or loose, and after two days of hardcore thrashing, we didn't notice any odd noises. There are no sharp edges in the cab where your arms rest, and in general the cab is comfortable. They even have a soft rubber pad where your knee rests up against the door.
The cab is sufficiently roomy, and the space between the two seats is ample. Yamaha's outstanding Adventure Pro navigation system comes standard on the XT-R, and the functions are seemingly endless. The color screen is a thing of beauty like the rest of the futuristic-looking cab. You get your money's worth in the design and aesthetic of the dash and curves of the cab. The Adventure Pro screen displays an almost endless amount of vehicle function information and environment factors like elevation. Having the altitude readout was fun in a riding area with so many ups and downs.
CONCLUSION
Everyone on the ride heaped abuse on the RMAX2, and we had zero mechanical issues. That's saying a lot for a stock machine, but historically we have come to expect that level of reliability from Yamaha. During the ride, the Yamaha crew was encouraging us to push the machines as hard as we thought we could. It's proof they believe in the machine and that they wanted us to see what the RMAX line is capable of, as we surely did.
It was helpful that Yamaha planned a full day of technical, slow-speed riding and one day that was more high-speed rally-like. It gave us a wider view on the machine and reaffirmed why it is at the top of our list of sport recreation UTVs. We had already given it the SoCal high-desert treatment, but Colorado was a great contrast that the RMAX handled exceptionally. The RMAX2 is more performance-based than most sport-rec machines, and it will better suit riders looking for adventure and performance than those interested only in utility and carrying large loads. This is a machine ready for world-class trails and adventure.
YAMAHA WOLVERINE RIMAX2 1000 XT-R SPECS:
Engine type Liquid-cooled twin four-stroke
Displacement 999cc
Transmission Yamaha Ultramatic V-belt with all-wheel engine braking; L, H, N, R
Final drive Shaft
Fuel system EFI
Fuel capacity 9.2 gal.
Length/width/height 119.3"/66.1"/77.8"
Ground clearance 13.8"
Wheelbase 86.7"
Wet weight 1,884 lb.
Suspension/wheel travel:
Front Independent double wishbone w/ anti-sway bar, Fox iQS piggyback shocks/14.2"
Rear Independent double wishbone w/ anti-sway bar, Fox iQS piggyback shocks/16.9"
Tires:
Front 30×10-14 Maxxis Carnivore
Rear 30×10-14 Maxxis Carnivore
Brakes:
Front Dual hydraulic disc
Rear Dual hydraulic disc
Bed capacity 600 lb.
Towing 2,000 lb.
Colors Tactical Black/Carbon Metallic
Price $23,799
Contact www.yamahamotorsports.com