2020 POLARIS RZR PRO XP ULTIMATE
UTV TEST: A new standard has been set
By the staff of Dirt Wheels
2020 POLARIS RZR PRO XP ULTIMATE
Finally, Polaris stepped up with an epic all-new RZR! Revisions of current models were great, but we kept waiting for something fresh. We knew Polaris had to have a game-changer up its sleeve but didn't know when it would be released. And now, we have the debut of the 2020 POLARIS RZR PRO XP ULTIMATE.
We give Polaris a lot of credit for shaping the performance UTV industry over the past decade. It is insane how far technology has progressed in that time. The two-seat RZR 800 was the domino that cascaded our industry into power struggles to produce the fastest and most fun UTVs. The 800 produced a once-impressive 55 horsepower.
Now, UTVs sport turbo-inducted engines with close to 200 ponies—machines that throw you back in the seat with powerful acceleration. This aggression is injected into the DNA of Polaris' all-new RZR Pro XP.
Polaris didn't pull any punches—181 horsepower, enhanced performance, and all-new styling. Plus, it comes in three flavors that start at $22,999: RZR Pro XP, RZR Pro XP Premium, and RZR Pro XP Ultimate. We burned laps in the rough and wild Nevada desert to investigate this new RZR's true ability.
PLENTY POWERFUL
Polaris updated the tried and trusted ProStar, 925cc, parallel twin-cylinder DOHC engine from the XP Turbo line and placed it in the Pro. The horsepower jumped from 168 to 181 through engine tuning, a larger water-cooled turbo, and improved the heat dissipation and cooling of the engine.
The cooling system now has a purge valve at the radiator and at the engine, so it shouldn't boil over when turned off after hard running like older versions of the ProStar would do. It has a much-needed 12-gallon fuel tank for the thirsty turbo. Polaris added a stator that produces 900 watts to handle added electrical accessories. Polaris has already created brilliant add-ons you can purchase through the website or at your dealer.
The transmission was strengthened by a claimed 39 percent to withstand the increased horsepower. Inside the trans, the gears are much stronger, and the trans has been tuned to handle the 30-inch-tall tires and increased horsepower. It retains high and low forward gear, neutral, park, and reverse.
The CVT has been redesigned to run much cooler through increased ventilation, which aids in belt performance and lifespan. Polaris incorporated roller pucks in the primacy clutch rather than metal sliders. The roller pucks help displace dirt instead of attracting it. The CVT cover is now easier to remove, and the bolts that hold it on stay connected to the CVT cover.
2020 POLARIS RZR PRO XP ULTIMATE
TOUGHER THAN EVER
The new RZR Pro XP frame is now a fully welded one-piece design utilizing 2-inch diameter tubing. Polaris claims that the new roll cage is the strongest one that comes stock on a UTV. The main tubes are 2 inches in diameter, with 1.75-inch cross tubes, and it bolts together from eight different pieces.
The impressive drivetrain utilizes the very strong front differential out of the RS1 and RZR XP Turbo S line. The axles are now eight times stronger as well. They added a new name to their true On-Demand all-wheel/two-wheel drive system: Isolated Xtreme Performance. Apparently, the system offers a claimed three-times-stronger front drive.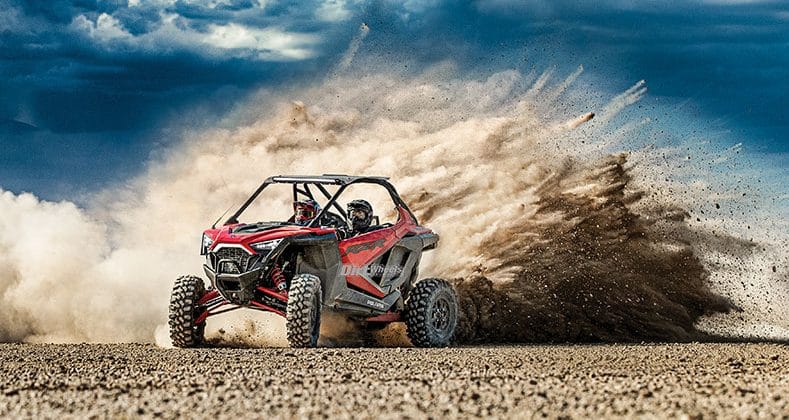 STRENGTH IN SUSPENSION
Polaris built the Pro XP line with the intention of providing a UTV that can handle hard and abusive driving while being comfortable and smooth. This 64-inch-wide trail tamer has a wheelbase of 96-inches—that is 6 inches longer than any previous two-seat RZR built. That added length translates to increased stability and smoothness at higher speeds.
Polaris wisely designed the Pro to have a sharp-turning radius of 18 feet, a trait that you would usually lose with a longer machine. The wheel travel has been raised in comparison to Polaris' other 64-inch-wide offerings. The front dual A-arms are high clearance and strengthened through gusseting. They offer 17 inches of wheel travel. Rear suspension travel rests at 20 inches from a trailing arm-type independent suspension. Both front and rear systems work well with stabilizer bars.
The RZR Pro XP Ultimate comes with Polaris' Dynamix 2.0 electronic compression-controlled shock system. Fox 2.5 Podium Internal Bypass Live Valve shocks are found on all four corners of the machine. The driver can choose stiffer or softer modes through steering-wheel-mounted controls, which was never an option previously.
The Firm mode was reduced in stiffness to be more usable, but there is an "X" button on the wheel. When pressed, it will temporarily stiffen the shocks past what the firm mode allows to suck up a big hit on the trail. You will primarily use the comfort and sport modes. The Pro XP and Pro XP Premium versions of the RZR run Walker Evans Racing 16-position-adjustable needle shocks that are not electronically controlled.
2020 POLARIS RZR PRO XP ULTIMATE
ENTER THE ARENA
The cockpit of the RZR XP Pro line is immersive and gives the driver a more connected feel than any previous Polaris RZR. The seating position is lower to the ground, the seats are all new, the harness system is more comfortable and the steering wheel tilts and telescopes for a better fit.
The cockpit delivers 6 inches more legroom, 4 inches more width at the shoulders and there are more than three storage locations. Only two of the Pro models come with the telescoping steering wheel, but that is one of our favorite improvements. The dash is closer to the driver so you don't have to lean far to reach any of the switch panels or the Ride Command 7-inch touchscreen on the Ultimate. The steering wheel is D-shaped with a comfortable over-mold that felt great in our hands.
The new seats have airflow channels designed into them, and they have tilt adjustability that requires tools to adjust. A tool-less 6-inch adjustable slider system comes standard on all but the base model of the Pro's driver seat. This machine makes us feel very connected and adds more confidence.
The Ultimate version of the Pro comes with a 400-watt Rockford Fosgate audio system that can be controlled through the touchscreen and steering-wheel controls. The Ride Command system has been updated to increase ease of use, and the GPS tracking is the best it has ever been. It will still work well in places that have no cell service.
2020 POLARIS RZR PRO XP ULTIMATE
RIDE REVIEW
This UTV is fast, smooth, and stable. We love how powerful and well-tuned the ProStar turbo-inducted engine is, but we also believe that no one really needs that much power. It is tuned to work best in the 20–50-mile-per-hour range for aggressive driving. When you plant your foot hard on the accelerator pedal, the power pushes you back in your seat and things start getting blurry. The engine and transmission combo are still smooth and easy to operate in slow-going.
The suspension is supple and surprised us with how well a 64-inch-wide car worked through chop and hard hits. The 72-inch-wide Turbo S and the Pro XP feel similar in control and suspension feel, which makes the Pro XP even more impressive.
We spent our time in the Pro XP Ultimate version that has the Dynamix 2.0 Fox shock system. The comfort setting is our favored mode in rocks and slow-speed chop. Once the speeds picked up, Sport mode helped the Pro XP perform admirably. We did notice the rear end bottomed out on some Nevada desert trails.
A bit of shock tuning should be able to straighten that out. The longer 96-inch wheelbase helped the RZR ride smooth, yet Polaris designed the machine to have agile cornering and a sharp-turning radius. Polaris also provided the new RZR with 30-inch-tall Maxxis Carnivore tires. The side-tread lugs help protect the sidewall from punctures and aid in the machine's 14.5-inch ground clearance.
2020 POLARIS RZR PRO XP ULTIMATE
We pushed the RZR hard over whoops, natural jumps, rock gardens and tracked-out sand washes. The cornering stability was very surprising. The lower center of gravity and lower seating made us feel very comfortable while throwing the machine hard into corners, and the Polaris rarely lifted the inside wheels. The triple-bore front brakes and dual-bore rears are strong and don't fade easily. If we didn't have time to brake hard before a big hit or G-out in the trail, we hit the "X" button to stiffen the front shocks to handle the abuse.
Inside the cockpit, you have a much safer feeling than previous RZRs. The doors are taller, which adds a greater sense of protection. A stronger and larger tube-diameter roll cage adds to that sense. Polaris included a new passenger grab handle that is easy to adjust and more ergonomic to hold.
The interior feels better built, and you can tell that they took a lot of R&D time to get this model right. We did notice that the foot compartment is longer than other RZR models, but it didn't feel as wide. The six-point harness system works very well at the shoulders and the waist, but the leg straps are a bit uncomfortable over time.
2020 POLARIS RZR PRO XP ULTIMATE
FINAL THOUGHTS
Well done, Polaris! We are already fans of the new machine. The body styling is aggressive. The line of sight from the driver's seat is great, and the cockpit is superior to any previous Polaris. We can only assume that a four-seat version is in the works and, eventually, 72-inch-wide models. The RZR Pro XP is a new lineup and won't be replacing any of the other vehicles in the 2020 line. You can purchase the 2020 Polaris RZR Pro XP Ultimate for a starting price of $28,499 in Indy Red or White Lightning. Go to www.polaris.com for more info on all of their new machines!
To subscribe to Dirt Wheels Magazine in print or digital form click here https://hi-torque.com/product/dirtwheels.
2020 POLARIS RZR PRO XP ULTIMATE
Engine Twin-cylinder, DOHC, liquid-cooled, 4-stroke, turbo induction
Displacement 925cc
Starter Electric 
Fuel system EFI
Fuel Capacity 12 gal.
Transmission Automatic CVT
Final drive Shaft
Suspension/wheel travel:
Front Dual A-arms w/ 17.0"
Rear Trailing Arm w/ 20.0"
Brakes:
Front Dual hydraulic discs
Rear Dual hydraulic discs
Tires:
Front 30×10-14
Rear 30×10-14
Length/width/height 126.1"/64"/71.7"
Ground clearance 14.5"
Wheelbase 96"
Curb weight 1773 lb.
Payload capacity 740 lb.
Cargo bed capacity 300 lb.
Towing Capacity NA
Colors Indy Red, White Lightning
Price $28,499
.
.