VINTAGE RESTORATION: 1977 HONDA ODYSSEY FL250
There may never be a better early Odyssey By the staff of Dirt Wheels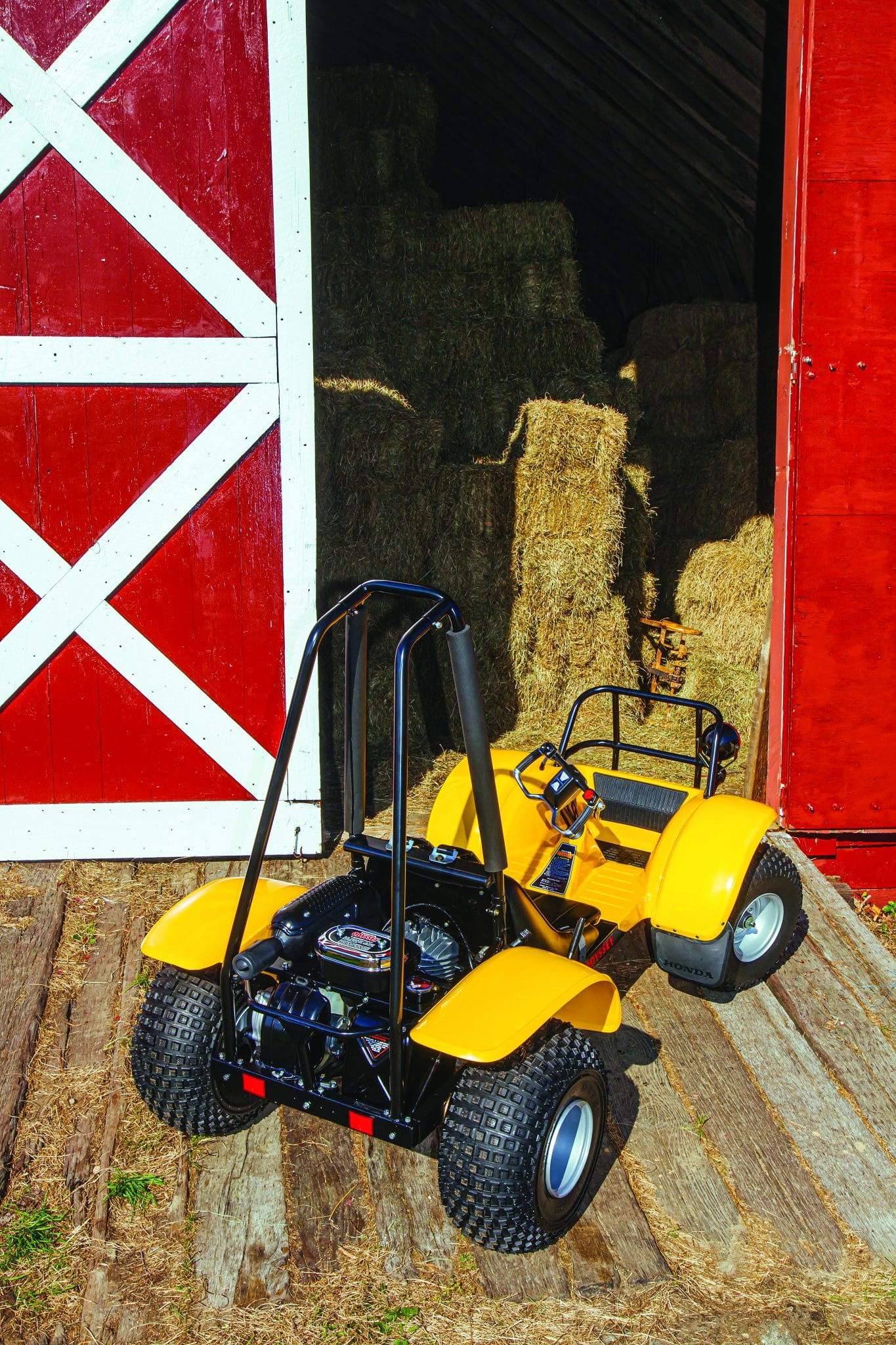 This entire restoration started as an idea that Mike Palmgren of Vintage Motorsports had back in 2004 while working for the Honda Collection Hall in Japan. Yutaka "Tony" Ikeda was the long-time Honda employee who was given the job of putting together the museum's collection. The Collection Hall opened in Japan in 1998 to commemorate the 50th anniversary of the founding of Honda. People just assumed Honda had a brand-new example of every model it ever made. In fact, they really didn't have much saved prior to the Collection Hall opening.
Tony wanted to find a first-year 1977 Odyssey FL250 but could never find one good enough for the museum. No parts could be found to restore one at that time, so they settled on an almost-new, red, 1983 full-cage-version FL250 they found. Tony was on the original design and testing team for the development of the Odyssey in the mid-'70s. He told many stories of testing out in the California desert while fine-tuning everything for full production in 1977.
Those conversations 17 years ago put the thought in Palmgren's head to keep an eye out for early FL250 NOS parts and start putting them away. Fast-forward to two years ago. A great customer from the Netherlands wanted a restored 1977 FL250 for his future museum in Holland. By then, Palmgren had quite a stockpile of NOS Odyssey parts and knew he could find the remaining ones if he stepped up his game. The deal was made, and off he went.
A LITTLE HISTORY
Honda introduced the Odyssey FL250 in 1977. At first glance it had an almost lunar rover look to it with just a high-back head rollover bar and a high front guard for your feet. They were yellow with silver wheels. Power was from a 248cc, piston-port, single-cylinder two-stroke. Its drive system used a belt-torque converter designed and manufactured by Salsbury Clutch here in the U.S. The driven clutch was linked to a full gear-reduction gearbox using a large, internally oil-sumped chain directly linked to the rear axle. Those axles were live, so no differential at all on these machines.
Braking was controlled in two ways, as this machine had full hand controls. No foot pedals were used at all. A hand brake on the steering wheel was a cable-driven caliper disc brake that was rigidly mounted to the secondary or driven clutch. A hand emergency brake was cable-driven to a drum brake directly on the axle and totally separate from the vehicle's main brakes.
The throttle was a little hand lever on the steering wheel that you could pull with one or two fingers. The fuel tank was below the height of the 28mm Keihin carb, so Honda incorporated a vacuum fuel pump to transfer the fuel to the carburetor float bowl. Fuel was pre-mixed with no oil injection. First-gen Odysseys were pull-start only. They used one single headlight mounted on the right-hand side of the foot crash-bar area.
AIR SUSPENSION?
There was no rear suspension, except the large Ohtsu balloon tires to soak up some of the small bumps. The front used individual control arms with small spring-type shocks for a few inches of front travel. A generous seat was fairly plush with side bolsters to hold you in. It was adjustable front to back, and it employed a full four-point harness system for safety.
The front and rear fenders are durable plastic, and the main tub where your feet sit is made of fiberglass. Its frame resembles an old Jeep frame when it's stripped to its bare bones. It is all double-boxed and built very nicely. Honda kept the same design from '77–'79 with only decal changes within those years. In 1980 the only change was moving the single headlight under the seat-back roll bar. In 1981–'84 Honda went to all red with gold wheels, and they used a full roll bar that extended fully overhead for rollover protection. Honda also switched from points ignition to CDI and raised the air intake tube to the highest point on the roll bar for deep water crossings. 1985 was a huge jump for the Odyssey with the new FL350, with a full-tube chassis, full suspension, electric start, reverse and more. It was a huge improvement from the old FL250. This was a one-year production.
Honda left the Odyssey market until '89–'90 with the 400 Pilot. Again, that was leaps and bounds better than the FL350. Honda pulled the plug on all seatbelt, steering-wheel off-roaders until breaking into the UTV market. Honda saw something 44 years ago with the FL250 that may have started the booming UTV market we see today.
RESTORATION
Palmgren needed to find the perfect 1977 donor to start with. Nearly every Odyssey had some sort of backyard custom work that ruins the integrity of the frame and all related parts used from the factory in '77. The hunt was on. His friend Tim found one listed locally (Cape Cod) on Facebook Marketplace. The pictures and description were vague but worth looking in person. A realtor found it stashed in an outbuilding of a property she was selling. Although showing rust and fading from the climate, it looked untouched. We don't think the belt had ever been changed, but the tires were rotted right off the rims. All the guards were still intact, and the bolts (although corroded) were not rounded off. It was a textbook, perfect donor start to a restoration.
Everything was locked up (brakes and bearings) from sitting for over 35 years in that building. We made the deal and dragged it to the shop.
DISASSEMBLY RULES
Disassembly is the most important part in a restoration. Take tons of pictures and inventory of what parts will need to be replaced. Separate the various colors of zinc plating and put together a game plan. Over the past 17 years Palmgren had found some unobtanium as far as the NOS parts go. For example, he found all four NOS fenders but in four locations. He found a NOS tub assembly, although it was unpainted. Palmgren also found all of the two-piece wheel inner and outer NOS halves in the Honda boxes. The tires are the gold on this project. Palmgren managed to track down all NOS-original Ohtsu tires.
He found a NOS steering wheel in Germany! The headlight shell, chrome bezel and main bracket are all NOS. The same for the fuel tank, muffler, heat shield, front foot cage and the bars behind the driver's seat. The NOS list includes various clips, rubber parts, cables, switches and other parts came from all over the world. Palmgren would bet that replicating this restoration to this level is impossible. There simply are not enough NOS parts anywhere to do this again.
THE PROCESS
The frame is sandblasted and inspected for cracks or damage. Palmgren had to repair a few small cracks and gouges, and metal-finish the repair so it's seamless. He likes to powdercoat the frame, so he cannot use any body filler. It all has to be magnetic and withstand 400 degrees of heat from the oven. For deep gouges and scrapes, Palmgren uses a bronze rod setup for TIG welding to fill the areas in. He then hand-files or sands the excess off. This allows him to heat and finish the frame with powder for a bulletproof finish that will literally never fail, like a paint can over time.
Every bolt, bracket, axle, hub, or anything plated is original to the machine. The process is time-consuming, but after they are bead-blasted rust-free, you work each piece so there are no pits or marks that will show up once the zinc plating is done. Palmgren reworks large parts, like the axle, on his lathe to a perfect finish before plating. Honda used a variety of colors of zinc, including clear, yellow and black. It's important to keep colors separate as you work them. Once they are blasted they all look the same, and without reference there is no way to tell the original color. There was not much chrome on these besides the air-cleaner cover and gas cap.
ENGINE ROOM
The engine was a corroded, greasy mess, but like anything else, you give it a good clean before teardown to eliminate contamination. Then, take one piece at a time and build it back to brand new. The bare aluminum on the crankcase and the cylinder and head were all cleaned in a multi-step process ending with vapor honing. That will give the aluminum that fresh, brand-new-out-of-the-mold look from '77. All the bare aluminum parts were treated the same—from the calipers to the gear reduction box and all front hubs. The cylinder was bored .010 over, new crank bearings, seals, gaskets, intake manifold, etc. He was lucky to find brand-new drive and driven clutches from an FL250 parts guy who had new Salsbury parts.
Palmgren sent the seat to his upholstery guy. Luckily, there was enough of the seat left for him to make an exact pattern and duplicate the seat perfectly after VM refinished the steel pan and the seat-adjuster tracks. He contracted a race car seatbelt company to make up brand-new four-point seat belts just like Honda did, using the black webbing with chrome buckles and adjusters. He was also lucky to find NOS OEM seatbelt pads that snap around the upright seat belts. These are the details that make a restoration.
Every decal was reproduced exactly, thanks to Bruce and Blue Line Graphics in Pennsylvania. He is the master when it comes to decals, and close is never good enough for him.
The main fiberglass tub was new, but it had lots of shelf wear from being moved around for 35 years. He also found an new steel front skid plate. He prepped both, got all the marks out and had the color scanned. His local paint supplier mixed up a perfect color in high-end Axalta base-coat clear coat. Yellows can be tricky, as the undercoat can do a lot to the final color. Palmgren used a bright white base coat to give a consistent bright finish to build from.
This was a two-year restoration with some stalled times hunting for specific parts. Palmgren and Vintage Motorsports are super happy with the final product and proud to have it on display in the customer's collection in Holland.