VINTAGE TECH: WHO REMEMBERS THE REBELSTAR – A ROTAX 2-STROKE POWERED 250R?
1998 REBELSTAR 250 PERFORMANCE TEST | First track test of an all-new, ready-to-race quad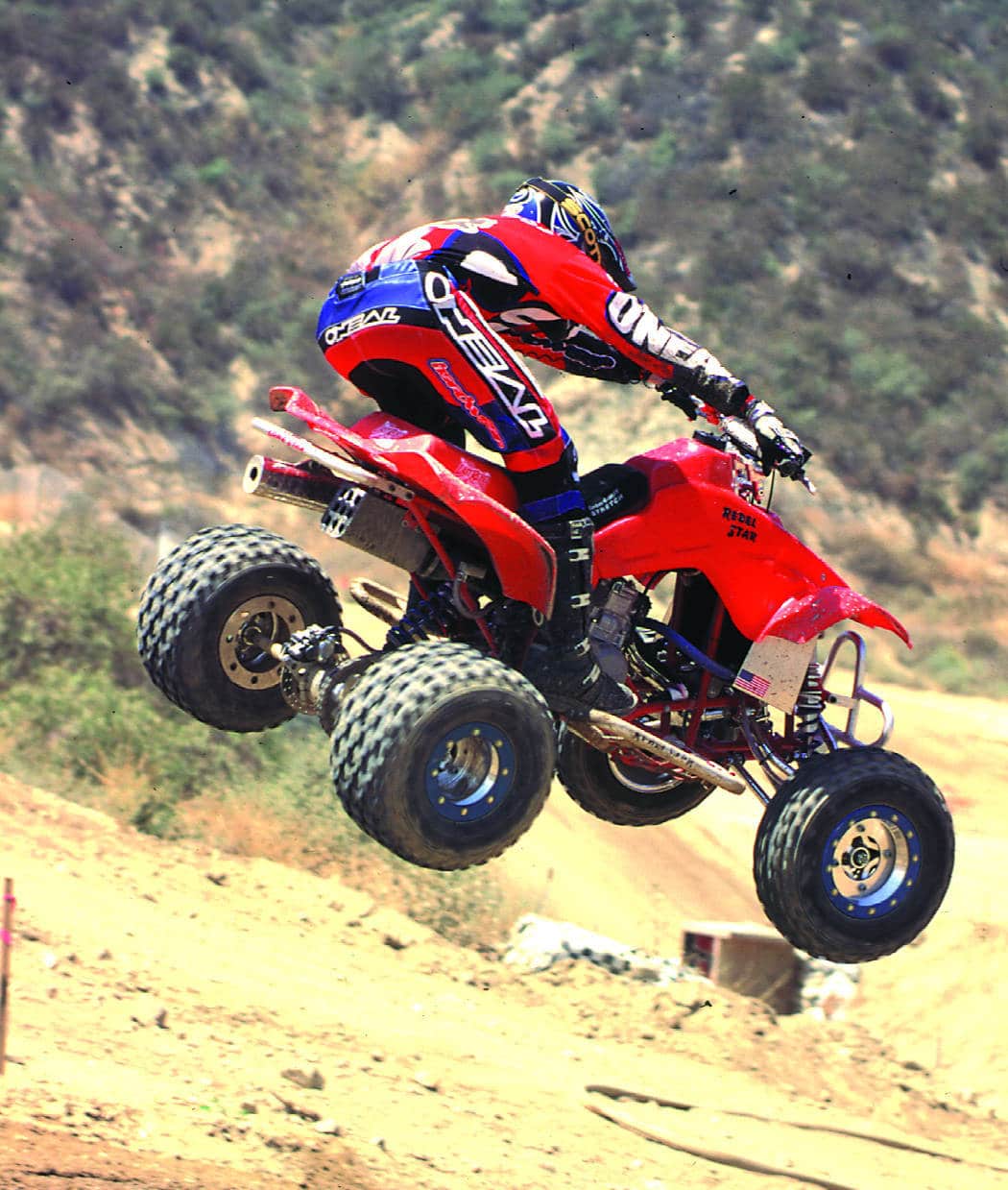 **Editors Note-A test of a one-off prototype racer to replace Honda's FourTrax 250R from our February 1998 issue.
RebelStar one-off racer.  A replacement for the Honda FourTrax 250R?
Ever since the wildly popular Four­Trax 250R disappeared from Honda's line­up in '89, racers throughout the country have been screaming for a ma­chine as good as, if not better than, the FourTrax.
Sure, there are plenty of other sport and performance machines on the market to­day, but none are as fast on the racetrack (in the modified form) as the much-loved FourTrax 250R.
The trouble is, many of the Four­Trax­ machines currently lining up on race­tracks are nearly ten years old and have taken quite a beating in the rough and dirty sport of ATV racing. Most of their components have been re­paired, reinforced, or replaced, and very few of the stock parts actually remain. It's sad to say, but all ATV racing frames eventually have to be laid to rest.
Soon after new FourTraxes be­came unavailable, several aftermarket companies began to fabricate com­plete ATV racing frames. Riders, of course, would then have to add all the rest of the components, many of which were taken off FourTrax 250Rs (in­cluding engines). These new racing quads were quite successful on the track and virtually every top Pro 250 MX or TT National racer today has one of these hybrid machines. In the past several years the Cross-Coun­try series has seen an influx of af­termarket chassis at the Pro levels as well.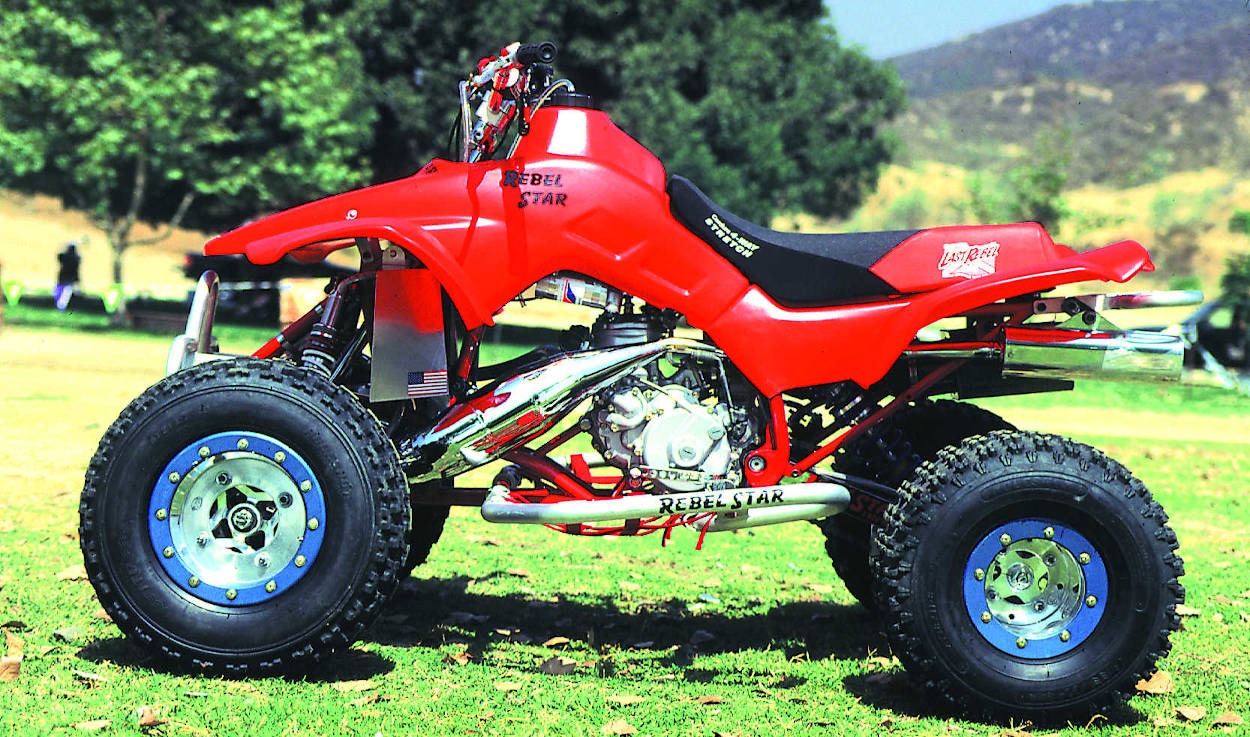 At this time, most of these chassis are built by one of three companies: Laeger's, LoneStar and Roll Design (sometimes known as DRD&D). Most of these frames (which cost anywhere from $2000 to $2500 without front end and $1900 more for a Lae­ger Pro-Trax front end) are built to accommodate the Honda 250R en­gine, which is the powerplant of choice in the 250 Pro division.
A NEW IDEA
Kip Kilburn of Last Rebel Racing (of Highland, CA) and Tom Fischer of Lone­­Star Racing (in Phoenix, AZ) felt it was time that Pro ATV racing stepped up to the next level. The two fab­ri­cat­ors met and discussed a unique idea: developing and selling an all-new rac­ing quad that comes complete and is ready to hit the racetrack right out of the crate. Many mov­ers and shak­ers in the industry talked about do­ing this in years past, but nothing ev­er was completed.
Kilburn's main job was to hunt up a powerplant that was different, but com­petive with the 250R (new 250R engines are quite scarce these days). He settled on the Rotax 250, which was used in '89 ATK dirt bikes and trials bikes. The single-cylinder, water-cooled two-stroke has also seen ac­tion in go-karts. Rotax is well-known in the motorsports world for building race-winning engines for flattrack mo­torcycles, snowmobiles and April­la road racing motorcycles. The en­gines are built in Austria; the Rotax com­pany itself is owned by Bom­bar­dier, the Canadian-based makers of Ski-Doo snowmobiles and Sea-Doo watercraft.
The rest of the machine is based around a LoneStar racing frame built specifically for this powerplant. The running gear and drivetrain are all a combination of primarily LoneStar components, along with Last Rebel and other top-quality aftermarket parts (for more details on the engine and frame, see accompanying sidebar). However, the RebelStar does not come cheap—the entire race-ready package as tested (there are a va­riety of optional setups available) is $15,900.
The PEP Zero Preload Shocks (ZPS) on this machine have already prov­en themselves to be the best in the business. The top seven 250 Pro riders in '97 all ran these unique and innovative shocks on their machines, as did the 250 A, B and C class champs. Their magic lies in the fact that there's no preload on the shock it­self, but the ride height can be ad­justed to have zero to 5.5 inches of wheel drop. This allows racers to set up their quad much lower without los­ing wheel travel (the spring and damp­ing characteristics stay the same no matter what the ride height). With a lower ride height, the ma­chine has a lower center of gravity, which results in better handling in the corners as it resists chassis roll and two-wheeling. On top of that, there is no lifting of the wheels under acceleration, which results in more traction in the corners.
RACE TRACK TEST
The staff and test riders of Dirt Wheels were on hand for the very first test of the RebelStar 250. We spent a day riding and racing on the de­manding, high-speed motocross track at Glen Helen Raceway in South­ern California. One of the test riders, Adam Cambell, has had ex­ten­sive experience on modern racing FourTraxes, including those based on a­ftermarket frames. His input would be especially important.
"The first thing I noticed was that the kickstarter is on the wrong side and it took some getting used to," said Campbell. "But after I fired it up and rode it around the track, I was in for a real treat."
DW editor Steve Casper found a little mechanical bug (which is to be ex­pected with a first-time machine) right off the bat, and at the same time discovered one of the best things about the RebelStar. "On the first straightaway I clicked up into fourth and was flying when I saw some sharp but small whoops ahead. I'm used to riding stock quads most of the time and I did not want to hit these bumps at this speed. I went to hit the rear brake and couldn't find it at all and flew into the whoops without slowing down. I thought, 'Oh, boy, this ain't gonna look good, the quad and I tumbling down the straight on the very first lap.' What happened next was that the suspension completely soaked it up like no other quad I've ever ridden. By the end of the day I was hitting that section with the throttle on and a big grin!" Back in the pits, they found that the rear brake pedal simply needed to be bent out a bit for Casper's size-12 boots.
ENGINE PERFORMANCE
One thing is for sure: the Rotax 250 is fast. Most of us felt that at top speed it would beat most modified FourTrax 250R-powered machines fairly easily. However, with the pipe design that is on the first RebelStar, the majority of the power hit is in the midrange and top-end of the powerband. To turn fast lap times on a motocross course, one needs a strong, torquey bottom-end as well. The builders of the Reb­el­Star are R&Ding other pipe designs as we speak, searching for the perfect motocross powerband.
In fact, when asked to describe the power characteristics of the Rotax, most testers said that it felt like a modified Banshee with a killer hit right af­ter the midrange. "I was coming down­hill on loose terrain, tapped in fourth, and doin' a wheelie!" ex­claimed one rider.
Because of the power characteristics, one has to pay more attention to al­ways being in the right gear, which could cost some time during a race. With more torque, one can get away with being in a higher gear in the corners. Ayone who has ridden both a Banshee and a FourTrax should know what we mean.
HANDLING & SUSPENSION
Everyone was very impressed with the shocks and the overall handling of this machine. The front end was hit­ting holes, rocks and bumps that would have normally jarred our arms and legs, but instead we rode through the obstacles like they weren't even there! The PEP shocks and Lone Star frame are state-of-the-art ATV racing components; right off the bat they worked great on the Glen Helen track. Our faster test riders were even smoking most of the mo­tocross motocycles that were sharing the practice session with us!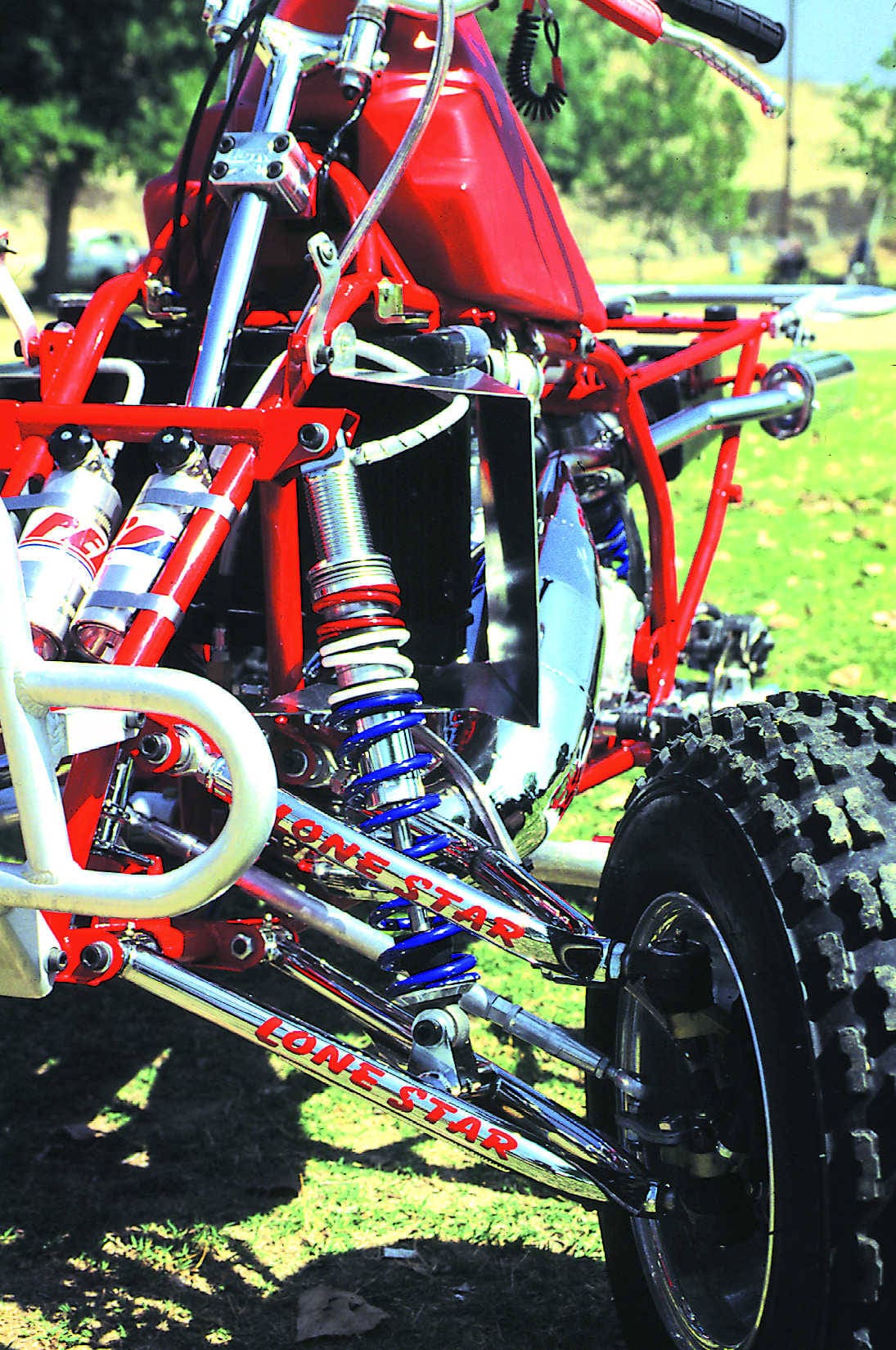 We also noticed that there was no sense of any frame flex—the mark of a good racing machine. With the suspension working so great, the wheels stayed put on the ground, allowing us to keep the power on. The Rebel­Star felt perfectly balanced for jumps and turns. Some testers said it felt "very ma­neuverable with a low-profile, light feel to it" (it weighs 335 pounds, which is the same as most rac­ing FourTraxes). Even with the plush PEP ZPS suspension, the quad doesn't dive in the turns, and it eats up whoops and bumps like nothing we have ev­er ridden before.
DO WE HAVE ANY COMPLAINTS?
Other than the need for a different ex­haust pipe, about the only gripes we heard from our testers regarded the chumpy-looking gas tank and the B-grade plastic fenders. If you are going to build a $16,000 racing ATV, why not go all the way with fin­ishing touches like the best plastic and fuel tank? We know Moto-Force makes higher-grade plastic fenders that this machine deserves, and it should have a lower-profile MX racing tank rather than a spodely desert tank.
The other details, like bar and footpeg placement, brakes, etc., all got high marks with no complaints re­corded. Riders especially liked the pre­cise feel of the RTC Pro-Pull levers and the Last Rebel Non-Slip seat. Even though Rotax offers 50 different gearing setups, the gears RebelStar used are the same as those found on the ATK motorcycle and they felt fine to us.
The adjustability of the RebelStar is incredible. Riders can adjust four inches in width on the A-arms, seven inches in length on the swingarm, and three inches on the axle. On top of that, the A-arms and swingarm are both chrome, as are several other parts.
Finally, upon close inspection, the workmanship on the components ap­pears to be top-notch. Many of the parts are made from billet aluminum.
ENTER IT IN A RACE
Building an all-new racing ma­chine and having a group of journalists and racers test it on a track is one thing, but the real test should be a heads-up race in a Pro, National-lev­el event. From our rides on the Rebel­Star, we are guessing it should be ful­ly competitive with the Laeger and Lone Star 250R-powered machines that currently dominate the scene.
Hope­fully, by the time you read this, the RebelStar folks will have developed several more pipes that should give the Rotax engine a more manageable powerband for ATV moto­cross. We are told that this first ma­chine is being sold to a customer in Utah and that there are no current plans to run this particular quad in any '98 National MX or TT races.
Hope­fully, RebelStar #2 and #3 will be finished soon and the makers will see to it that a top rider hops on board and shows us what it really can do at Blountville or Red Bud!
For more information on the Reb­el­Star 250, contact Last Rebel Racing or Lone Star Racing
TECHNICAL LOWDOWN INSIDE THE REBELSTAR
Engine/transmission: 250cc single-cyl­inder, water-cooled, two-stroke Ro­tax Model 257 GS. Last Rebel Racing porting with stock head, reed cage, piston, crank and rod. Also features a power exhaust valve and a counterbalancer. RebelStar custom pipe and silencer. Bore and stroke of 67.5mm x 69.8mm and 38mm Keihin QWAS carb. Runs on Trick 112-octane racing fuel with Motul oil at 45:1. Six-speed manual clutch transmission, no reverse.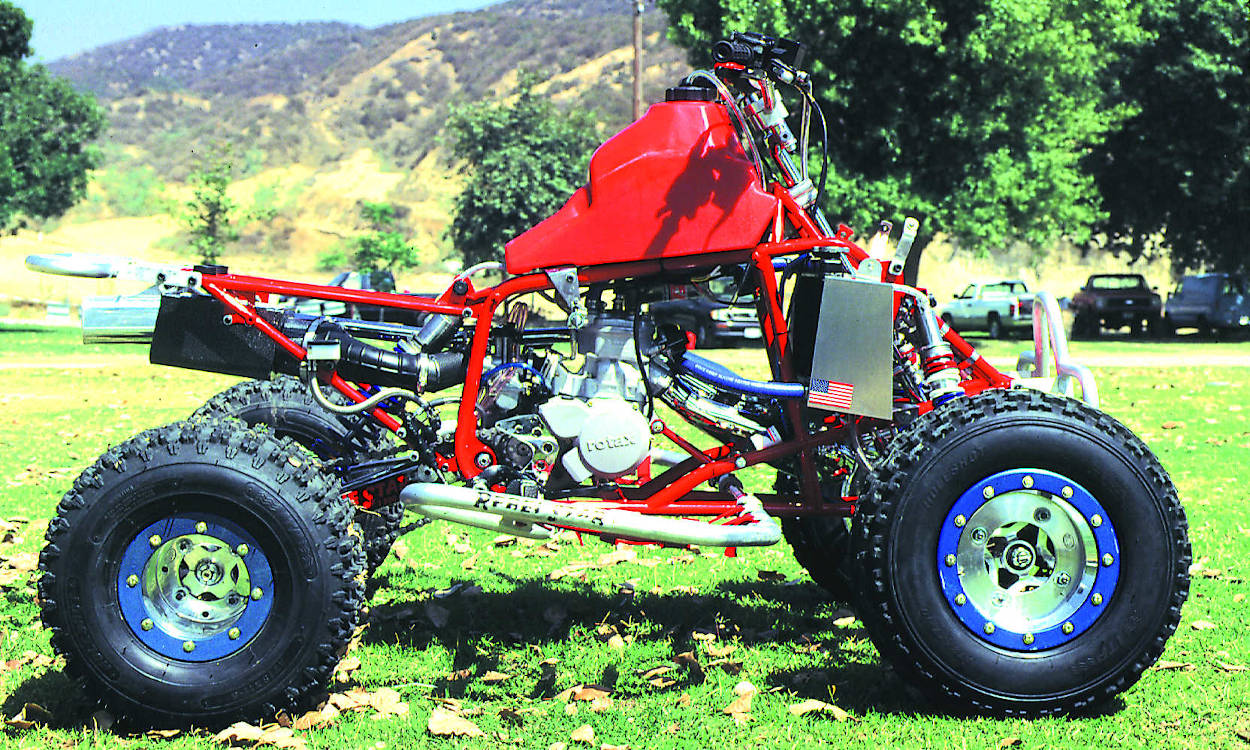 Frame: Lone Star Racing (LSR) Last Rebel frame made from 4130 chromoly. Vibration-isolated LSR steering stem and billet top clamp. Adjustable LSR chrome A-arms (0" to +4"), ad­just­able LSR chrome swingarm (–1" to +6"), and adjustable LSR rear axle (+1" to +4"). Billet front wheel hubs, rear wheel hubs, sprocket hub, brake hubs, and anti-fade rear axle locknut. PEP steering stabilizer, RebelStar billet double-row axle carrier, and Sprock­­et Specialists sprockets (14/38 gearing).
Suspension: PEP Zero Preload Shocks (ZPS) with 10.75 inches of wheel travel in the front and 11 inches in the rear. Ride height can be ad­just­ed through the shock by up to five inches.
Brakes and controls: Honda Four­Trax 250R front and rear calipers. Brak­ing front and rear rotors. Last Reb­el steel-braided brake lines. O'Neal Pro-Lock, Quad-bend alumi­num handlebars, Magura 312 twist throt­tle, RebelStar cables, ProGrip grips, Pro-Design kill switch, and RTC Pro-Pull levers.
Tires and wheels: ITP Holeshot tires (21×7-10 fronts and 18×11-8 rears) on ITP Beadlock rims w/reinforcing rings. Other accessories: Graydon Pro­line nerfs and RebelStar chrome front bumper, and rear grab bar. IMS 3.6-gallon tank, Last Rebel Non-Slip seat cover, Rebelwears shock covers, and Moto-Force plastic.
To subscribe to Dirt Wheels Magazine in print or digital form click here https://hi-torque.com/product/dirt-wheels.