WE DROVE THE SPEED UTV EL JEFE
We had the privilege of one of the first media test rides in Robby Gordon's four-seat Speed UTV El Jefe. During the ride we sat passenger with on- and off-road legend Robby Gordon then drove the 3700-mile test mule with Gordon in the passenger seat. What a thrill and almost scary experience it was to be in the car with a talent like Robby. The abilities of the car were better showcased when Robby was driving through nasty uneven whoops at 70 plus miles an hour than we were driving.
We went in with reservations, but the El Jefe has tremendous amounts of power in reserve with 225 horsepower. Speed couples the CVT with a transmission with three forward gears rather than the normal low and high options. More importantly, all three of the gears may be selected on the fly rather than stopping to shift as on most UTVs.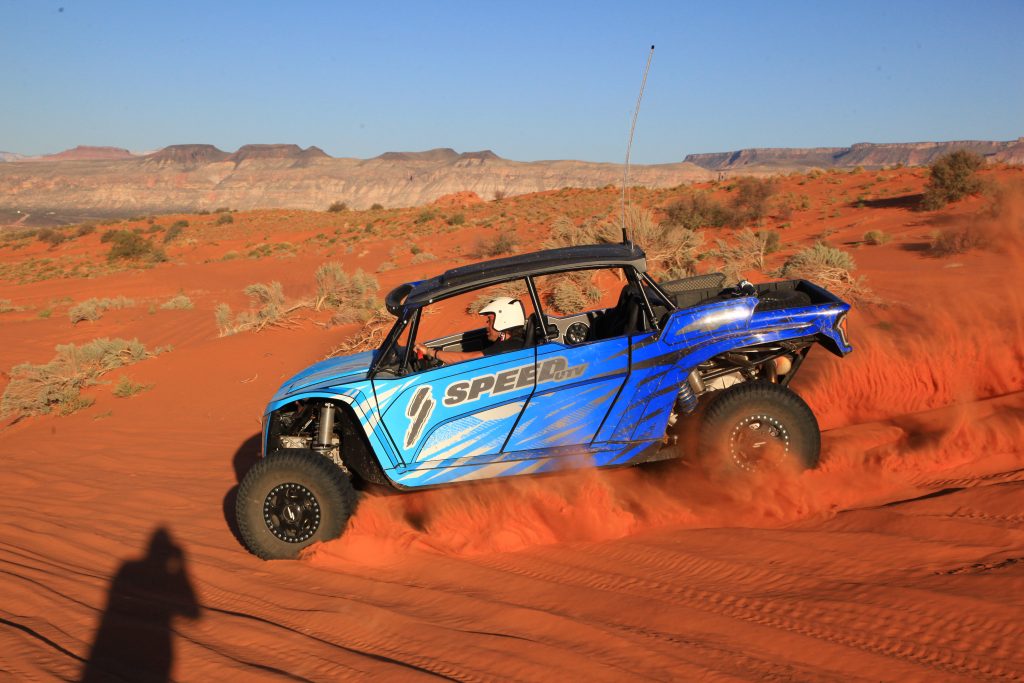 As impressive as the engine performance and unique CVT drivetrain is, the suspension design was more impressive. The trailing arms have a double mounting system much like large dirt bike swingarms. The system requires no rear radius rods, and it is claimed that the rear wheels travel more straight up and down than other sport UTVs. In other words, there should be no toe change or wheel sweep during the full range of travel. That aspect came up when we remarked on how straight it stayed at speed through deep whoops. Robby explained the system at speed in the rough driving with one hand as he would go in and out of wheel ruts at speed!
We came away more impressed with the performance, suspension action and interior comfort than we anticipated. It will be great to see the final production models. We saw but did not drive a machine that was reportedly 97-percent final production.