WELCOME TO DIRT WHEELS MAGAZINE
— New members to the off-road club, By D. West —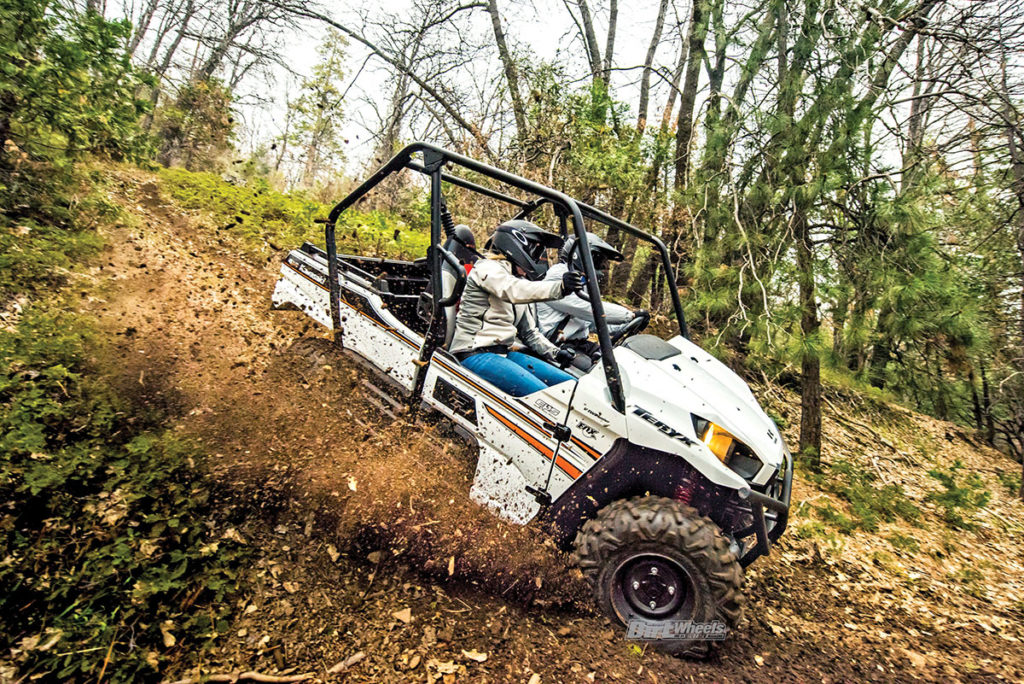 We typically get a lot of new readers on the month when we do our "UTV Buyer's Guide." This is based on the fact that these machines just naturally attract the attention of most normal guys. You're sitting there at home watching a football game on TV and a commercial comes on the screen from Polaris, Kawasaki, Honda, John Deere or some other manufacturer of UTVs. It shows a UTV moving quickly down a trail, and you can see how the suspension handles the rugged terrain with no problem. The driver has a smile on his face as the machine carves around a turn, crosses a creek and powers up a steep hill.
You just naturally think of yourself being the driver of that off-road machine and out there having a great time. For any outdoorsman kind of guy, he'll find himself considering the idea of exploring the untamed outdoors in one of these manly vehicles with big knobby tires. The first thing he wants to do is to learn more about these vehicles he's not that familiar with. His eyes light up when he sees a UTV buyer's guide listing every model with prices, info and specs.
If you've suddenly become interested in the UTV world, we welcome you to Dirt Wheels magazine. While looking at our "UTV Buyer's Guide," you may be surprised to see that there are around 100 models listed to choose from. Don't let that overwhelm you. Also, don't be discouraged by the prices you see on some models. For the section of each brand, we begin with the highest-performance model they offer. For a turbocharged Polaris RZR, you'll be looking at around $20,000 to $26,000, but if you continue on to the other Polaris models, you'll find good machines in the $12,000 range and even lower.
It's not necessarily a good idea for a beginner to start off with the fastest and most expensive UTVs that Can-Am, Yamaha, Textron and Polaris offer. Machines like Yamaha's Wolverine, Kawasaki's Teryx, Honda's Pioneer, Can-Am's Defender, Textron's Stampede and the Polaris Rangers offer enough off-road performance for most UTV buyers. You'll also note that some brands such as Kymco, CFMoto and Hisun offer UTVs at a lower price than comparable models from the big six. From our experience, these lesser-known UTVs are a viable option too. The key is if the brand has a strong dealer in your local area who has been established for a while. Avoid buying an off-brand from Fred's Gas Station who might be out of business in another month or two.
As with any sport that people are new to, there are some things to know that you don't want to find out the hard way. If you haven't had much experience with off-road vehicles yet, here is the most important advice we can give you—earth's natural terrain is not always smooth and level. It can have deep ruts, rocks, tree roots and steep hills. In other words, things that can cause your UTV to tip over. This is not because UTVs have an unstable design. In fact, they're engineered to be quite stable up until the laws of physics are too great to overcome. For this reason, a helmet is required equipment for drivers and passengers of UTVs.
Picture this scene: you're driving down a rough trail and the UTV is rocking back and forth. On a big bump, your bare head gets slammed against the roll bar and it hurts. Then, the left tires go into a deep rut and the UTV tips over on its side. Your head hits the ground or a rock and that hurts even more. To avoid that pain or worse, experienced UTV owners wear helmets when they're driving off-road. They also learn to wear sturdy footwear too. Let's say you get your UTV stuck in mud. No amount of forward and reverse can get you unstuck. So, you have to get out of the machine to hook up a winch. With your first step into the mud it sucks your shoe off. Next, you're on your hands and knees digging through the mud trying to find your $150 Air Special sneaker.
Here's one more word of advice that goes against your natural reaction: when your UTV starts to tip over, don't stick your arm out. It will not lessen the impact. It will only increase the chance of you injuring your arm. This is why Honda and some other UTV makers put nets above the doors. So remember, it's more likely that you'll have fun in your UTV if you wear the proper gear and follow the standard rules of safety.