GLOVE BUYER'S GUIDE
Dexterity work gloves comfortable to drive or ride with
By the staff of Dirt Wheels
GLOVE BUYER'S GUIDE
"Dexterity" derives from the Latin word "dexter," which means "skill in performing tasks, especially with the hands." We know this because Google told us so. But gloves are an important item to wear while wrenching, riding, or driving.
Only certain people can ride gloveless for a long duration without getting blisters. Mere mortals need extra protection. Riding gloves are starting to go up in price and are usually built thin, which means they won't last for an extended period. It goes without saying we like to use gloves when we are working on UTVs or ATVs unless we're working with small bolts. So, what other options are out there for more rugged abuse?
None of us like having grease, mud, dirt, or fuel on our hands. Mechanic gloves are a huge advantage over expensive moto gloves. Plus, most of the new automotive-style gloves have high dexterity and a lot of grip thanks to new-age materials.
The mechanic gloves are also built extremely well, have padded material for impacts, are machine washable, and aren't as bulky or heavy as they were in the past. Some even offer penetration protection from sharp objects.
Now they might not be the best for riding ATVs, but when driving a UTV, they will work extremely well, or there is always the option of just having them on standby in your UTV tool bag.
Whatever the case may be, we've comprised a list of some of the best dexterity mechanic-style gloves on the market. We selected one glove from each manufacturer that had features we found appealing and representative of the brand. All of these companies build a variety of gloves with different prices and features. If you are looking for different features, check out their websites.
GLOVE BUYER'S GUIDE
MECHANIX WEAR M-PACT GLOVE
MSRP: $34.99
SIZE: Small to XXXL
COLORS: Black/grey, black/red, black/blue, hi-viz green, hi-viz orange, black, coyote, wolf grey, woodland camo, multi-cam
CONTACT: www.mechanix.com, 800-222-4296
The M-Pact delivers full-coverage hand protection with impact-absorbing thermoplastic rubber (TPR) knuckle guard and dedicated finger guards that shield the top of your hand. Dual-layer internal fingertip construction reinforces your thumb and index finger contact points to improve abrasion resistance where you need it most. D3O palm padding reacts on impact to absorb and dissipate energy through the palm of your hand. Form-fitting TrekDry material keeps your hands cool and comfortable, while the synthetic leather palm offers a great grip.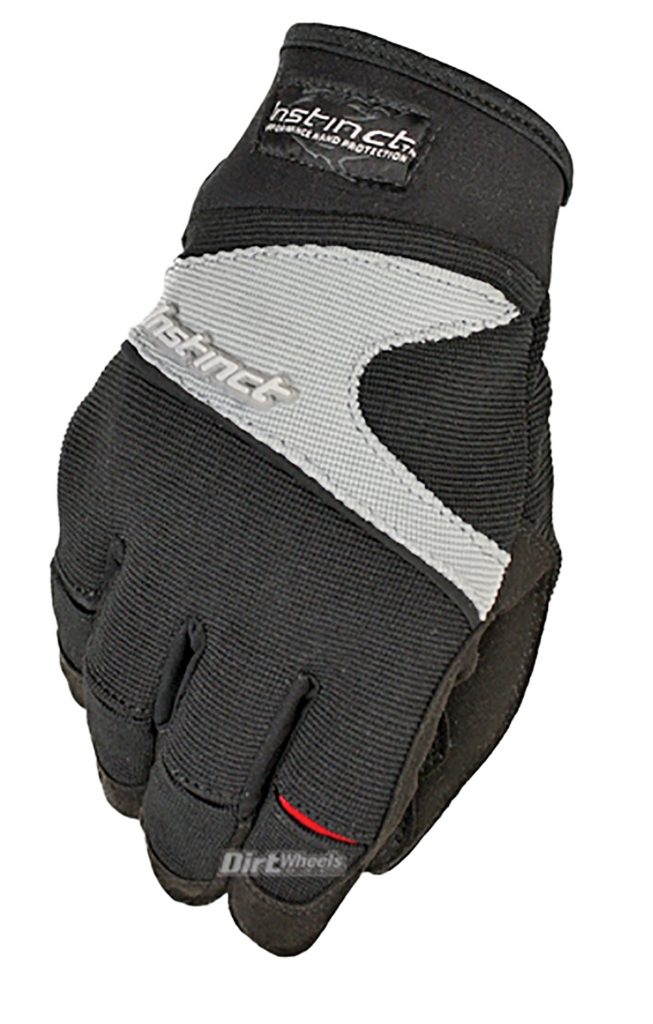 INSTINCT MAKO GLOVE 
MSRP: $19.99
SIZE: Medium to XXL
COLORS: Black/grey/red
CONTACT: 661-753-3671,www.instinctgloves.com 
The Mako is a versatile, high-dexterity glove with an adjustable Velcro-closure Airprene cuff. The Mako incorporates a four-way stretch panel to adjust to the palm width, finger length and to enhance ventilation. The exclusive knuckle hinges and the specially designed hidden-seam index finger ensures maximum feel and dexterity for multiple applications. The entire glove is breathable, and the synthetic palm material is washable.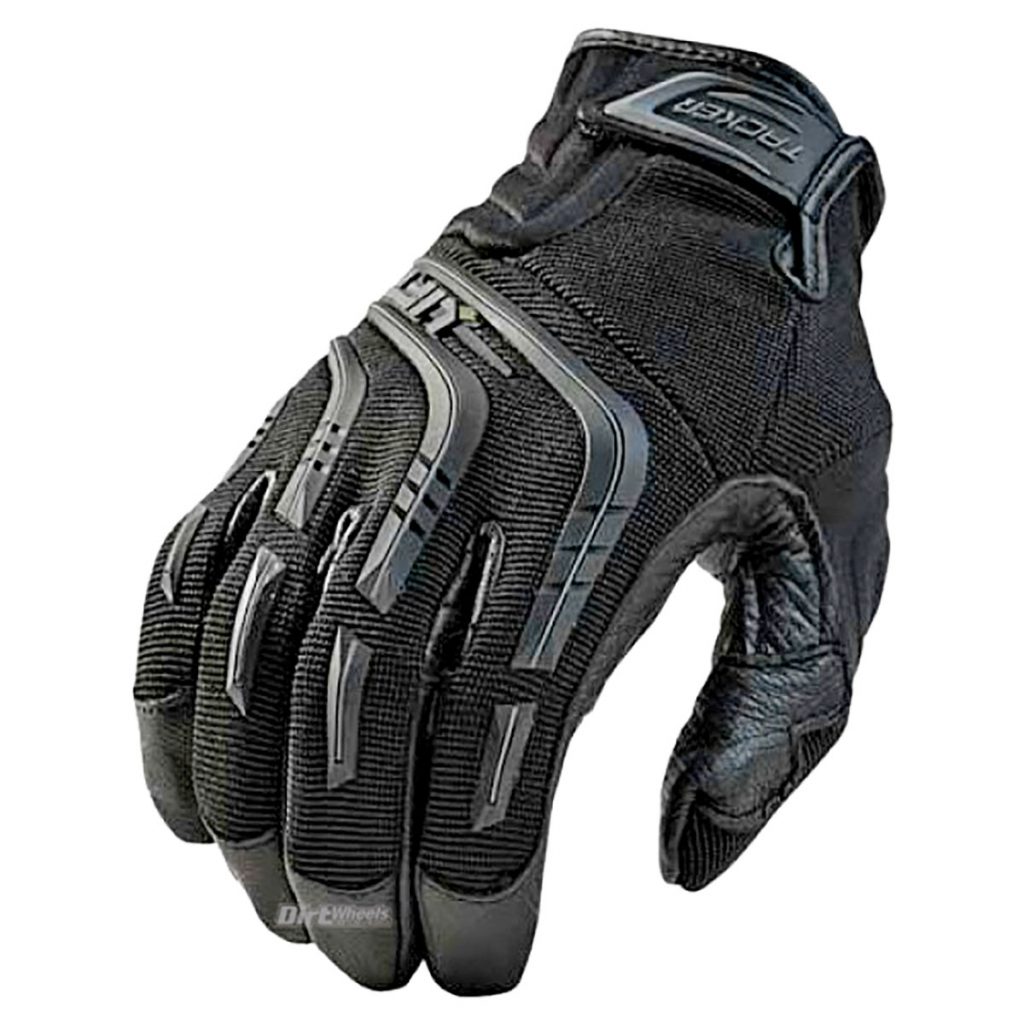 LIFT TACKER GLOVE 
MSRP: $30.59
SIZE: Small to XXL
COLORS: Brown, black, hi-viz yellow, black (winter rated), camo
CONTACT: www.liftsafety.com, 800-229-4387
The Tacker glove is a heavy-duty, genuine-leather glove designed for superior abrasion resistance. It is fully machine washable and features a padded palm for impact and vibration absorption. Genuine leather reinforcements on the palm, saddle, finger sides, and fingertips enhance impact vibration absorption. Other features include TPR knuckle-impact protection, embossed Airprene comfort cuff, touchscreen fingertips, and a TPR Velcro wrist closure.
IRONCLAD WORKCREW GLOVE
MSRP: $14.99
SIZE: Small to XXL
COLORS: Black
CONTACT: www.ironclad.com, 844-200-4279
Ironclad's Workcrew glove is a light-duty glove with a light cost. It's built with synthetic leather reinforcements in critical areas for maximum durability. It's designed with a seamless, rolled index finger; lightweight, breathable material; synthetic-leather palm and finger sides; and it's machine washable. The compression cuff allows for easy on/off with a constant snug fit, while the TPR cuff puller gets the glove in the proper position faster. A terry-cloth sweat wipe is designed into the back of the thumb to help wick away moisture from your face on hot days.
GLOVE BUYER'S GUIDE
212 PERFORMANCE GRIP TOUCH BLACK GLOVE 
MSRP: $27.99
SIZE: Small to XXXL
COLORS: Black
CONTACT: 661-702-9212, www.212performancegloves.com,
The 212 Grip Touch is a combination of brute strength, maximum dexterity, and touchscreen technology. The silicone Grip Control palm offers three times the grip of other synthetic or leather materials and reduces hand fatigue by 20 percent. It's designed with a high-dexterity palm and seamless index finger, adjustable TPR closure, on-thumb terry-cloth sweat wipe, breathable two-way-stretch back, machine washable, and reinforced finger caps.
MOTION PRO TECH GLOVE 
MSRP: $22.99
SIZE: Medium to XXL
COLORS: Black
CONTACT: www.motionpro.com, 650-594-9610
The Tech glove is constructed from durable and washable premium synthetic leather. The Tech gloves have a reinforced palm with ergonomic padding. An extended cuff was added for a snug fit and extra wrist protection. The perforated palm and finger areas offer increased ventilation, while a comfortable fit conforms to a variety of hand positions. Motion Pro's sleek design makes it easy to maneuver in tight places.
HARDY PROFESSIONAL MECHANIC GLOVE FROM HARBOR FREIGHT
MSRP: $12.99
SIZE: Medium to XL
COLORS: Black/silver/red
CONTACT: www.harborfreight.com, 800-423-2567
This line of mechanic's work gloves offers full protection to the most critical areas of the hand and is Harbor Freight's top-of-the-line mechanic glove at a great price. The professional work gloves have a synthetic leather palm and TPR reinforcement for protection against impact, abrasions, and debris. Spandex panels provide flexibility, ventilation, and comfort. The fingertips and thumbs have a textured grip for maximum control, along with being double reinforced to prolong glove life. The TPR-protected hook-and-loop closure ensures a secure fit.
FLY PIT-TECH GLOVE 
MSRP: $17.95
SIZE: XS to XXXL
COLORS: Black, flo-orange/black, hi-vis/black
CONTACT: www.flyracing.com
The Fly Pit-Tech glove was designed with both rider and mechanic in mind. Its quick-fit design allows you to easily slip the glove on and off. The durable and minimal construction provides a lightweight feel, and the gel print on the fingertips provides extra grip. The synthetic palm material is extended over the fingertips for added protection.
GLOVE BUYER'S GUIDE
CARHARTT FLEX TOUGH II 
MSRP: $29.99
SIZE: Small to XXL
COLORS: Black, black barley
CONTACT: www.carhartt.com, 800-833-3118
The Flex Tough II is a descendant of the original Flex Tough glove. It's made from textured, breathable spandex with a neoprene cuff. The durable synthetic palm extends to the fingers and thumb for a great grip. Other features include a brow wipe, foam padding on the palm for impacts, neoprene knuckle reinforcement, and hook-and-loop Velcro closure for a tight fit.
RINGERS R-14 MECHANICS GLOVE 
MSRP: $29.99
SIZE: Small to XXXL
COLORS: Black, orange, hi-vis
CONTACT: www.ringersglove.com, 800-421-8454
Ringers have built this dexterity glove for hard work and play. It was developed specifically for the needs of a mechanic. Its split-fit, padded palm allows for flexibility and impact resistance. Compression-molded material keeps your knuckles protected, while reflective markings make for high visibility on the orange and hi-vis options. It also features a hidden-seam design and a hook-and-loop pull-tab closure.
To subscribe to Dirt Wheels Magazine in print or digital form click here https://hi-torque.com/product/dirtwheels.