YAMAHA WARRIOR 396
Dirt Wheels reader's project quad
— Yamaha first introduced its Warrior 350 back in 1987. The production run lasted for 20 years, so there has been many sold in that time. The four-stroke engine was virtually bullet-proof and has proven to  offer Warrior owners with a long, trouble-free life. Therefore, there are plenty of these machines still out on the trails today. However, as with any older quad, they could use some refreshing to get back to the same shape of their younger days. Or, it doesn't hurt if they get the major make-over treatment. That was the case with this Warrior here that belongs to Michael Gates in Vermont.
Not only did Michael want to bring his classic 2001 Warrior back to life, but he wanted to put it on par with most other modern quads of today. So, he set out to improve the suspension and handling, and add more power, along with giving it a special new look. Here is a list of some of the things done to his custom 396:
HOT RODS 396 Stroker crank
Stage 2 HotCam
Kibble White valves and springs
EBC Carbon-fiber clutch with modified plates and springs
+3 American Star MX SERIES A Arms 12 mm tire rods and ball joints (49"wide)
Stainless steel braided brake lines front and rear
Custom +3 Hansen Swing Arm
+4 Tusk adjustable axle (54" wide)
GBC Masters tire front and rear on ITP SS112 rims
360 lb dry weight, 69"overall length
Mikuni 38 mm VM carburetor
Custom 2 3/4" air intake/K&N air filter
Full Yoshimura RS3 Exhaust(modified)
FMF PowerBomb header
Full Led light conversion
Custom motor and component polishing
Trail Tech Vapor
Hi-flite USA desert seat
Custom K2 Concepts Hydrodip Carbon fiber Maier hood
Larger gas tank
Elka shocks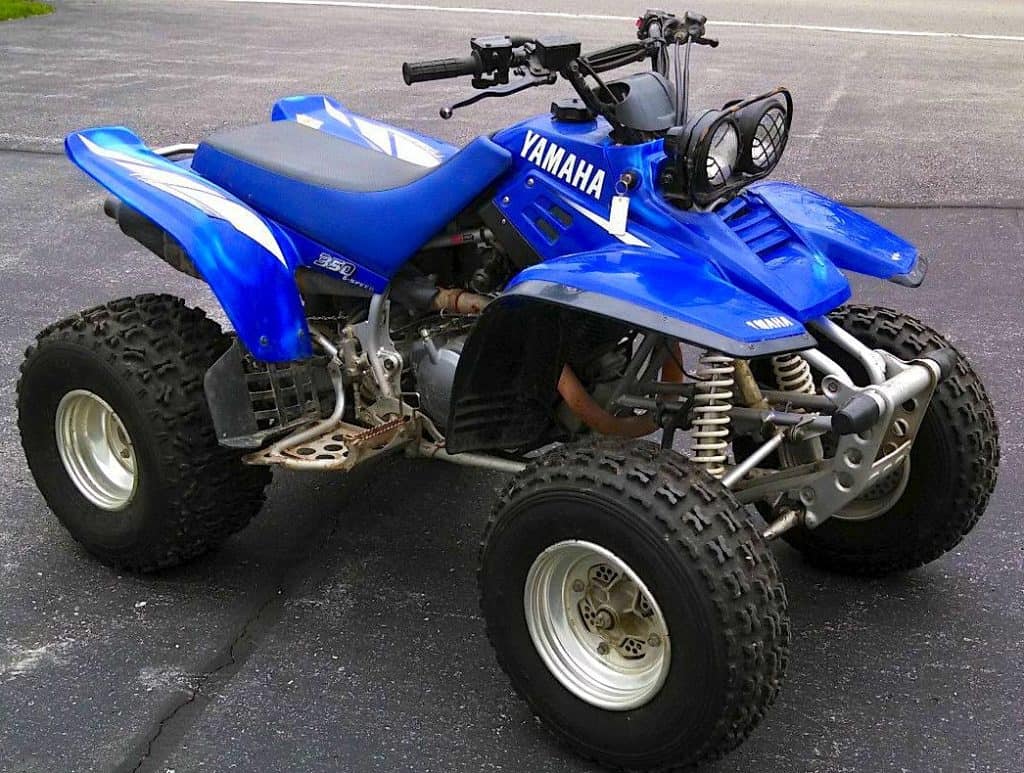 The before photo of a stock Yamaha Warrior.
Michael Gates says he's still not finished with his Warrior, so we may have to do a follow up report on it later. The Dirt Wheels crew would like to do reports on what other readers have done to their machines as well. For that to happen we need you to send us good photos and information on your project ATVs and UTVs. Include your name, city and state and send E-mail to