YAMAHA'S NEW TWO-STROKE YFZ250R?
SPECIAL INVESTIGATION
— It says YFZ250R right there on the gas tank and the engine certainly looks like a two-stroke. Is this a secret new prototype that Yamaha is testing and will start selling soon? That might be a logical assumption until you start looking closer at the engine. Hmmm, it says TRX on the clutch cover and the cylinder sure looks the same as that on Honda's 250R. Okay, the mystery is solved when J.D. Kimbrough provided us with some info about this quad.
This is his 2005 Yamaha YFZ450. However, he took the four-stroke engine out and replaced it with one from a 1986 Honda TRX250R. He decided he'd like to have two-stroke power instead. Of course, he wasn't content with the stock power, so he added the necessary hop up parts to make it really scream. Along with engine mods his Yamahonda has Maxxis Razr 2 tires mounted on Hiper Tech beadlock carbon wheels. It also has a Precision steering stabilizer, Pro Taper fat bars and a Trail Tech Voyager computer.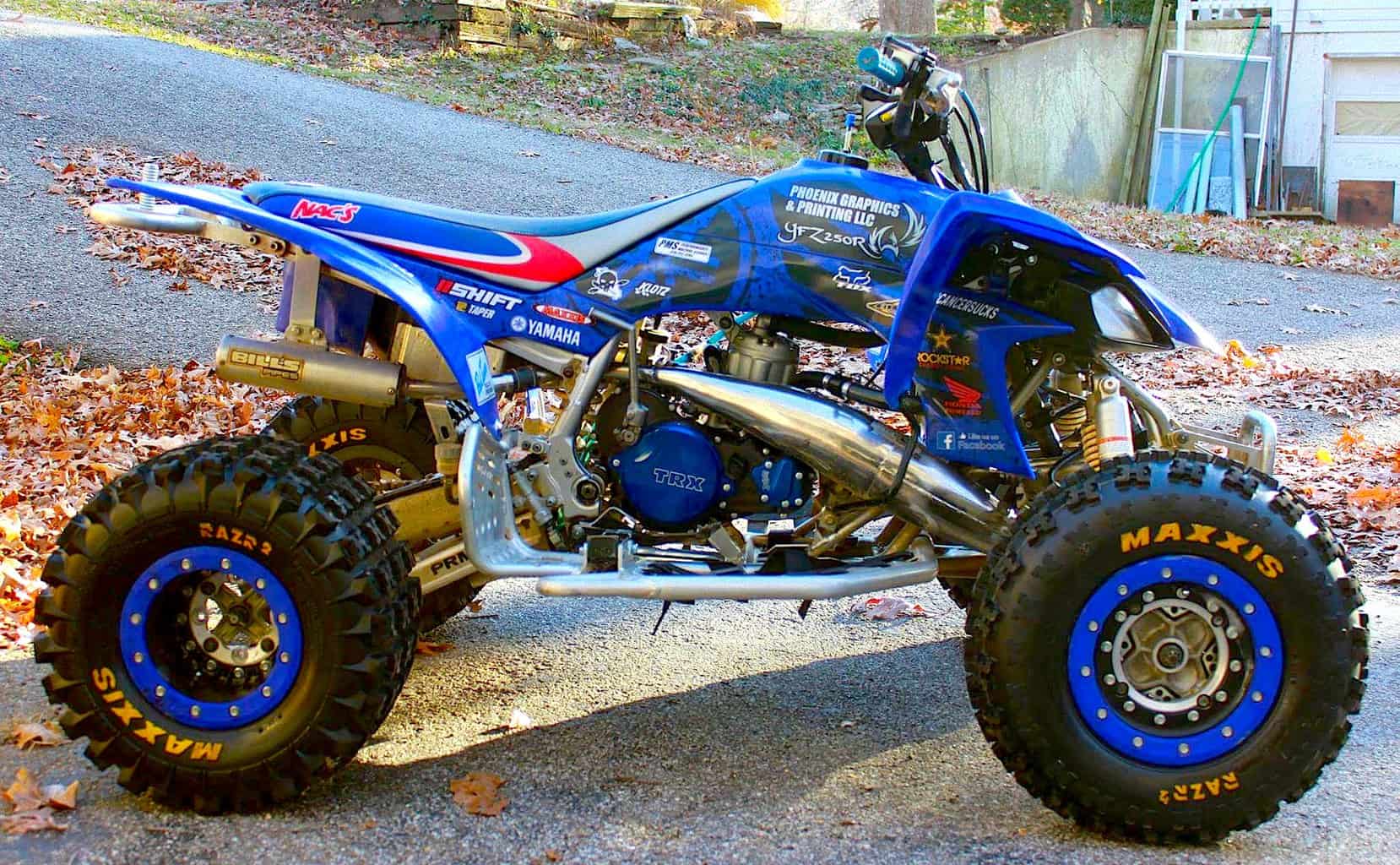 We've seen other YFZs with two-stroke engines installed, but they're usually 500s. The typical engine of choice comes from a Honda CR500 or Kawasaki KX500 dirt bike. These big two-stroke motors really crank out explosive horsepower and make a quad fun to ride, if you have what it takes to hang on. Along with scaring yourself silly, you also have to put up with the engine vibration these beasts produce, because they don't have counter-balancers like Suzuki's Quadzilla 500. However, since J.D.'s two-stroke is only a 250 and it came stock with a counter-balancer, he doesn't worry about vibration. He says his quad runs smooth and is fun to ride for sure.