DESTINATION: WHERE TO RIDE IN IDAHO
Five hidden (and not-so hidden) riding gems By Lane Lindstrom
OHV recreation is a half-billion-dollar business in Idaho for good reasons. The sheer diversity of riding opportunities, the incredible scenery and varied topography make Idaho an ideal riding destination. We've ridden trail vehicles all over the state and have never had a bad ride—seriously. We always look forward to our next ride with anticipation.
When we decided to write about some of those favorites, there were a few that bubbled to the top of our list of must-sees. However, these five are by no means our only favorites. We may be holding a few cards close to our chest.
We've visited each one of these five areas multiple times and highly recommend them to anyone who loves to ride their ATV or UTV and discover new places.
Two websites that are incredibly helpful in the logistics side of your trip planning are https://trails.idaho.gov/ and www.visitidaho.org.
ST. ANTHONY SAND DUNES
Located in eastern Idaho, St. Anthony Sand Dunes might be the most famous—and well-used—riding area in Idaho. There are more than 10,000 acres of continually shifting white quartz sand spread out at varying depths across the landscape, running basically in a southwest to northeast direction.
The dunes, which reach up to 400 feet tall in some places, are fairly narrow but long. The bigger dunes are located basically west of Egin Lakes and the smaller dunes to the east. Crapo's Hill/Thunder Mountain is just north of Egin Lakes (and the BLM campground) and is kind of a de-facto middle point of the dunes going east and/or west.
The biggest dunes and most popular spots for dune climbing and the big-horsepower crowd are in the western part of the dunes, including Choke Cherry, Devil's Dunes and Dead Horse Bowl. They are pretty much due west of Crapo's Hill.
There are some sand trails through the sagebrush on the north side of the dune, which are a fun diversion from straight dune riding.
The most popular riding season at the dunes is between Memorial Day and Labor Day. Technically, parts of the dunes are open year round, but there are seasonal closures to protect wildlife, and then there is the snow that falls every winter that can damp the riding in the dunes. For the annual closure dates, go to www.blm.gov and then navigate to the Idaho section of the website.
You can camp at the dunes and ride right from your campsite to the open sand. There are two commercial campgrounds—Sand Hills Resort and Idaho Dunes RV and the BLM campground at Egin Lakes.
Lodging, food and fuel are available in St. Anthony, eight miles from the dunes, and Rexburg, which is 15 miles from the dunes. There are also dune vehicles available to rent at the dunes.
Favorite ride: This may be a cop-out, but all the dunes are fun to ride, as are the sand trails through the sagebrush. We don't have one favorite spot to ride, although we do like to head over to Choke Cherry and either challenge the dunes ourselves or watch the big-horsepower vehicles try to crest the top.
Essentials: St. Anthony Sand Dunes
Location: Eastern Idaho
Riding elevation: 5,000–5,400 feet
Full-service town: St. Anthony (pop. 3,553); Rexburg (pop. 29,400)
Summer temps: July, 83 degrees F
Info: Yellowstone Teton Territory, www.yellowstoneteton.org
Salmon
Salmon is a family-friendly riding area that features easy to moderately difficult trails. There is spectacular scenery anywhere you ride, regardless of the direction you head from town to ride. Salmon is rich in history—from the famous Lewis & Clark expedition that went through the region to ghost towns left over from the area's rich mining days from times past.
Salmon is somewhat off the beaten path, as it's a 2.5-hour drive to any city of more than 50,000 people. And that's one of the area's draws—there are rarely many other riders on the trails. However, because off-roaders share the same forest roads as passenger cars and pickups, there is traffic in the mountains. But get off the main forest roads and you'll most likely have the trails to yourself.
The mountain riding takes place in the Salmon River Mountains (west of town) and the Bitterroot Range (east of town). The Bitterroots are where Lewis and Clark crossed from what is present-day Montana into Idaho in August of 1805 and also marks the Continental Divide.
In the Salmon River Mountains, there are plenty of creek crossings, sweeping mountain vistas, amazing canyon views, lots of remaining mining tailings and outbuildings, and a ghost town or two. There is a challenging trail or two scattered out across the area, but nothing that will seriously require lots of horsepower or low 4WD.
Favorite ride: While there are lots of fun riding places and destinations around Salmon (Leesburg ghost town, Moose Creek trail and up to Baldy Mountain for amazing views to name just a couple), we did pick a couple of our favorites.
Lewis & Clark Back Country Byway: About as easy as they come when it comes to the easiness of trail riding. But, it is spectacularly scenic as you gain elevation (Tendoy sits at 4,846 feet, and we rode up to about 8,400 feet) and make your way to Lemhi Pass (7,373 feet) on the Continental Divide. If you go, you should make the entire loop, which we've done on several occasions. We also took some side roads/trails as we explored the area once traveled by Lewis and Clark. There is so much history in this area, and there are a number of stops/kiosks to explain that history. The views from Lemhi Pass are truly spectacular. "We proceeded on to the top of the dividing ridge from which I discovered immense ranges of mountains still to the west with their tops still partially covered with snow," said Captain Meriwether Lewis on August 12, 1805.
We're not sure if there is an official name for this ride, but we call it Moose Meadows. The road/trail follows along the scenic Lower Moose Creek, passes some mine tailings and old mining cabins before turning onto the Fan Gulch trail. Fan Gulch hugs the mountainside and gives you truly awesome views of the deep canyons created by the Salmon River. Again, not overly difficult riding but the scenery is amazing.
Essentials: Salmon Idaho
Location: East central Idaho
Riding elevation: 4,000–9,200 feet
Full-service town: Salmon (pop. 3,141)
Summer temps: July, 84.4 degrees F
Info: Salmon Valley, www.visitsalmonvalley.com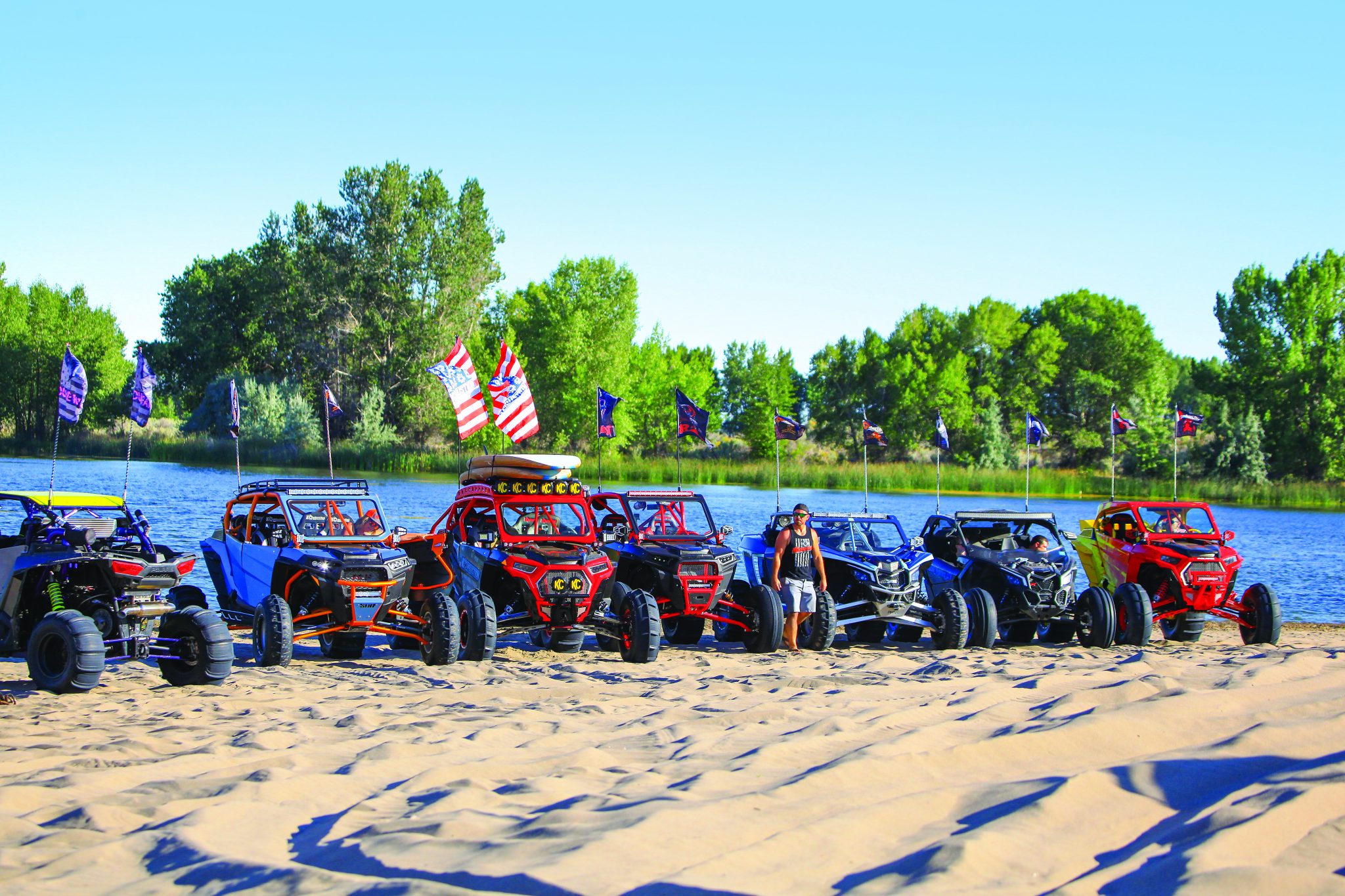 HEMINGWAY BUTTE OHV AREA
Hemingway Butte is the OHV (dirt bikes, quads, side-by-sides and jeeps) playground for Boise and Idaho's Treasure Valley. Located in the desert and foothills of the neighboring Owyhee Mountains in southwest Idaho. The Hemingway Butte recreation site is accessible nearly year round and offers hundreds of miles of trails. The trails are located on BLM land, and if you look at the riding area on Google Earth, you'll see dozens upon dozens of trails lacing the area. The BLM also has a decent map of the trails here: www.blm.gov/visit/hemingway-butte-ohv-trailhead.
These trails can be accessed from multiple trailheads (with loading ramps, restrooms and ample parking) and offer something for any riding ability—from easy to difficult and challenging on dirt roads, sand washes and steep, rocky terrain.
Favorite ride: There wasn't any one trail that we'd say was our favorite, but any of the high-speed washes were a blast to fly down. Some washes are wider than others, so the riding style changes as you negotiate either wide, sweeping turns or tight turns with no room for error. Use care or you'll end up out in the scrub brush. There is one particular canyon with a wash running through it that was scenic with its high rock walls, turns and rocks littered along the path.
Essentials: Hemingway Butte OHV Area
Location: Southwest Idaho
Riding elevation: 2,500–5,000 feet
Full-service town: Nampa (pop. 99,277)
Summer temps: July, 91 degrees F
Info: Southwest Idaho Travel, www.visitsouthwestidaho.org.
MACKAY
This is a riding spot you have to want to get to, and trust us, it's worth any effort you have to make to get there. Because Mackay is somewhat remote (located in south-central Idaho 95 miles west of Idaho Falls), the riding is usually not crowded. On many of our rides in the area, we were the only ones on the trails, especially the trails a little farther from town.
Mackay sits in a picturesque valley between two towering mountain ranges: the Lost River Range to the northeast and White Knob Mountains to the southwest. There is off-road riding in all directions, and you can ride right from the ATV-/UTV-friendly town.
The area has a rich (literally and figuratively) history of mining (copper, gold and silver) with many buildings and much mining equipment still standing. The town has designed a tour that takes you past many of the remnants/sites (some of which are in relatively good shape) of the mining that took place in the area. The Mackay Mine Tour isn't particularly difficult, but the views are spectacular, and if you're a history buff, this is a must-see ride you need to experience. 
Favorite ride: Sorry, try as we might, we could not narrow it down to one favorite. We did get our list down to four rides: Wildhorse Canyon, Long Lost Creek, Mackay Mine Tour and Stewart Canyon up to an unnamed lake that sits at the base of Lime Mountain (elevation is 11,179 feet).
Let's start with the Stewart Canyon ride. You leave Mackay on Mine Hill Road, turn on to the Alder Creek trail and take it all the way to the Mammoth Canyon trail. A fun side trail just off the Alder Creek trail is Chimney Gulch, which leads back to Alder Creek trail. Turn on to Stewart Canyon trail, which, after a short distance, turns into the 50-inch-wide restricted Corral-Stewart trail that ends up at the unnamed lake. The trail actually continues on past the lake and ends at the K Burma Road. On our couple of rides to the lake, we've always turned around at the lake and headed back down Stewart Canyon because the snow was still too deep to climb out of the lake basin over the ridge to K Burma Road. And these rides were in July. The ride up to the lake is rocky and has several switchbacks, and features some creek crossings and is a beautiful ride.
Wildhorse Canyon: Another over-the-top amazingly beautiful ride. We've accessed the final part of the ride a couple of different ways—one from Mackay up and over a small mountain range, and also through Copper Basin from over near Antelope Valley along Bear Creek. Part of the ride is through the high desert between some fairly barren mountains, but the last part, once you turn onto the road/trail that leads to the Wildhorse campground, offers stunning views of snow-capped mountains and snow-filled bowls. The trail dead ends not too far past the campground, but you can take off on foot for a beautiful hike farther into the woods.
Long Lost Creek: A long ride (80-plus miles) if you choose to leave from town or you can trailer up through Pass Creek Canyon and unload closer to the trail. We like to ride, so we left from Mackay and went through Pass Creek Canyon and up and over Pass Creek summit before turning off to head to the Long Lost Creek trail. It's an out-and-back trail, but the views going either way are pretty incredible. The nod goes to the in part of the trail as you head up to where the trail ends. You will have a hard time focusing on the trail as you experience several creek crossings and the mountain views steal your attention. 
Mackay Mine Tour: You can take a car on this, but it's not the difficulty that you're going for here. You are looking for the amazing views of the Lost River Range from several points along the trail. A second facet is the history that unfolds before you as you stop at nearly two dozen tour stops to read about the mining history of the area. The town provides a detailed brochure explaining many of the stops. One of our favorites along this trail is the Aerial Tramway Headhouse stop. We have taken many a picture of our side-by-side next to the head house with the Lost River Range as the backdrop. It's a spectacular view. Our other favorite is the stretch of trail along Cliff Creek. There are historical stops along the way, you get to ride through the forest and there a few creek crossings, so it's a great mix.
Essentials: Mackay
Location: South-central Idaho
Riding elevation: 5,905–10,500 feet
Full-service town: Mackay (pop. 501)
Summer temps: July, 82 degrees F
Info: www.visitmackayidaho.com
BONNEVILLE COUNTY
Fall Creek, Palisades, Bone, Skyline Ridge, McCoy Creek—this riding area in eastern Idaho is known by a lot of names by the locals who regularly ride this region, but Bonneville County encompasses them all. Many of the names the locals use are their jumping-off points (trailheads) in the trail system, which number far more than the ones we've mentioned here.
The county stretches from about 25 miles west of Idaho Falls all the way to the Idaho/Wyoming border to the east. The bulk of the trails are east of Idaho Falls, but there are a handful of trails west of town. The trails east of Idaho Falls weave in, around, over and out of the Caribou Mountain Range with the elevation range between 5000 feet to nearly 9000 feet.
This is a family-friendly riding area with tame to moderately difficult trails with a challenging trail here and there. Some of the trails cross over into Bingham County to the south, offering even more riding opportunities. There are a number of 50-inch-width-limited trails in the county. Many of the trails, especially the path along Skyline Ridge, offer incredible views of the surrounding mountains, valleys, Palisades Reservoir and high desert. We've seen plenty of wildlife—deer, moose, coyotes and elk to name a few—on our rides in the area.
Favorite ride: This was a tough choice, so let's say this is one of our favorite rides in Bonneville County. We unload at the Bone parking area (east of the Bone store) and ride over to Alpine, Wyoming, for lunch and gas, and then head back. It can either be a there-and-back ride, or you can take one route there and a different one back, that is once you get to McCoy Creek. One trail follows along the scenic McCoy Creek and another along the top of Skyline Ridge. If you have time, you can take a side trip to Caribou City ghost town, which dates back to 1897. There are a few kiosks marking the town site with a few remains of the original town.
Another favorite is the Bear Creek trail, which skirts along the edge of Palisades Reservoir and also hugs the mountainside in places with stunning views of the mountains.
Essentials: Bonneville County
Location: Eastern Idaho
Riding elevation: 5,000–9,000 feet
Full-service town: Idaho Falls(pop. 62,888)
Summer temps: July, 80 degrees F
Info: Yellowstone Teton Territory,www.yellowstoneteton.org