SPORT 4×4 SHOOTOUT | GRIZZLY 600 vs. SPORTSMAN 500 vs. PRAIRIE 400
This group of "big bore " or "sport 4X4's" as they were called back in the day, are probably the oldest used ATV's of their kind you would find for sale these days worth buying. Check out what we thought about them 25 years ago. It might help you make a buying decision today or you just might decide to stay away from them all together and invest in someone new.
CHECKING IT ALL OUT
Polaris was the first manufacturer to take advantage of the American pen­­chant for more always being better. In the summer of '96, it debuted the Sportsman 500 4×4. It took the sport ATV world by storm and has set sales records ever since its introduction. This 499cc, liquid-cooled, four-valve, four-stroke kicked up the displacement limit to what many thought was as big as you dared go with a four-wheel-drive quad.
However, like Tim's 'Home Im­prove­ment' character, Yamaha felt that you can't have too much of anything, in­cluding displacement. So what happened? They came out with the '98 Griz­zly 600 4×4! This monster kicked the dis­placement limit through the roof, with a whopping air-cooled, 595cc, four-valve, SOHC, four-stroke engine.
SPORT 4×4's
QUAD FISTFIGHT
Like 'Tyson and Holyfield', this was a match-up made in heaven, or quite possibly that other place. These two beasts had to go head to head with one another. The two biggest bullies on the block are going to square off sooner or later. Just suppose, though, you snuck in a middleweight contender to see if he could slug it out with the champs? Maybe agility and quickness could make up for pure punching power.
For our automatic monster quad shoot­out, we put the defending champ of the heavyweight 4×4 class—the Polaris Sportsman 500 4×4—into the ring against its upstart new rival, the Yamaha Grizzly 600 4×4. For fun, we added Kawasaki's brash Prairie 400 4×4, as a dark-horse candidate, looking for an upset win.
Once we had our fight card picked out, we contacted the noted ATV promoter, Don Sting. Don agreed to get the two contenders, plus the solid middleweight entry into the arena, and see who could go the distance. We told him we wanted them to slug it out floorboard-to-floorboard, to see who really is the KING of the 4×4 mountain.
YAMAHA GRIZZLY 600
Our new contender for the title called himself the Griz. It was a '98-model Yamaha Grizzly 600 with four-wheel drive. He had just come to our shores after a stint at his manufacturer's residence in Japan. He was surly, and a bit overweight, at 639 pounds (dry). But the new challenger had pluck and a lot of muscle.
Punchy
He used his 595cc of raw power to dance his mighty girth about the ring, with smooth grace and steady confidence. He was powerful and he knew it.
His long-travel MacPherson-strut front suspension gave him a good reach of 6.3 inches—not as much as some, but enough to keep his opponents at a respectable distance. His rear single-shock swing­arm was good for 7.5 inches of travel and could go from hard to soft with a flip of a lever (his trainer was not sure if that was good or bad).
While the Griz came with a single Mi­kuni 40mm carb, he did not have the benefit of a built-in cooling system like his rivals. Once things heated up in the ring, he had to depend on an oil cooler with an electric, thermostatically controlled fan.
His trainer also knew that he could use his ea­sily located choke lever to get him go­ing should he sputter, cough, and be hard to start on a cold morning run.
As part of his training regimen, Griz used a system of belts and pulleys to get his fully automatic transmission mov­ing. People said he was shiftless, but he could easily go from 2WD to 4WD, with a flick of a button. He liked it that way, especially since he could move from high to low, to re­verse, with his easy-to-use left-sided gear lever.
SPORT 4×4's
The Griz's flighty competitors, couldn't control themselves on downhill runs, and occasionally freewheeled downhill, scaring everyone. The Griz used his en­gine compression advantage to help slow him down on steep drops. With the dual hydraulic brakes upfront and single hydraulic sealed drum on the back, he knew his overall braking control was better. Especially over the novice braking tactics, employed by the one they called the "Sports­man." He had a single lever to control his braking and traveled like a runaway freight train when he went downhill.
Griz knew that his separate front and the rear braking system gave him the edge in the ring. Sure, he was a bit on the loud side and could use more travel, but his power was undeniable. The Griz could go bumper-to-hitch with anyone in terms of pure punch­ing power.
SPORTSMAN 500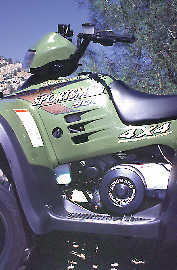 The defending champ was a li­quid-cooled local kid they called the "Sports­man 500." He was no lightweight in the power department ei­ther and boasted a 499cc four-stroke mill.
"Sporty" breathed through a 34mm Mi­kuni carb and was always ready to go with a push of a button. He boast­ed that he could be fired up in any gear and be ready to roll. "Sporty" also fa­vored his PVT automatic transmission and was one of the first heavyweights to use floorboards, single-lev­er brakes, and long-travel suspension on a 4×4.
His tranny differed from the other con­testants in that he could always count on having traction and control regardless of the situation he got in. His "On Demand" 4×4 feature al­lowed him to keep the wheels that needed traction spinning.
This was con­sidered a definite advantage over the limited-slip differential drive of his chief rival, the Griz. While the Griz could get stuck in the muck and flail helplessly with one wheel spinning wildly while the other got no trac­tion, the champ knew that all his power would be going to the wheels that needed it most. It gave him the confidence he needed to confront the new challenger.
The champ already knew about the benefits of MacPherson-strut suspensions. He had used them to good ef­fect by whipping up on most of the scrawny suspended 4x4s he had faced. His struts had a good 6.25 inches of travel in the front and out back the throw was even more impressive with 9.5 inches of travel.
He was one of the very few 4x4s to use dual independent travel rear shocks. This helped give him a more responsive ride over really rough terrain and made him a serious threat when the battle raged the full 12 rounds.
The Sportsman's trainer had gotten him down to a fighting dry weight of 649 pounds. He was heard to squawk when informed of the Griz's alleged dry weight. "No way the Griz is only 639 pounds," claimed the Champ. "He has to be heavier than that. The Kaw-boy is probably telling the truth, though, about his dry weight being 604 pounds. What's that pencil-necked geek doing in this heavyweight battle?"
SPORT 4×4's:
PRAIRIE 400 4×4
Prairie 400 4WD rounded out our monster competition. With long legs, a firm stance, and full floorboards, his shadow boxing had the odds­makers dashing back to the ca­si­nos to replace their bets.
Like the Sports­man 500, he used a 34mm Mi­ku­ni carb to get the fuel mixing chores done. His 391cc thumper mo­tor even came equipped with its own version of the American champs au­to­matic transmission.
RIDE-EM KAW-BOY…
The rumor was that the Kawie's automatic tranny was a better design and more du­rable than his slacker American op­po­nents. The Prairie auto tranny came with high/low/reverse gear rang­es, but instead of being able to switch from 2WD to 4WD, it operated in full-time four-wheel drive.
Like the other contenders, the Kaw-boy used MacPherson-strut suspension upfront. Its reach was a good 6.7 inches of travel. It had a single-shock swingarm suspension on the back that offered up 7.1 inches of travel. He liked his seating plush and his ride comfy.
Our Kaw-boy also had a limited-slip differential like the Griz and had engine compression braking, though not quite as much or as powerful as the Griz's. The Kaw-Boy was looking to upstage the heavyweights and unseat the champion.
SPORT 4×4's:
TRACK SHOOTOUT
To pit these worthy competitors against one another, we took them out to a rugged 36-mile loop trail that circles the hills surrounding Lake Isa­bel­la, near Bakersfield, CA. This is prime 4×4 country with steep, rocky climbs, rain ruts, rocks, and fast trails.
We ran our three fighters up and down ridges and switchbacks all day. We hammered them to and fro, through stream crossings, over boulders and fallen trees, and through just about anything you could imagine. There was not much left to chance in this shootout. Whoever came out on top here would have to earn their brag­ging rights.
The Prairie 400 and Sportsman 500 liquid-cooled engines ran consistently cool throughout the testing session. The Grizzly uses an air-cooled de­sign with a fan-assisted oil cooler to keep the engine from overheating. Af­ter several hours on the trail, the Griz's fan would click on, and we did notice the increase in heat when riding this machine for long periods of time. We did not notice a drop in power, however. The Griz ran strong all day, even with the heat build-up. Since it has more than enough power to get it out of most situations, we nev­er managed to get it stuck somewhere to see if it would overheat the engine.
MOTOR WARS
With a 100cc disadvantage, the Sportsman 500 pulled and accelerated almost as quickly as our 600 Grizzly. The big Griz would out pull the Sportsman on the top-end with a slight edge in top-speed. Both machines will top-out at close to 60 mph.
We did several 100-yard drag rac­es with all three vehicles and found that the Griz would narrowly beat the Sportsman, with the Prairie 400 lagging some distance behind in third. The big Yamaha accelerates hard and pulls best as the RPMs build up. The Polaris is deceptive in that it does not feel like it is running as hard as the Griz. But, you are actually going as fast, if not faster.
SPORT 4×4's
TRANNY WORLD?
The Yamaha had good power and tremendous torque on the twisty mountain trails we rode it on. The difference between the two is close, but the Sportsman 500's PVT "On-Demand" 4WD gave it an edge in tricky four-wheel-drive situations.
When climbing steep and rough uphills we could out-accelerate the less agile Grizzly aboard the better suspended Sportsman.
One area the big Griz did have the edge on the big Polaris was when it came to short and quick bursts of power. Say you had a steep hill climb out of a creekbed with almost no run at it. The big Yamaha would easily torque its way up and out of that sort of situation all day. The Polaris hooked up quickly and accelerated hard, with the torque coming on later than the Griz's.
SPORT 4×4's
GRIZ VS. SPORT
Since the Yamaha uses a 40mm carb and the Polaris uses a 34mm carb, the slight lag on the Yamaha's bottom end is probably due to the larger air vol­ume passing through the Griz's mon­ster carb. Larger carbs usually take longer to build power compared with smaller, more efficient carbs. This could explain the lag in acceleration on the big Grizzly.
Our Kawasaki Prairie 400 had good, rideable power and felt like it had plenty of torque, but it was down on power compared to the Griz and Sportsman, especially on the trail.
The big Griz definitely has an en­gine vibration buzz, that you can feel through the seat, bars, and floorboards. You can also "feel" its heavy nature on the trail. The Sportsman 500 claims a dry weight of 649 pounds over the Griz's optimistic 639 pounds and the Prairie's more nimble 604 pounds. Even so, the Sportsman is clearly the more agile machine on the trail. Most of this was due to its su­pe­rior suspension.
SPORT 4×4's:
FINAL SWEEPSTAKES
Our test riders all agreed that the 500 Sportsman was the clearcut winner, in terms of suspension action and overall rider comfort, on our extended trail excursion. All three machines use MacPherson-strut suspension upfront. The Prairie tops out at 6.7 inches, the Griz 6.3 inches, and the Sportsman coming in at 6.25 inches.
Even though the Sportsman's was the lowest travel of the three, it easily won out over the cobby rough sections, including logs, and rocks we encountered. Damping and springs were all spot-on for high-speed and low-speed riding.
We liked the front struts on the Ka­wa­saki Prairie, and rated them a solid second, ahead of the Grizzly's slightly-less-travel struts.
In the battle of rear suspension, we gave the nod to the Sportsman's independent dual shock 9.5-inch-travel suspension. It was the only independent rear suspension system (IRS) in our shootout and easily gave the Sports­man 500 an edge in the rough, that neither competitor could match.
Coming in second, was the Grizzly's more predictable and tractable single-shock rear suspension. It offers up 7.5 inches of travel. The Prairie 400 single-shock rear suspension was a distant third at 7.1 inches of travel. It felt overdamped and under sprung. The rear suspension would kick up at high speed, which usually means that the shock valving is too heavy. We would have to guess that Kawasaki meant for the Prairie to be ridden at slower speeds, than what we were operating at.
SPORT 4×4's
GROUND CLEARANCE
One item that is vitally important to any good 4×4 is adequate ground clearance. If you ride in snow or mud or traverse large rocks, boulders, tree stumps, and logs, you know the value of high ground clearance on your 4WD quad. Not choosing to believe the factory spec sheets, we took out our trusty Dirt Wheels tape measures to get some measurements of our three contestants' ground clearance, front and back, as well as foot­peg/floorboard heights.
Upfront, the Polaris Sportsman 500 had the most ground clearance measuring in at 11.5 inches. Next was the Yamaha Grizzly 600, and Prairie 400, tying at ten inches each. On the back end, we measured the lowest point to come in contact with the ground.
Here, the Polaris, with its independent rear suspension, was the king with a massive 13.5 inches of ground clear­ance. Both the Prairie and Griz have single-shock rear suspensions, with rear differentials, that decrease their ground clearance. Our Prairie mea­sured eight inches of ground clearance, while the Griz had 7.5 inches.
Footpeg/floorboard height helps determine which machine has the lower center of gravity. The Prai­rie won this category with a 12.5-inch footpeg/floorboard height.  The Grizz was next lowest, at 14 inches, and the Polaris the tallest of the bunch at 15 inches.
SPORT 4×4's:
GLIDE & SHIFT
One complaint with the Yamaha 600 was that the clutch engagement was wrong for the trail conditions we were riding under. Both the Po­lar­is and Yamaha have "shift-on-the-fly" 2WD to 4WD engagement. They were also the better handling ma­chines on the fast sections of trail. It was far easier to get the back ends to come around and slide in 2WD than it was to get the full-time 4WD Kawasaki to slide.
Yamaha's Grizzly was particularly easy to bring around in 2WD mode. It slid like a Harley flat-tracker. The separate front and rear brakes were an asset here, too. They al­lowed braking harder, going into a turn, or simply use the rear brake to start a slide into a corner.
Our Sportsman 500 was a nimble, fast slider as well. It could easily carve a turn. We didn't care for the single-lever braking, though. With time, you could adapt to it. But its agile manners and deceptive power, make it a rocketship on the trail.
SPORT 4×4's
SPECS AND PECS
All three engines use four-valve heads, with single overhead cam­shafts. Electric starters are standard equipment, as are recoil backup start­ers, on the three.
You would ex­pect large-capacity gas tanks on these big-bores, and they do have them. The Polaris edges the Ya­maha at 5.25 gallons over the Griz's 5.1-gallon-capacity tank. The smaller-displacement Kawasaki only carries 3.7 gallons of fuel. The massive 600 en­gine on the Yamaha does suck fuel and gets fewer miles per gal­lon than its competitors, the Sports­man and Prairie.
Transmission-wise, all three ma­chines use belt-driven automatic trans­missions. Yamaha calls theirs an "Ul­tramatic" drive. It uses a "Sprague" clutching mechanism that al­lows for engine compression braking on steep downhills.
Kawasaki has its own version of engine braking with a one-way clutching system in its automatic transmission system known as the Kawasaki Automatic Pow­er Drive System or KAPS. It al­lows for some engine compression braking.
Our Polaris uses a PVT (Po­laris Variable Transmission) system that basically does not benefit from any engine compression braking ef­fect at all.
The Polaris and Kawasaki gear range shift knobs are located on the right-hand side of the gas tank, while the Yamaha has the lever mounted on the left-hand side. All three ma­chines come with shaft drives front and rear.
SPORT 4×4's:
AFTER EVERYTHING WAS SAID & DONE…
The overall consensus of our group was that the defending champ, the Po­laris Sportsman 500, was our pick for best overall 4×4. While it did not register a clear knockout of its main opponent, the Griz­zly 600, its combination of speed, independent rear wheel suspension, great front suspension, agility, ample ground clearance, and its "On Demand" positive 4WD system gave it a clearcut edge over the mighty Grizzly.
If utility use is your main forté, though, then the superior automatic transmission on the Grizzly, with its abundance of raw horsepower and torque and the added asset of engine compression braking, makes it stand apart from the rest of the field. A few rid­ers also felt that the Yamaha would be the more dependable 4×4 over the long haul when compared with the Polaris.
The Prairie 400 4×4 did suffer in this high-powered field, though. It performed capably but not extraordina­ri­ly. Suspension action is plush, at low to mid speeds, but does pack up in the back at high speeds. This is especially true when the ground gets really rough. It clearly is down on power, in comparison to the other machines, in this shootout.
All in all, though, these machines are all good in their own right. How­ev­er, if we had to pick a single overall winner, the Sportsman 500 would get the nod as top dog of the sporting 4×4 ATV world. Of course, it would still have to knock off Honda's all-new TRX450 ES (Electric Shift) model. There is also the ques­tion of Suzuki's all-new Quad­Run­ner 500 4×4. How good is it? What about the Arctic Cat 454 4×4? Would it be competitive? Until we get a chance to swing a leg over these units and compare them directly to these three machines, we will have to hedge our bets for the best overall 4×4 of '98.
For now, even though the battle was quite close, the reigning champ, the Polaris Sportsman 500, has successfully defended the crown, after a hard-fought 12-round whirlwind of a fight.
To subscribe to Dirt Wheels Magazine in print or digital form click here https://hi-torque.com/product/dirt-wheels.