$33,000 WORLD RECORD DRAG QUAD
Tom Hills exquisite Dragster
In the Dec. 1997 issue of Dirt Wheels, we featured Wisconsin racer Tom Hill and his World Record Drag Quad,  a $33,000 one-off, Dragster Quad. Hill also claimed to be the current holder of the world rec­ord for drag-racing quads.
Al­though there's no official NHRA or IHRA class for all-terrain vehicles, the impressive numbers his latest dragster has produced are certainly the best we have ever seen. A little over a year ago, we featured Tom's 210-horse­power, nitrous-injected, 580cc Ro­tax drag quad that consistently turned low ten-second passes at 125 mph (DW, Sept. '96).
World Record Drag Quad
This trick-looking ma­chine was built around a Quad­Rac­er 500 chassis and featured Suzu­ki plastic. At the time, Tom claimed that this was the fastest quarter-mile as­phalt quad in the world and challenged anyone else to prove him wrong—since that article ran, we haven't heard a peep from any challengers!
Tom's all-new machine takes the con­cept of drag-racing quads one step further. The frame is completely hand-fabricated from the ground up, and the quad is turning low nine-second runs, which is really smokin' in the world of drag racing.
For comparison's sake, a modified Banshee ran against Tom and could only mus­ter a 13.9-second run at 86 mph. Since there are very few other racers who even attempt to run quads at the three strips Tom frequents, most of his competition is in the form of street bikes.
"Unless they're highly modified Pro class street bikes, it's very hard for the mo­tor­cycles to beat me," says Tom. "However, the street bikes do record a more impressive top speed in the lights because of their gear drive, but I still beat 'em to the fin­ish line. We're on the verge of a run in the 8.90s this fall if I can get per­fect air and humidity conditions."
World Record Drag Quad
RACING FOR $
The form of competition Hill runs against the street bikes is bracket elim­ination, where consistency really pays off: "A few weeks ago I ran seven 9.40s in a row. Because I have an auto clutch and an on-board computer, I can be more consistent than the street bikes. About the only thing we ever mess with at the track is the carb and nitrous jetting after we take hu­midity and air-density readings. When we have around 100 machines in our class, the overall winner can go home with $2000 in his pocket." The three Midwestern dragstrips that currently allow Tom to run his ATV in the bracket drags are Cordova Drag­way in Cordova, Illinois, Byron Drag­way in Byron, Illinois, and US 41 Drag­strip in Morocco, Indiana.
World Record Drag Quad
asked Tom if he has ever tried to find the top speed of his testoster­one-charged Polaris Sport: "That would be a bit scary on asphalt with this quad, the way it's set up right now, but I might try it on the ice sometime. I feel we could hit around 160 mph."
As wild as this machine is, Tom's not yet done in his quest for speed. "My next drag quad project is going to be close to 400 horsepower, four inches longer and should run in the high sevens at 170 to180 mph," projects Tom. "Plans are that it'll be powered by a three-cylinder, 1015cc, twin-rotary valve Crankshop en­gine."
Finally, Tom invites Dirt Wheels readers to contact him if they are looking for more information on his dragsters or how to get started in quad drag racing. Hill also may have some info on Midwestern dirt drag events and ice speed runs as well as the asphalt action. Most importantly, Tom would love to find a challenger for his current quad drag race World Record.
INSIDE THE WORLD RECORD HOLDER
Best E.T. and speed to date: 9.2 seconds, 140.35 mph.
Engine: The dragster is powered by a twin-cylinder, water-cooled, 670cc, Crankshop two-stroke (the Crankshop engine is a redesign of a Ski-Doo Rotax snowmobile engine). It features rotary valves, along with many other modifications designed spe­cifically for snowmobile grass drags. This powerplant was also built specifically for use with a nitrous-in­jec­tion system.
The three-piece cylinder head was custom-built by Union Bay Racing. It also features a hand-built, complete billet crankshaft, titanium connecting rods, and ceramic pistons. The Torco 118 NOS fuel is fed through a pair of 48.5mm Mikunis, which are topped off with K&N air filters. The Crankshop engine has an MSD ignition with automatic spark re­tard, and there's an onboard computer that constantly monitors the amount of nitrous, the ignition timing, and rev limiter. Pipes are custom-built by Crankshop and chromed by Golden West. They were built specifically for the extra exhaust volume gen­erated by nitrous use and have open stingers.
WORLD RECORD DRAG QUAD
Maximum HP: 294 horsepower as checked on a dyno.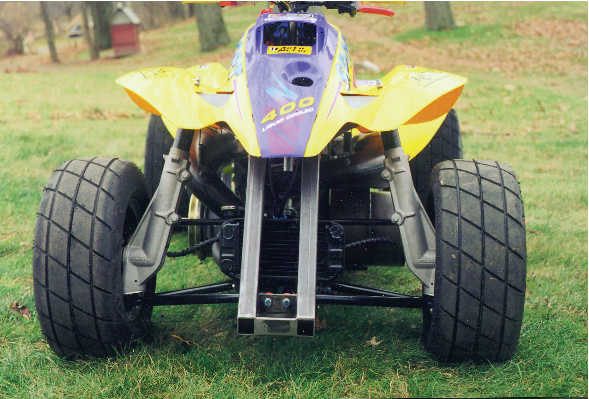 World Record Drag Quad
Fuel-injection system: Comput­er-controlled Nitrous Oxide Systems (NOS), 2.5-pound bottle. A full bottle is used during each run.
Clutch: Like snowmobiles, Polaris ATVs and some other quads, Tom's machine features a belt-drive auto clutch. The primary clutch is a Comet 4-Pro; the secondary clutch is from a Polaris Indy Storm snowmobile.
Frame: The entire frame was built from scratch by Tom Hill Fabrication. The idea for the quad's configuration is based on a Pro Stock drag car and was designed on a Cad-Cam computer program. The majority of the construction is 1.25-inch chromoly steel tubing in various thicknesses. The front end and steering components are entirely hand-built and feature slow-ratio steering and a lot of cam­ber angle for high-speed stability. In fact, the quad automatically straight­ens out if you take your hands off the bars. Out back there's a six-foot wheelie bar. The seat and plastic are off a Polaris Sport 400.
Suspension: The front suspension features chopped Polaris MacPher­son strut shocks from a Sport 400 (1.5-inch wheel travel). There is no swing­arm, as the entire rear end is an integral part of the chassis with a solid axle.
Drivetrain: DuraBlue chromoly rear axle and a double-taper, roller bear­ing carrier. Gearing consists of a set of Sprocket Specialists 14/51. Chain is a Krause Ultra-Max Gold 520 (it never has to be adjusted be­cause of auto-clutch and solid rear end).
Brakes: Polaris front discs. Custom rear caliper and rotor by Kelsey Hayes. Carbon fiber brake pads all the way around.
Tires/wheels: McCreary Speed Star (dirt midget) tires all the way around (20×10-10 rears) on Douglas Blue Label Rims. Only three pounds of tire pressure in the rear (tires are screwed to the rims) and 30 pounds in the front.
Weight: Four hundred pounds, wet.
Cost: $15,000 for the engine alone. The entire machine (including en­gine) is worth $33,000. Tom has already sold two copies of this quad to drag racers in the South.
Sponsors: Crankshop, Loko Per­for­mance Coating, DuraBlue, Polaris, Rock County Lawn and Sports, Union Bay Racing, Bruins Race Cars, Mc­Crea­ry Tires, Tom Hill Fabrication.
WHAT IT'S LIKE TO BLAST A ROCKET QUAD
We asked Tom what it's like to ride 290 horsepower through the lights at 140 mph. Here's what he had to say.
WORLD RECORD DRAG QUAD
"To begin with, I run it for about one minute to warm it up so we don't get a cold seizure. Then I shut it off and wait in the staging lane for my turn. When I'm up, I turn on the computer [which also activates the ni­trous system], roll through the bleach box [water is actually used] and do a big smokey burnout with the front brakes on. Then I do a second burn­out past the staging line. We push it back, and then I do a dry hop to make sure the tires are warm and the quad is launching straight.
"As I roll up to the first stage, I set the automatic recorder on the computer and close my visor. Then I set the second staging line and watch for the lights. We get three yellows and green—I leave on the third yellow, full throttle. The NOS instantly kicks in and the clutch locks up right off the line. From there the first 100 yards is just hanging on. My 60-foot times are in the 1.1-second range, which is a very violent launch. The Pro Stock drag cars do the first 60 feet in one second. The first 100 yards are about the only point during the run where I might lose traction. When that hap­pens it's a handful and the run is pretty much shot.
"About halfway down the quarter-mile, the front wheels start coming down. This thing will automatically go straight if I have it pointed in the right direction off the line. You can actually steer it though with body English when the front wheels are still up in the air if I have to. Letting off on the throttle for just a fraction of a second will ruin the run. I'm already running around 121 mph at the halfway point.
"From there, I duck down to get com­pletely out of the wind. Then I look ahead and find the finish line. At the line, I let off on the throttle and stay ducked down for about 600 feet. I coast until I'm down to around 80 mph before I can sit up and start hitting the brakes."
To subscribe to Dirt Wheels Magazine in print or digital form click here https://hi-torque.com/product/dirt-wheels.