HOW MANY ATCs DO YOU SEE?
Is this the largest vintage Honda 3-wheeler collection?
HOW MANY ATCs DO YOU SEE?
Preston Frasier is a man who loves Honda 3-wheelers. He began collecting them some time ago and each year his ATC fleet has grown larger. One of his annual traditions is to roll his entire ATC collection out into the yard and take some pictures of them. Preston has sent us some of those photos in the past and here is the latest bunch he has taken recently.
This year's collection is the largest of all. Preston says there are 61 ATCs in the photos along with 4 TRX quads. Is this the world's largest Honda 3-wheeler collection? It may be, but we just don't know for sure. If anyone out there has more, please let us know. They can't be junkers in a salvage yard, though. We're talking good-looking restored versions like Preston's here.
HOW MANY ATCs DO YOU SEE?
Just think of the time and effort that went into searching for and acquiring these ATCs, and then fixing each one up to look practically new again. And also, having a garage big enough to park them all.
So, how much bigger will Preston Frasier's ATC collection get? Well, he says he wants to have one of each year and model of ATC. He also wants to have each color that was available. That adds up to 75 variations. Right now he has 52 of them, with some duplicates.
HOW MANY ATCs DO YOU SEE?
Preston lives in Upstate New York and his house is on a nice lake with a big yard. It made a beautiful backdrop for the photos. Preston says he had 8 friends help with rolling the machines into position.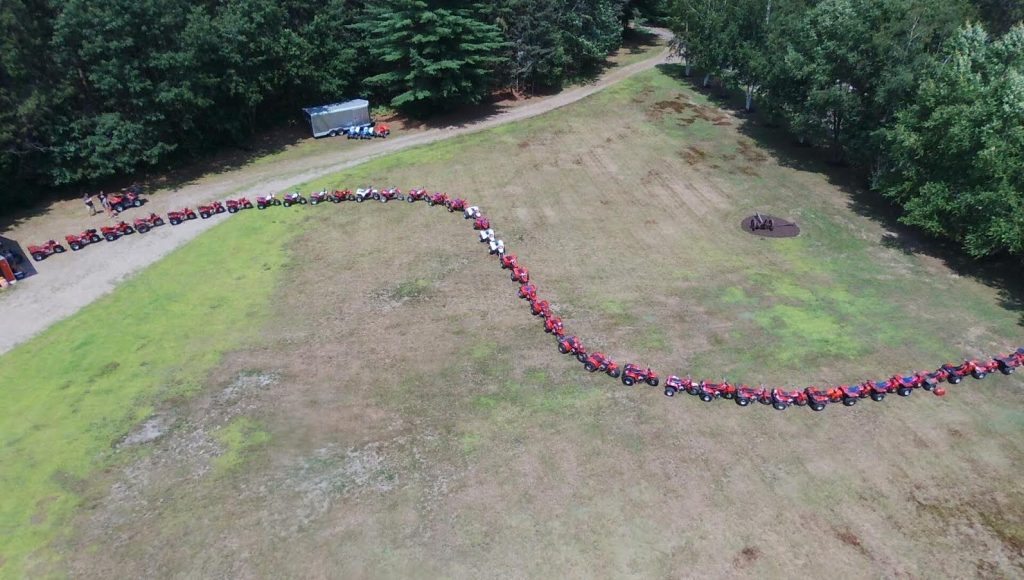 Okay, so who all can remember every size and model of Honda's ATCs? Well, you start with the ATC90, and then there were the 110 versions. Then the smaller ATC70 came out.
Next, you had your 185 and 200. There was also the four-stroke 250 known as Big Red with shaft drive. The hottest ATC was the 250 two-strokes that started off as air-cooled and then later became liquid-cooled. The 250R is the machine the fast guys wanted, but some liked the big four-stroke 350X. And then, when 1986 rolled around the TRX four-wheeled Hondas moved to the front.
HOW MANY ATCs DO YOU SEE?
Email us photos and info on your ATV collection to
To subscribe to Dirt Wheels Magazine in print or digital form click here https://hi-torque.com/product/dirtwheels.
.