ATV BUILD: DUNCAN RACING TRX 250R NATIONAL BUILD
Dennis DeMink is the proud owner of this TRX 250R build, as he should be. He's owned it for the last 16 years and completed much of the restoration himself, leaving nothing untouched. "We've had this quad for a long time. We originally bought it for my wife in 2007," claims DeMink. His wife, Lori, was already an accomplished ATC250R rider, having ridden three-wheelers since she was 6 years old, so her skill set was already in place for the addition of an extra wheel. Self-described as desert rats, the pair spend much of their free time riding a number of three- and four-wheelers they own at Glamis and Ocotillo Wells in Southern California. Eventually, the two of them decided the near-40-year-old Honda deserved an extraordinary upgrade.
VINTAGE TWO-STROKE AWESOMENESS
The quad started out as a stock 1986 Honda TRX 250R. Dennis completed much of the wrenching and elbow grease on his own. The attention to detail is second to none, right down to the nuts and bolts. "Every piece and part on this quad is either polished or chrome," said DeMink. "All of the nuts and bolts are matching OEM. If the stock hardware was in bad shape, it was replaced. If it was reusable, I personally put it in the parts washer for an hour, and then wire-wheeled every bit of rust, grit, grime and abrasion off of it." DeMink then sent all hardware out to be cadmium-coated for corrosion resistance.
For DeMink, turning to Duncan Racing for collaboration on the build was a no-brainer. He's been going to Loren Duncan for engine work since 1993, when he had Duncan build the motor in his 1989 YZ250 dirt bike, and later had them build a 2005 Honda TRX 470 duner, which was featured in Dirt Wheels Magazine in 2020. "I've just had a great relationship with Duncan Racing ever since. I've been super happy with all of their work. I ended up having Loren port my YZ250, and it was the fastest bike that I've ever ridden. I've just stuck with them because the motors that Loren builds are dependable, they're strong-running, and they're rideable. In my opinion, they run flawlessly because Loren Duncan is the master motor builder," said DeMink.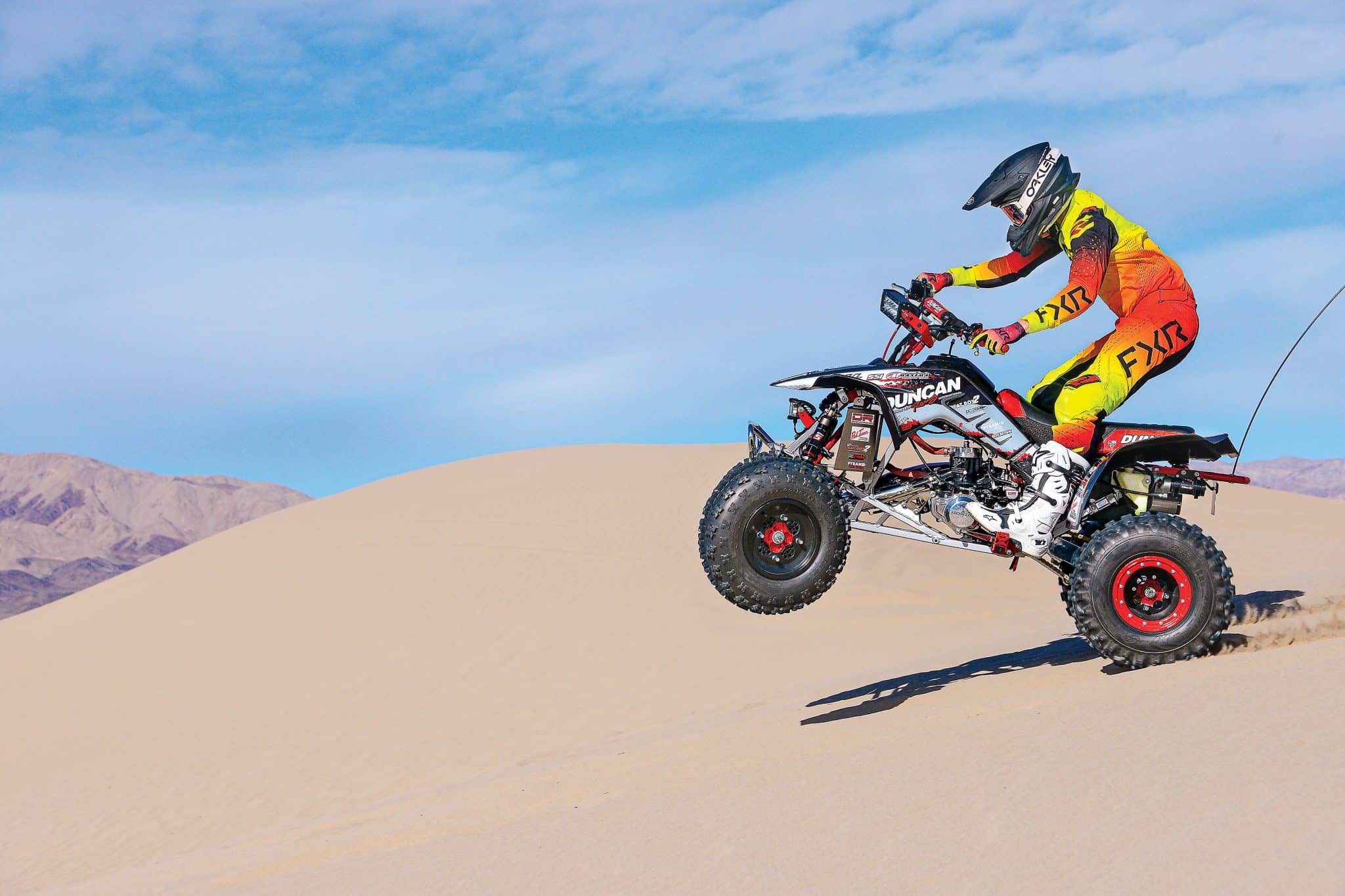 POWER UPGRADE
This TRX 250R is ridden by DeMink's family, including his daughter, so usable power that's easy to handle was the focus for the engine. The decision was made to go with Duncan's Paul Turner Racing (PTR) National kit, which is the most popular engine build kit Duncan sells. The kit includes a PTR Eliminator pipe, Fat Boy silencer, billet PTR Powerhead, carburetor and reed valve. Duncan completes the kit with a National midrange port job on the stock OEM cylinder for a solid power boost that remains easy to ride, versatile and reliable. It's also one of the more affordable top-end kits that Duncan sells.
The engine is fed through a Keihin 36mm PJ carburetor bored to 37.3mm with the Duncan Racing Super Flow mod. Duncan's Pyramid reed valve allows maximum air flow with reed pedals that open up on the top, bottom, and sides for strong throttle response and power gains from idle to wide open. To move more air through the intake, a K&N air filter with Outerwear was installed, and the stock airbox lid was removed.
To handle the upgraded power and torque, a Hinson clutch basket with cushions was installed and mated with Duncan Racing's C12 clutch kit. Final gearing is left to 1987–'89 specs with 13-tooth front and 28-tooth rear Sunstar sprockets and an RK 520 O-ring chain driving them.
MODERN CHASSIS AND SUSPENSION
The stock 1986 frame has been gusseted for strength and then modified to accept a 1988 OEM aluminum swingarm, which provides better weight balance and sharper turning with its 1-inch-shorter length. The frame has been powdercoated in a Silver Spark colorway, and the swingarm is polished to flow with the chrome and billet-polished accents scattered throughout the build. DeMink had a good idea of what he wanted the quad to look like from the beginning, and then took some styling cues from Duncan. "Loren let me do what I wanted to do, and then he would recommend stuff like 'a little red here and red there.' I absolutely love the way this quad turned out," said DeMink.
Up front, stock suspension gave way to new Roll Design Lobo A-arms, increasing the width to 50 inches. The Elka Stage 5 shocks are set up primarily for dune and desert riding, providing plushness through choppy sand and providing excellent cornering ability. A Roll Design steering stem is an inch longer than stock and is fitted with Fasst Co. Flexx bars with a 12-degree moto bend.
At the rear, an Elka shock was installed to the '88 swingarm using the OEM linkage. The rear width is increased to 49 inches using a RPM carrier and Dominator axle combination with a matching anti-fade nut.
NIGHT RIDER
Duners love night rides, and Duncan set this beauty up with two super-bright Rigid Industries LED light bars without the need of a heavy battery to power them. One row is mounted to the lower front frame rails, while the other is placed up high in the original 1986–'87 location on the steering stem, providing directional lighting when cornering. Ricky Stator provides the extra juice to run the light bars and the modern LED taillight with their 200-watt rewound stator.
PLENTY TO DROOL OVER
We asked DeMink what his favorite part of this build is, and while he couldn't name just one outstanding feature, we couldn't agree more with his answer. "I would have to say the overall attention to detail is my favorite part; it's so over the top!" exclaimed DeMink. "I love the color combination, and it handles like a dream. I get compliments on it all of the time. But I think [Dirt Wheels test rider] Josh Row summed it up best when he finished up the Dirt Wheels photo shoot at Dumont Dunes. He stepped off and said, 'This quad runs as good as it looks.' I can't think of a better way to sum it all up."
DUNCAN RACING TRX 250R NATIONAL BUILD SHEET
Owner/builder Dennis DeMink
Build assisted by Duncan Racing International
Contributors Paul Turner Racing Products, GPR, Roll Design, Elka,
Hinson, RK Chain, Maxima, Ricky Stator
MACHINE 
1986 Honda TRX 250R
Quad weight 340 lb.
MOTOR
Motor (type and origin) Two-stroke Honda TRX 250 R base
Equipped with Duncan Racing National Engine kit $1995
Includes PTR Eliminator pipe, Fat Boy silencer, National port, Powerhead, DR Keihin 37mm PJ carb w/SuperFlow mod, Pyramid reed valve, K&N 
Porting Midrange
Head/head mods DR Powerhead
Piston/piston rod/crank ProX rod, ProX piston, 
Ignition/ignition timing OEM TRX 250/billet-adjustable timing BRG holder
Spark plug/spark plug gap NGK BR9EVX .028"
Reed cage Pyramid reed valve
Carburetor type and size/carb modifications Keihin 37mm PJ w/ Duncan Racing Super Flow
Airbox material and brand/air filter brand/air filter oil OEM Box, K&N filter
Pipe/silencer Paul Turner Eliminator pipe & Fat Boy silencer
Radiator origin/material GPI aluminum aftermarket
Fuel/fuel octane VP C 12
2-stroke oil/2-stroke oil ratio Maxima 927 32-1
Engine oil Maxima MTL Endurance
Misc Rebuilt crankshaft, powdercoated cylinder, center cases, polished side covers
DRIVE SYSTEM
Clutch basket/plates/springs Hinson basket w/ cushions $284.95
DR C12 clutch kit $225
Chain/chain lube RK 520 O-ring chain/Maxima chain wax
Sprocket brand f/r Sunstar
Gearing f/r 13T C/S & 38 T rear
FRAME
Stock frame reinforced. Modified to accept '88 Honda TRX 250R aluminum swingarm
FRONT END
A-arms Roll Design Lobo $1595
Spindles/hubs TRX 450R
Front end overall width 50" w/ tires
Front shock brand Elka Stage 5 shocks $2495
Steering stem Roll Design +1 stem $399
REAR END
Swingarm brand and material/swingarm length Original OEM '88 Honda TRX 250R aluminum
Rear axle/rear axle width/axle carrier Dominator Axle $659/ RPM Carrier $218/anti-fade nut $230. Axle 49" wide
Rear shock brand Elka Lobo $1495
*OEM linkage
TIRES/WHEELS/HUBS
Dirt tires brand f/r GBC tires 21" fronts/20" $450
Wheels brand f/r DWT rolled beadlock front , DWT beadlock rear
Sand tire brand f/r Sand Star front  tires 21", Sand Sharks rear sand tires/20" $500
Wheels brand f/r ITP wheels S/S powdercoated black
Rear hubs brand and material OEM r. hubs
BRAKES
Brake system OEM Honda TRX 450R Calipers
Brake lines Crown series Steel braided front $149.95/rear $49.95
Brake-line holders $40 pair
Brake fluid Maxima 550
HANDLEBARS/CONTROLS
Handlebars brand and bend Flexx Bars $399, ODI grips
Throttle type Vortex Twist $69.95
Shifter DR aluminum $99
Clutch perch Works Connection $169
LIGHTS
Light package $995
LED headlights (handlebar light rigid) Ricky Stator 200-watt stator, custom mount, RS volt reg & switch, LED taillight w/custom S/S mount. Red LED under lighting
DETAILS
Front bumper DR chrome bumper $249
Fuel tank material/fuel capacity IMS tank standard size
Seat cover Pro Top $199
Body material and brand Maier OEM-style plastic $499 Maier tank cover, Maier hood 
Foot pegs Wicked $199
Kick-starter Billet
OTHER SPECIAL SETUPS AND PRODUCTS
Polished components: Engine side cases, swingarm , kick starter, shifter
Chromed components: Rear brake pedal Powdercoated components. Frame, lower A-arms, footpegs
OTHER SPECIAL MODS/SETUPS
DR/SSI 2022 black/grey graphics kit $149.95
DR dual O-ring steel exhaust flange $99.95
CV4 hose kit $149
GPR steering stabilizer $525
DR billet chain guard $39.95
F. motor mounts S/S
CONTACT
Duncan Racing International, Inc. 
9380 Bond Ave, Suite B
El Cajon, CA 92021
Voice: (619) 258-6306 Fax:(619) 258-6309
NOTES:
Paul Turner Racing products (pipes/silencers/engine components) are a proprietary division of Duncan Racing International and have been since 1989. Pyramid reed valve, Paul Turner Racing engines/exhausts, Fat Bot 2 silencers and Powerhead are proprietary brands/products of Duncan Racing International Inc.