YOUTH QUAD TEST: KAYO FOX 70
There are many choices for youth ATVs out there including the Kayo Fox 70, but the most important thing to consider when choosing one is safety. Picking one that is size-appropriate definitely helps, too. We've seen all too often parents putting smaller kids on big quads. To be safe, you want your kid to be able to manhandle the machine, not the other way around.
We found a compact 70cc quad with an age recommendation of 6 years old and that weighs under 160 pounds.  Called the Fox 70, this is the smallest quad in the Kayo ATV lineup. Kayo also makes smaller utility ATVs and dirt bikes. See their complete lineup at www.ridekayo.com. Kayo's dealer network is currently in the growing stages, and we found one within a 300-mile radius of Los Angeles. We expect that number to grow soon.
This compact quad has kid-sized controls perfectly suited for smaller hands. The thumb throttle is well-positioned, as were the front and rear brake levers. There is no foot brake. As we mentioned before, the full-coverage floorboards are sized for kids' feet and protect them from the hot engine. The handlebars turn with very little effort as well.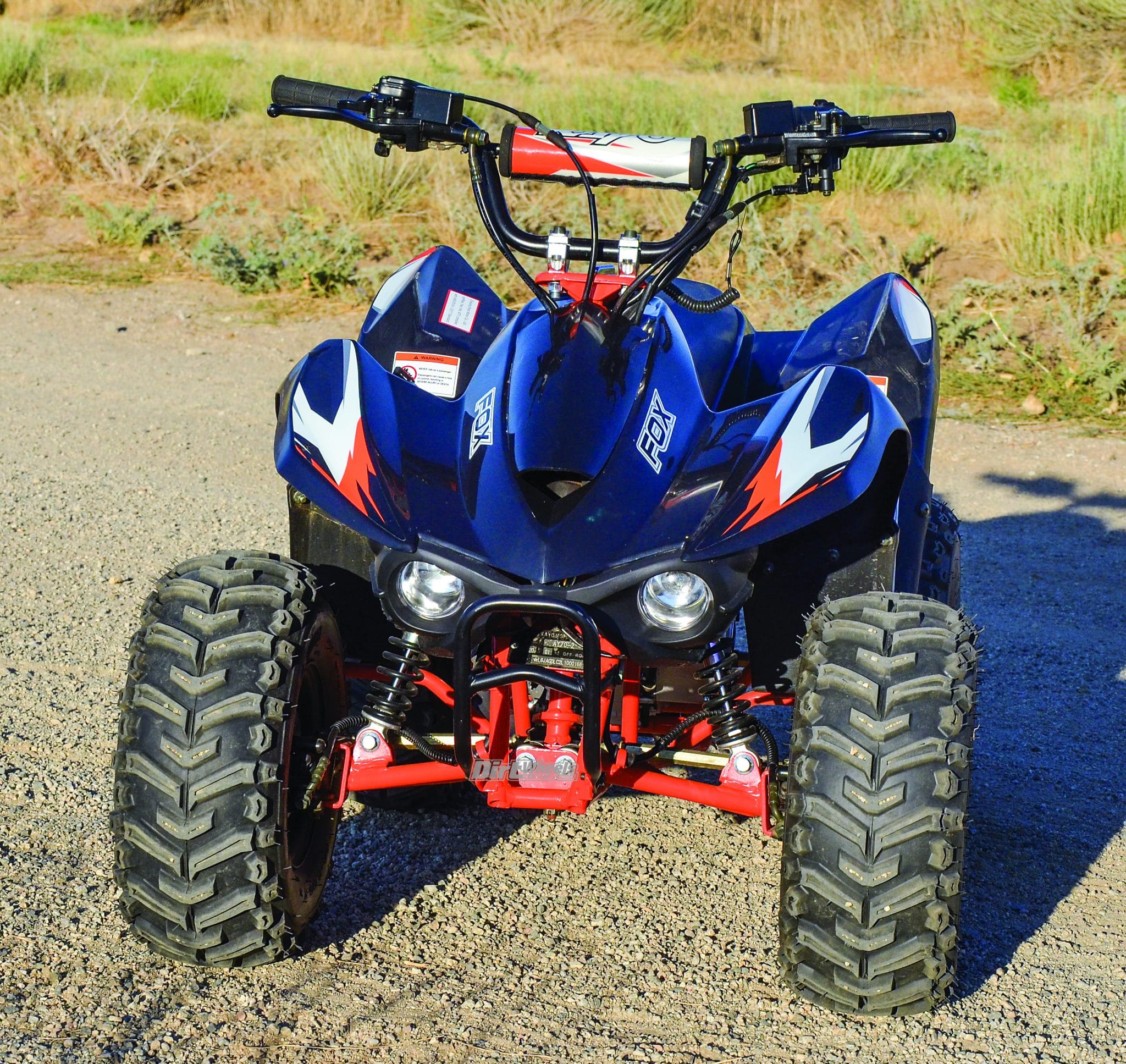 As for safety, Kayo equips the little Fox with a throttle-limiter screw to keep speeds in check. If that is not enough, there is a wrist tether that will kill the engine if the rider falls off. Finally, if parents are still too worried Junior is getting out of control, they can hold the electronic kill button that, when pushed, will instantly kill the engine and stop the machine. It won't restart until you press the unlock button.
PLAYGROUND
To get a feel for the machine, we let a group of neighborhood kids and our usual test riders spend a few weekends on the Fox. An electric start brings the machine to life, thanks to a handlebar-mounted choke. 
Power-wise, the little air-cooled 70cc engine is a workhorse. It could tote bigger kids around and even adults without struggling. However, the full floorboards are too compact to fit anything over a size-8 boot.
Smaller kids, who this machine is intended for, zipped around on the Fox like a little off-road go-kart. Take-off was quick enough to just barely spin the back tires. Power builds slowly and mellow, which is great for first-timers. However, it builds and builds to over 25 mph. That's as fast as our experienced rider could get it up to on a smaller track. The powerplant is mated to an automatic single-speed transmission, so there are no gears. 
Tight turns are no problem at slow speed, as the little Fox is nimble. Steering is stable at high speeds. Body English really dictates how it turns under normal circumstances. If the rider moves back on the seat, the quad turns slower and pushes a bit. Move forward over the bars and the quad sticks to the ground and corners fast. It turns quick enough that kids do need to lean to the inside of the quad to keep it from tipping. Moving around side to side is unobtrusive, as the seat and fender design is smooth, and nothing catches on the kids' clothing.
Over the bumps, the front end moves predictably and is fairly plush. Single A-arms hold the non-adjustable shocks. It does feel like the quad has faster rebound than it does compression, but it's nothing the kids will notice. Travel numbers are not published, but we estimate it to be about 5 inches in the front and back. The rear is preload-adjustable, while the fronts are not. For our 50-pound photo-shoot rider, we lowered the spring to the bottom position.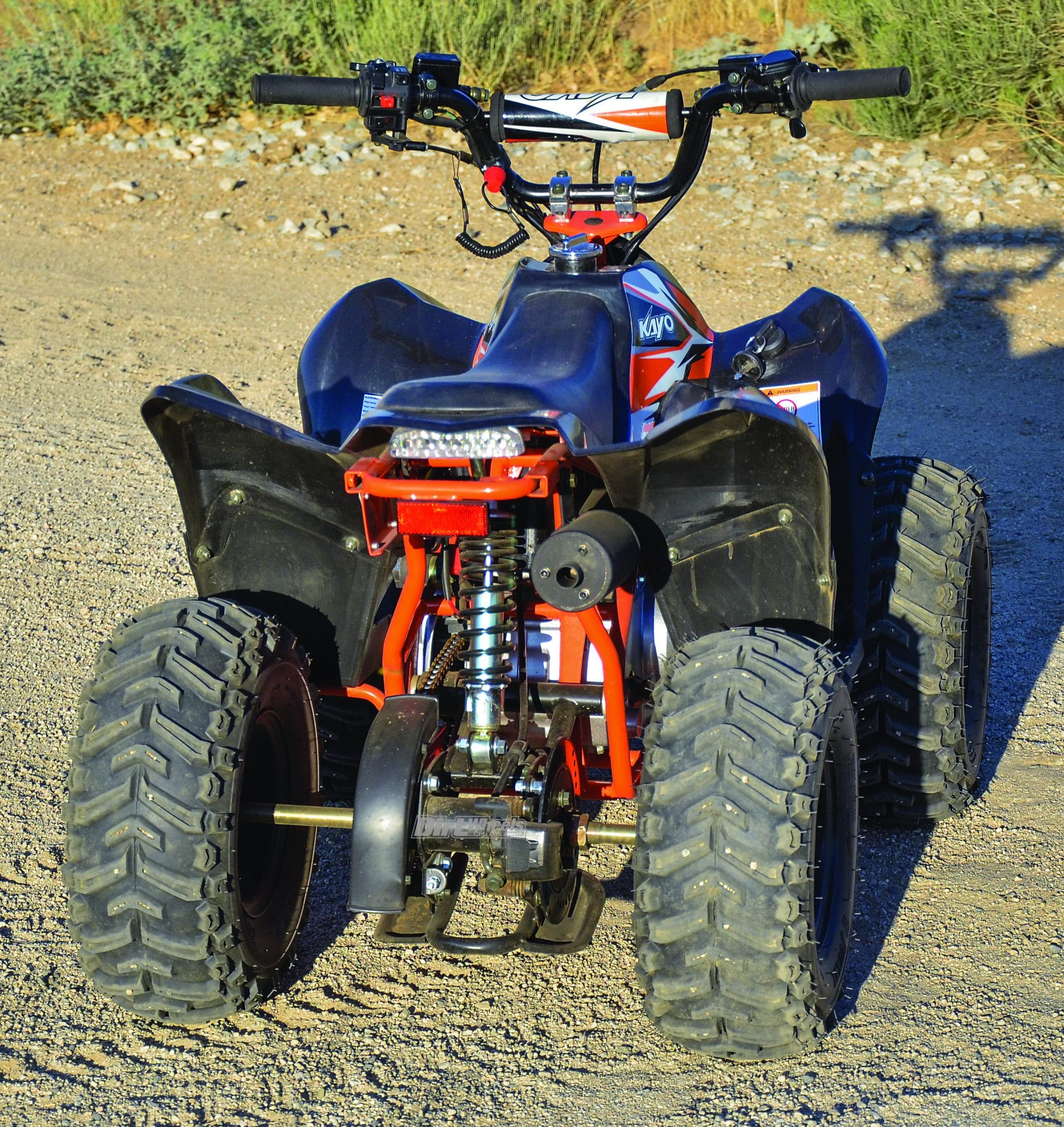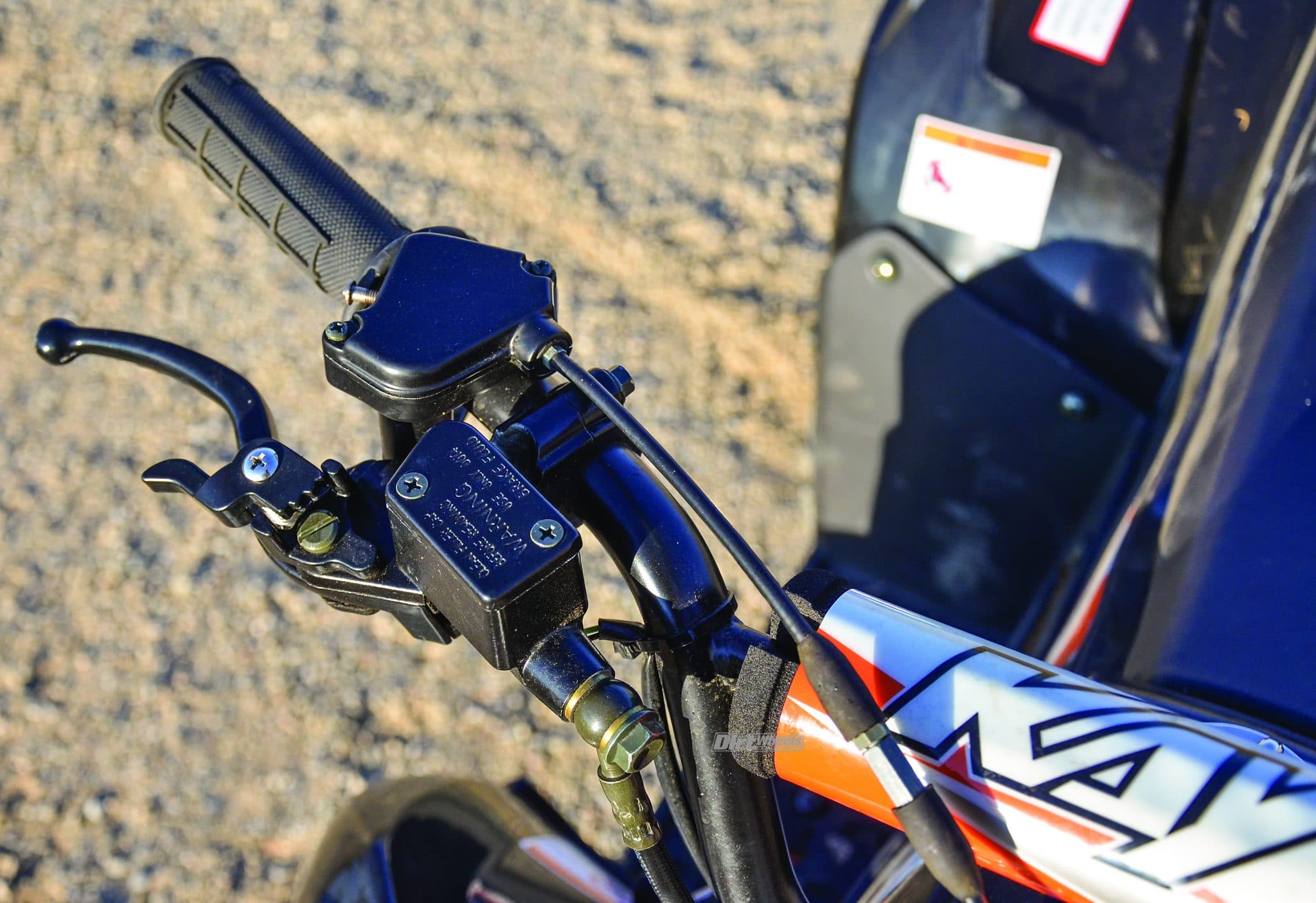 REPORT CARD
In the last month or so of testing, the Fox has held up to hours of ride time. Some of the larger neighborhood kids even took turns riding it on two wheels and jumping it rather harshly. Nothing has bent or broken. The .55-gallon gas tank does require more frequent fill-ups than say Yamaha's YFZ50 with its 1.5-gallon tank. But, that's a small price to pay to save $1200 on the overall cost of your kid's machine. Plus, the downtime for gas stops is good for letting the other kids hop on and give it a try or to grab a snack. Our 6–8-year-old testers had a blast on small backyard tracks and running the Fox down the easy local trails, and for that reason, we give it an A.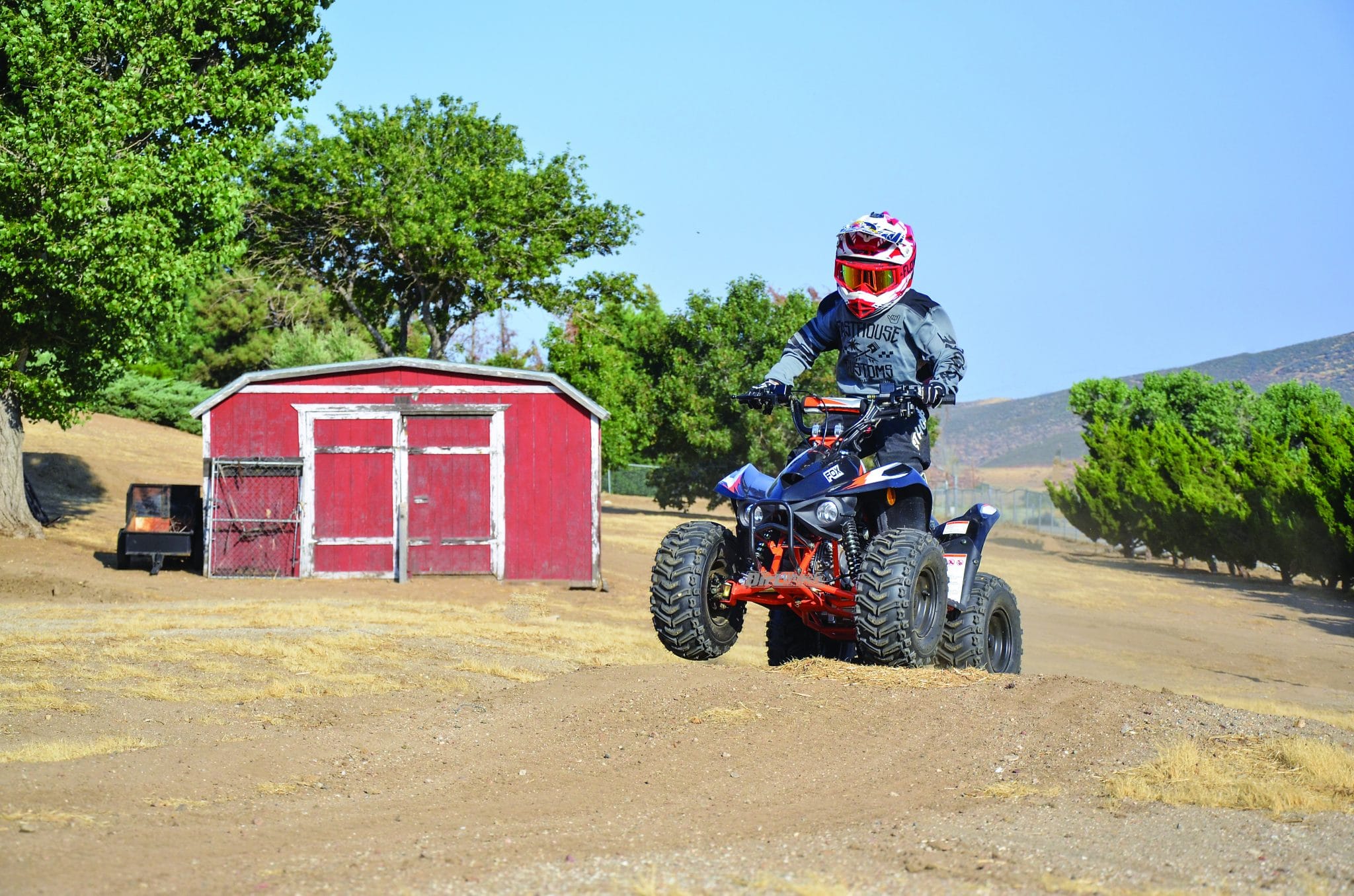 KAYO FOX 70
Engine SOHC, air-cooled 4-stroke
Displacement 70cc
Starter Electric
Transmission Single speed, fully automatic
Final drive Chain
Length/width/height 49.8"/31.4"/34.6"
Seat height 23.8"
Wheelbase 30.3"
Ground clearance 4.5"
Fuel capacity .55 gal.
Weight 158.7 lb.
Front suspension Non-adjustable shocks
Rear suspension Single shock/adjustable preload
Front brakes Hydraulic discs
Rear brakes Hydraulic disc
Front tires 16×8-7
Rear tires 16×8-7 
Colors White, black
Price $999
Contact www.ridekayo.com,(909) 219-9816