ATV PROJECT: JOSH ROW'S DUNCAN RACING HONDA TRX 450R
By the Staff at Dirt Wheels
ATV pro Josh Row is a second-generation ATV racer. His father, Greg Row, traces his racing days back to the Honda glory days of ATC three-wheeler racing. Though Josh spent some time teamed with Dustin Nelson on Yamahas contesting the WORCS races, he is comfortable on a Honda after a literal lifetime of riding them.
This Duncan Racing International and Roll Design 2014 Honda TRX 450R is what Josh and his sponsors see as the ideal desert race bike. Since Josh Row was Best in the Desert's number-one ATV pro, it looks like the team of Josh and his sponsors knew what they were doing.
THE QUAD
Why start with a 2014? That was the last year Honda built the TRX 450R, though it was available for a few years from dealers. Like many other riders, Josh took the opportunity to start with a late-model machine while they were still available.
After choosing the machine to use as a starting point, a three-pronged attack descended on the machine. Duncan Racing was in charge of the build and the engine modifications. Duncan looked to Roll Design and Elke for the suspension upgrades. Finally, protection and longevity modifications were made to make sure that this Honda could thrive on the brutal desert courses of BITD, as well as survive the epic mileage that each race requires.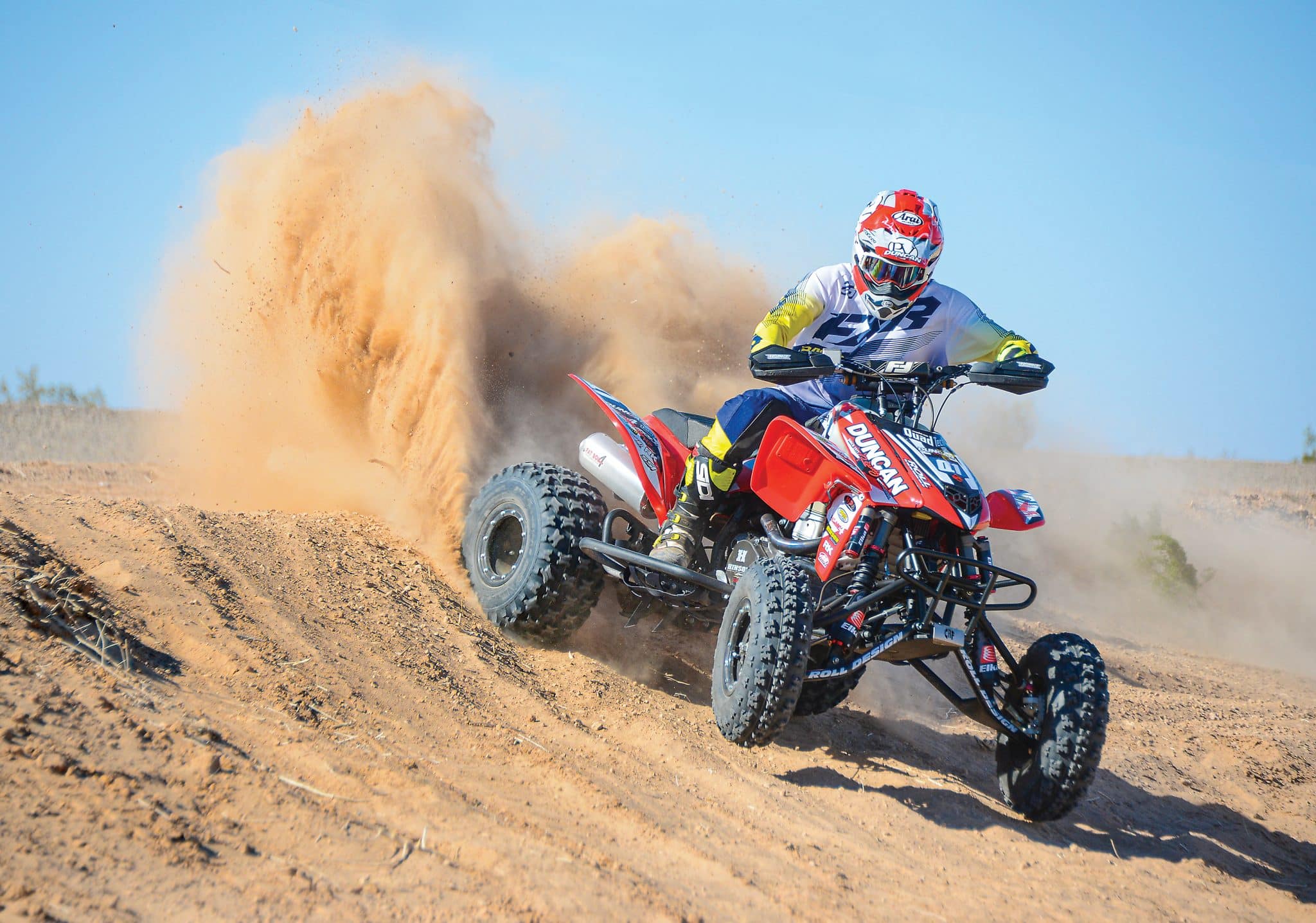 ENGINE TIME
Duncan has a proven package for the TRX that starts at the top. The head is ported, and a high-tech SERDI machine cuts the valve seats oversized for the Big Valve kit. The valves are installed in high-performance guides with heavy-duty valve springs captured using titanium retainers. Last on the head modification list is a billet cam-shaft.
On one side of the head is a Pro Flow filter kit to get clean air through the Keihin 41mm FCR carburetor (like those used on the final carbureted Honda CRF450Rs) and into the engine efficiently. On the other side of the head is a Fat Boy 4 complete stainless exhaust to evacuate spent race fuel.
Below the head is a stock displacement 13:1 custom JE piston. It isn't merely slapped onto a stock crank. The entire engine gets a precision rebuild that includes having the factory crankshaft trued.
Part of that bottom end rebuild and bulletproofing is a complete Hinson Racing Billetproof clutch. Every part of the clutch is machined from billet aluminum and hard anodized to make it as tough as possible.
In the search for performance, a Vortex X10 CDI box has 10 preprogrammed spark maps. That makes it brilliantly easy to fine-tune the engine package for various race and weather conditions. Keeping the engine lubricated and cool are a variety of quality Maxima products.
MAKE IT ROLL
Compared to some race quads, Josh keeps a good number of the major parts that Honda blessed the TRX with. It uses the stock frame, subframe, swingarm and most of the stock body parts. Naturally, there are a lot of parts that are replaced in the name of race performance.
Starting at the front, that list of replacement parts starts with Roll Design Lobo front suspension with Roll-tuned Elka Stage 5 shocks. A Roll stem and big bar clamp are used as well. Keeping that stem and the steering calm is a GPR steering stabilizer. Much of the front brake and hub system are stock as well, but the wide, arched Lobo A-arms require longer Duncan Crown Series braided steel brake lines.
Above the front suspension is a Fasst Co. Flexx bar that helps the front suspension by using elastomers to add shock absorption to the handlebar itself. 
Even though the swingarm and bearing carrier are stock, the axle is an RPM Dominator. An Elka Stage 5 shock is found in the back as well. It does use a different linkage than stock.
Connecting all these great parts to the engine are steel Sunstar sprockets and a quality RK O-ring chain. Steel sprockets are the way to go for desert use. Even so, Teixeira Tech sprocket and rotor guards are added for protection.
Mating with the stock plastic and seat are a larger IMS Products fuel tank with a dry-break connection. The dry break allows fast refueling with no spills. There is also a Duncan Pro Top seat cover for butt traction and a QuadTech hood for a great look. That look is furthered by Duncan SSI graphics and number-plate backgrounds.
Just as the chain and sprockets are for performance and longevity, the rolling stock is the same. The Maxxis tires look great and have the appropriate specifications for desert racing. DWT makes light and strong beadlock wheels that keep the tires on the rim no matter what.
Further guaranteeing that, the tires are filled with foam Tire Blocks. Tire Blocks keep the tire performing even if it loses all the air. Some riders claim that the tires are less bouncy, so handling remains more consistent and predictable as well.
FINISHING UP
A myriad of small details need attention to complete a solid race quad. Some of those peripheral parts might make your race day, and leaving them off could ruin your year. Perfect examples are the toothy Roll Design footpegs and companion nerf bars. The pegs have massive boot traction and aggressive kick-ups at the outside edge to keep the rider's boots in place. If the rider has a boot bounce off the peg (how could that happen at a million through the desert, right?), the nylon web netting inside the nerf bar keeps that boot away from the ground and the rear wheel. The rear of the Roll nerf kicks up, so it doubles as a heel guard. Together, they add rider control and rider safety.
For this build, plastic Powermadd flag-type handguards are fitted in front of the handlebar controls. They add a little crash protection, but they are to keep flying roost from hitting the rider's hands. Some desert races start early, and they add cold protection so team members can run a light glove for optimum grip.
At the front is a Duncan Racing bumper. It protects the delicate front-end parts, including the radiator, from impact damage. At the rear is a Duncan grab bar. The bumper doubles as a grab bar as well. Together, they allow the quad to be righted, pulled around in tight situations or maneuvered into position to hit tricky lines.
Even small details matter. A Works Connection hour meter with a billet base mount keeps track of maintenance intervals and will keep the small device safe. While not seen in these shots, when Josh is racing the quad, it's equipped with Rugged Radios' moto-style communications. They allow the rider to alert the pits and pass news to other racers in case of delays of various types.
POWER IN MOTION
Having the BITD number-one plate shows that Josh, his co-riders and this machine are up to the task of open desert racing. Most BITD course are shared with cars and trucks, so they are open and quite fast for a quad. Watching Josh ride for photos was truly an eye-opener. His TRX seems calm and controllable at stunning velocities. It is hard to believe that he can run that pace for hours at a time.
It doesn't matter if the track has turns, ruts or straights with bumps, hops and even flight time, the speed is high. Despite that fact, when we rode the quad in the dunes at a recreation rider pace, it worked amazingly well.
Keep in mind, this was with desert tires and gearing! Much of the sandy terrain was chewed and chopped up by UTV tracks, and that is usually brutal on a straight-axle sport quad. With the Roll and Elka suspension, everything smooths right out at 25 mph and above. When you learn that threshold speed, you simply stay aggressive on the throttle for an amazingly smooth ride. It helps that the GPR steering stabilizer doesn't allow the handlebar to get jerked away from you.
Any pro race build is going to hone certain aspects of performance to a high level. This quad is tuned to the highest level, but it remains a blast for the average rider on normal trails at a reasonable pace. But. you always know that warp speeds are there at the twist of the Motion Pro CRF-type twist throttle.
2014 HONDA TRX 450R PARTS ANDSERVICES
DOUGLAS WHEEL & TIRE: www.dwtracing.com, (800) 722-3746
Beadlock wheels 4-piece set: $699
Duncan Racing International: www.duncanracing.com, (619) 258-6306
Fat Boy 4 complete stainless exhaust: $699
Valve train HP4 kit: Call for price
Keihin 41mm FCR: $799
Vortex X10 CDI: $599
13:1 custom JE piston: Call for price
Complete engine build: Price varies
Pro Flow filter kit: Call for price
Rotor guards: $150
Crown Series brake lines: Call for price
Duncan Racing chrome F. bumper: $249
Rear grab bar: $69
DR Pro Top seat cover: $199
Number plates: $199
Engine skid plate: $125
FASST COMPANY: www.fasstco.com, (877) 306-1801
Flexx bar: $399
GPR Stabilizer: www.gprstabilizer.com, (619) 661-0101
Steering stabilizer: $525
Hinson Racing: www.hinsonracing.com, (909) 946-2942
Billetproof clutch kit: $1259
IMS Products: www.imsproducts.com, (800) 237-9906
3.2 gal. desert tank w/ dry break: $325
Dry break: $225
Maxima Racing Oils: www.maximausa.com, (800) 345-8761
All lubricants: Varies
Maxxis Tire: www.maxxis.com
Razr 2 21×7-10: N/A
Razr XC 20×11-9: N/A
Motion Pro: www.motionpro.com, (650) 594-9600
CR Pro SE throttle kit: $81.99
Quad Tech: www.quadtech-atv.com, (208) 417-1726
Hood: $140
RK Excel: www.rkexcelamerica.com, (760) 732-3161 
O-ring 520 chain: $99.95
Roll Design: www.rolldesign.com, (760) 731-5920
Lobo A-arms: Call for price
Elka Stage 5 front shocks: Call for price
Steering stem: $329
Big bar clamp: $129.95
Elka Stage 5 rear shock: Call for price
Rear link: $495
Footpegs: $239
Heel guard combo: $299
RPM: www.team-rpm.com, (928) 771-9363
Dominator II axle w/ OEM carrier: $659
Sunstar Sprockets: www.sunstar-braking.com, (937) 704-1462
Steel front: $26.95
Steel rear: $45.95
Teixeira Tech: www.teixeiratech.com, (209) 833-9160
Rear rotor guard: $174
Sprocket guard: $69
Tire Blocks: (253) 973-5111, www.ridetireblocks.com
Front: $270
Rear: $300
WORKS CONNECTION: www.worksconnection.com, (530) 642-9488
Pro clutch perch: $169
Hour meter w/ base mount: $65