CFMOTO UFORCE 1000
Feature-filled for less 
By the staff of Dirt Wheels
2020 CFMOTO UFORCE 1000
While the sport 1000s and turbos get all the fanfare, it's the utility machine that manufacturers sell most. This segment has a crazy number of offerings from all the major manufacturers.
In fact, some brands have multiple offerings in the same category to attract buyers with different budgets. In the June issue, we featured a comparison between the Polaris Ranger 1000 and the Ranger XP 1000 and learned you don't have to pay more to get more of what you need. CFMoto has three utility models to choose from.
The first two are two-seaters that are 57.6 inches wide. One is an 800cc for approximately $11,000, and the second is a 500cc for $9,099. The last is a 63.5-inch-wide, 1,000cc three-seater that runs $11,999.
This month we are looking at the 1000cc machine from CFMoto, with all the bells and whistles of the XP 1000 and a price well below the standard Ranger. Over the course of a few weeks, we put the machine to work to see if it's got what it takes to work alongside the units from the top manufacturers. The 1000cc comes in matte blue, silver, and camo.
2020 CFMOTO UFORCE 1000
MORE FOR THE MONEY
What you get when you buy the UForce is a long list of standard features that you typically don't get from other manufacturers. Two side mirrors and a horn are standard on this machine.
This model also comes with a 3500-pound winch pre-installed with both wired and wireless remotes. Although the winch doesn't appear to be from a name-brand manufacturer, the tires are very good CST Stags.
Upfront is a 2-inch receiver and a bumper. A front receiver is a highly unusual but very handy standard feature. The bumper looks nice, and we like that it does not protrude past the bodywork like some of the bumpers on the Can-Ams do. Outback, the huge dumping cargo bed has lots of spots for tie-down hooks, and the tailgate features inch marks just like some coolers do.
In this case, you can measure fish or material you need to cut on the job site. Of course, there's a 2-inch receiver back here, too, and a hitch drawbar to go in it.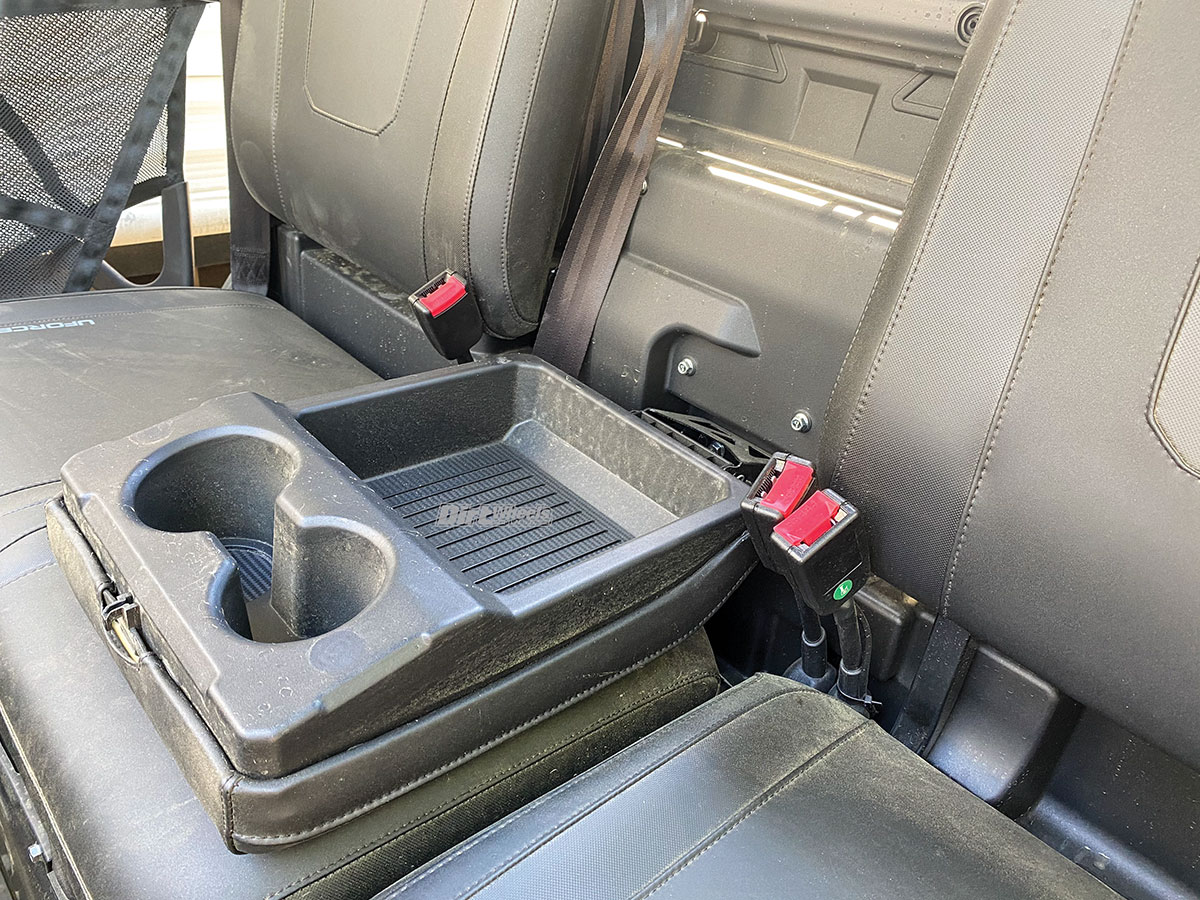 2020 CFMOTO UFORCE 1000
Inside the cockpit, you will find under-seat storage with a removable box that features a carrying handle. The backrest of the passenger seat is removable and can be used as a seat cushion elsewhere or as a kneeling pad if needed. This is a very unique feature. Furthermore, the dash is full of shelves and cup holders. Finally, the nets clip in easily with seatbelt-type latches. The third (center) seatback folds out of the way when not needed, revealing an armrest and a pair of cup holders.
PLENTY OF POWER
Like the rest of the machine, CFMoto's powerplant is eerily similar to what we see from Can-Am. For power, the UForce uses an eight-valve, liquid-cooled, four-stroke V-twin. According to the specs, the mill puts out 79 horsepower and 60 pound-feet of torque.
We tested a brand new off-the-showroom model, and it hauled the mail. Stab the throttle and it powers down the road quickly. In fact, we were able to hit a top speed of over 75 mph before running out of road. For a machine of this size and type, it's about 15 mph faster than we want to go.
At slower speeds, we could also tell the machine was geared high. For cruising around the ranch and on any tight trails, we had to drive in low gear or we could feel and smell the belt heating up. In low, you could take advantage of all 60 pound-feet of torque, and the front and rear hitches were getting all of our work done. However in low, the throttle was choppy, and it is a little difficult to take off smoothly. We wish it had an electronic work mode to take that bark out of the low-end power.
SOFT SUSPENSION
2020 CFMOTO UFORCE 1000
The UForce is set up very plush. After the first five miles of driving it, we cranked the shock spring preload to one setting below full stiff. That change helped reduce body roll a ton and helped a little bit with turning. Additionally, ground clearance was raised to the published 11.4 inches.
Although CFMoto doesn't list wheel-travel numbers, we estimate it having about 10 inches on each corner. To get that number, we put the front end up on a jack and measured wheel movement compared to shock-shaft movement. On this machine, the tire moved 2 inches for each of the 5 inches of shock movement.
Suspension action is predictable and on par when compared to a Can-Am Defender or Polaris Ranger. So, for its intended use, the suspension works fine, especially if you keep things at about half the speed of what the motor can do.
2020 CFMOTO UFORCE 1000
CONCLUSIONS
First of all, we like the price. You get everything you need for $12,000. Camo is $450 more. Again, we like the cockpit features, such as the removable cargo box and passenger seatback.
We don't feel it needs a hydraulic dump bed, but it could use a stronger tailgate, as we don't feel confident standing on it to load anything. It doesn't need better tires, but the suspension could start out stiffer. In the drivetrain, we wish it had an unlocking rear differential so it would not mark up our driveway or rip up grass.
Also, we think the clutch could be tuned much better for a smoother ride at slow speeds, and it doesn't need to go as fast as it does in high. With the right clutching, CFMoto could use their 800cc V-twin in this larger chassis and still have a good machine.
We can deal with the minor issues as long as it comes to saving thousands of dollars, and the UForce does that for us. Find a dealer near you at www.cfmotousa.com and go check one out for yourself.
SPECS:
2020 CFMOTO UFORCE 1000
MSRP $11,999
Engine type Liquid-cooled V-twin 4-stroke
Transmission Fully Auto CVTech CVT
Fuel system Bosch EFI
Starting Electric
Final drive Shaft
Suspension/wheel travel:
Front Double A-arm w/10"
Rear Double A-arm w/10"
Tires:
Front 27×9-14
Rear 27×11-14
Brakes:
Front Hydraulic disc
Rear Hydraulic disc
Wheelbase 80.7"
Length/width/height 117"x63.5"x72.8"
Turning radius 26.9'
Ground clearance 11.4"
Curb weight 1520 lb.
Fuel capacity 10.6 gal.
Hitch receiver 2"
Cargo capacity 1000 lb.
Towing capacity 2000 lb.
Winch capacity 3500 lb.
Contact www.cfmotousa.com