KAWASAKI KFX450 — READER BUILD:
We're always interested in seeing what Dirt Wheels readers do to their quads and UTVs. Fortunately, many of them send us pictures and info on their builds. You should do that too. It's as easy as emailing it to the Dirt Wheels crew at [email protected]ue.com
Tony Cooper in Davenport, Iowa emailed us recently and here's what he had to say:
Hi Dirt Wheels — I am the proud owner of a 2011 Kawasaki KFX 450R ATV and wanted to share some before and after pics and hopefully have a chance of seeing it in an upcoming issue of Dirt Wheels Magazine.  I purchased the quad in July of 2016 in very good almost completely stock condition with the exception of Tusk nerf bars. 
BEFORE
Since then I have completely rebuilt every inch of the quad by myself over the last year with many helpful tips and vendor spots found in Dirt Wheels Magazine. The list of mods is a lengthy one but here goes……. I first added Maxxis Razr tires front and back mounted on Hiper carbon fiber dual beadlocks in back and single bead locks up front.  From there I added a full Dasa Racing exhaust system along with a Fuel Customs intake system and a Procom ECU. 
The next order of business was the suspension, I added Lone Star Racing DC Pro long travel +2 a-arms up front with a Lone Star Racing Axcalibar axle out back fitted with Lone Star Racing sprocket and brake hubs.  For shocks I went with Fox Float 3 Evols in front and a Fox 2.0 Podium RC2 in the back.  A Houser racing +1 steering stem was added for better feel while riding along with a set of their Pro Bounce nerf bars.
From there my attention turned to the motor.  I installed a JE Pro Series 12.8:1 piston along with a balanced, trued, and welded Hot Rods crank and Carrillo rod, Hot Cams Stage 2 intake and exhaust cams, and a Rekluse Core EXP 3.0 clutch system mounted in a Hinson Racing clutch basket.   While the motor was out of the frame, I completely stripped the frame and applied a fresh coat of black to it to set it apart.  The final items to be added were a Quadtech hump seat, Galfer brakes lines with EBC brake pads, CV4 coolant hoses flowing Engine Ice Coolant, an Accel ignition coil along with a custom made Taylor plug wire, a Rath Racing front bumper, full PRM skid plates, and lastly a custom ordered All Motors Graphics decal set.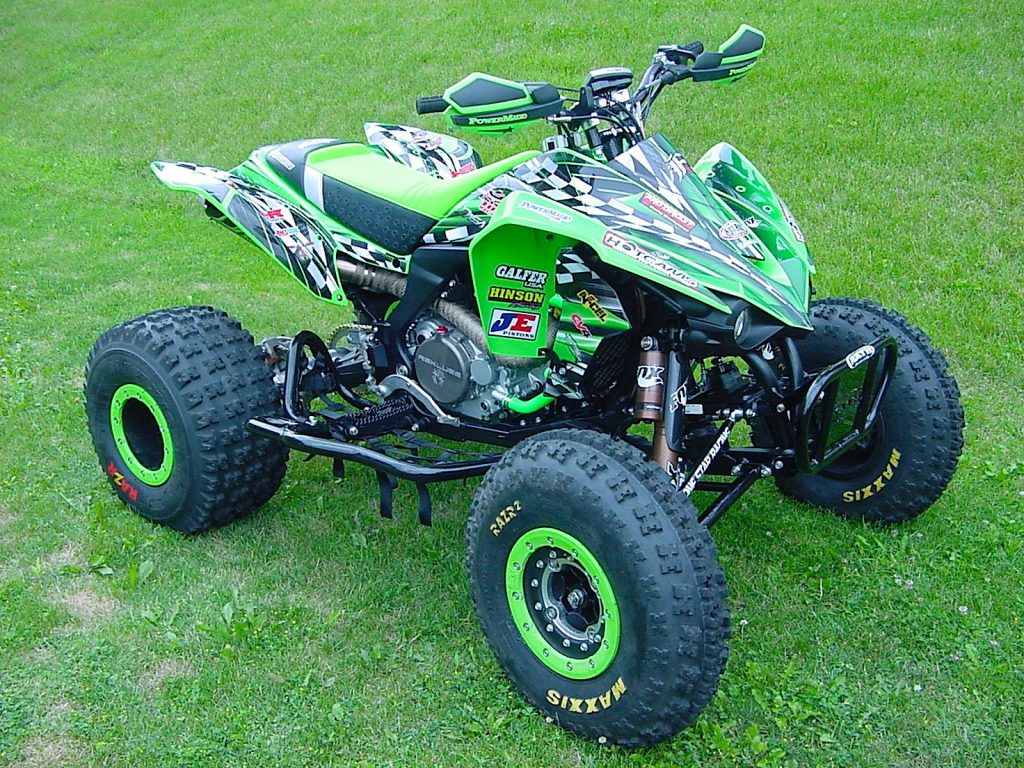 AFTER
It has been a project I've wanted to do since I was a young boy.  Now, at the age of 40, I finally have the quad of my dreams and it rides like it as well!!!
Thank you for your time and consideration! — Tony Cooper
Send us photos and info on your quad or UTV, making sure to include your name, city & state. Email to [email protected]