PROJECT MACHINE: BLINGSTAR CAN-AM MAVERICK TURBO
Power with pleasure By the staff of Dirt Wheels
We've spent a lot of time in the Can-Am Maverick 1000 since its release, and you possibly have read in past issues our opinions of the car. This time we wanted to tune up some of the Maverick's soft spots and make the car great at destination-type off-road trips. The Can-Am Maverick X ds Turbo 1000R has a lot of what you need: good ride, lots of power, and a pleasantly ergonomic driver and passenger compartment. A lot of our destination trips are at high altitude, and that is where the turbo motors really shine. The power does not significantly drop off like a naturally aspirated motor. One of our favorite fishing spots is at over 11,000 feet of altitude, and 900s and 1000s feel like 500cc at that elevation.
Our first order of business was to gain some space to carry supplies for an adventure trip. The Can-Am's carrying capacity is virtually nonexistent. The bed is open most of the way around. It does have points to tie things down, but you don't want to throw expensive gear back there and hope for the best. We mounted Blingstar's bed rack system. It seals the bed up nicely, looks great and offers lots of tie-down points. Best of all, it adds the security needed to hold the load in on a rough trail. On one of our trips without the rack we latched down a bag that slid up against the turbo intercooler cover. It melted the bag, and it was an Easter egg hunt finding the missing goodies. Blingstar now offers an added intercooler shield that will keep your stuff away from the heat and protect your gear.
Second on the list was a roof. Open roofs sound like a great idea, until you spend the day cooking in the Mojave Desert. We opted for the Blingstar roof rack. It killed three birds with one stone by giving us great sun protection, added cargo capacity and holds a 40-inch LED light bar nicely. Overall, it's well made and easy to install or remove.
Safety Up
We really like wearing a full harness in UTVs rather than the stock shoulder belts. We drive them hard on a regular basis, and it feels a lot better being sucked back in the seat by a four-point harness. It's actually easier to drive hard, as you're not having to use your feet to stabilize yourself in the cockpit, especially when you're two-foot driving. The problem is, Can-Am has no place to anchor the harnesses to. Blingstar made a bolt-on crossbar that's fastened to each side of the roll cage behind the seats. There is a little loop over the turbo inlet, allowing a nice mounting situation for the safety harnesses.
RIDE
When spending long days in the saddle, a comfortable ride is important. We ran the GBC Kanati Mongrel 30x10R14 all the way around. GBC rates the Mongrels as "great" for rocky terrain, general trail riding and on pavement, and "good" for softer terrain. The DOT-approved Mongrels have a flexible sidewall, and the sidewall flex really helps with added traction in the corners. It also offers a more comfortable ride over the chatter bumps, and the better sidewalls suck up quite a bit of the small stuff found on a lot of trails. We ran ITP beadlock wheels on the Turbo. Beadlocks allow you to run at a good clip on a flat tire. It's always best to stop and repair a puncture, but if you've destroyed the tire, a beadlock will ensure you get back to camp. We've run over 50 miles at a fast clip on a flat. As most racers do, we run the same size tire all the way around. The Mongrels handle the best this way, and it's also nice when carrying a spare, as it matches any corner.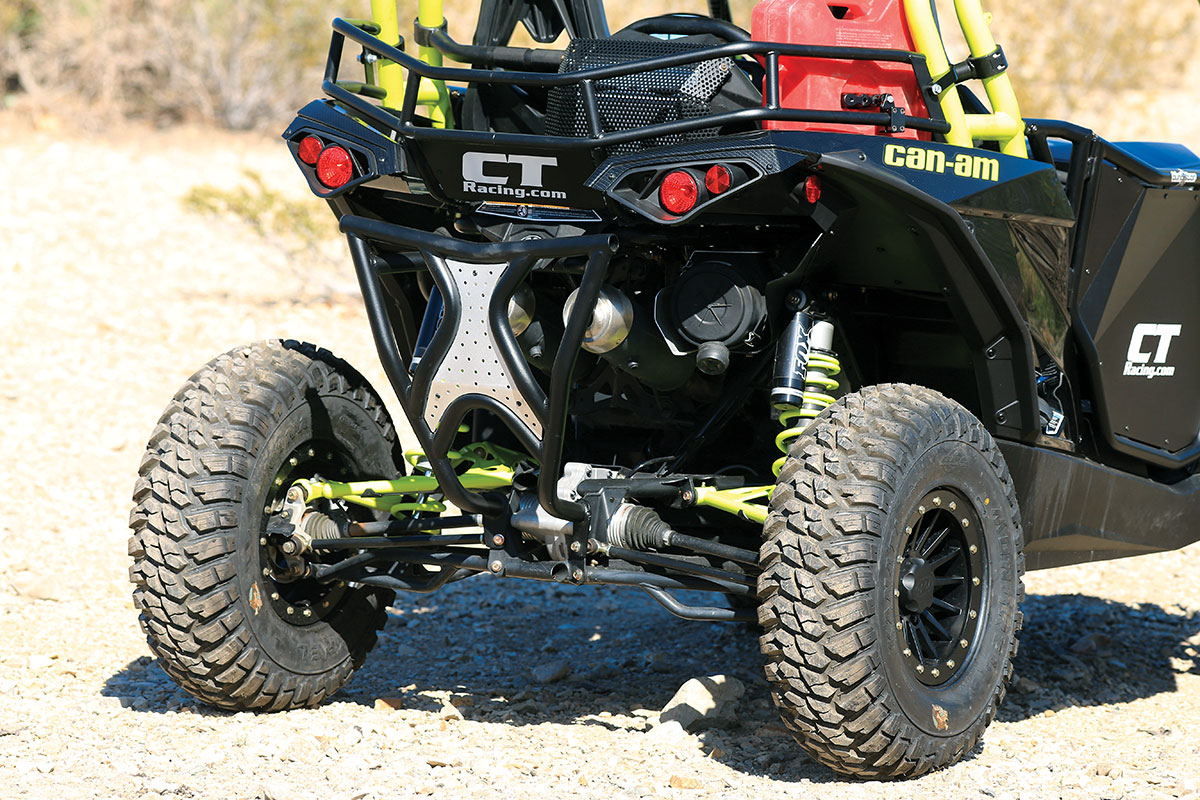 BUMPER
We clamped on Blingstar's Moto 1 bumper. It matches the rest of the hardware. It is a nice size, just enough to ram your buddy with confidence. We got ours with Blingstar's LED light. The key to running a bumper LED is to aim it down. You have good light when you mash the throttle on and the rear squats. It's also great to be able to see down when you pull up to a steep drop-off. We matched the front with Blingstar's rear bumper so we were ready for paybacks. You really want to get a bumper on an off-road car. A little mistake by yourself or a crony can do a lot of damage. The Blingstar looks good and matched the other add-ons.
BITS AND PIECES
We picked some import mirrors from CT Racing, and  they were great until our test driver ran out of talent and backed it into a rock outcropping. Luckily, they are reversible, so we could grab the passenger side and move it over to the driver's side. It's really important to us to have mirrors on a car, so make sure you acquire some. For off-road trail driving we soften up the compression on the Fox shocks to gain a plush ride. Don't hesitate to get out of your car and do a little suspension tuning to get the ride you're after. Don't just suffer with how it comes.
THE DRIVE
With all the changes, the Blingstar Maverick is a pleasure to drive. One of Can-Am's strengths is that they build a very comfortable passenger compartment with supportive seats and natural, effortless pedal locations. The S Star 3-inch, padded four-point harness and the Blingstar roof and doors simply added to the comfort. Where your knee rests against the door, it is nice and smooth so there is never any interference. No suspension is going to get you through rock chop smoothly, but the Mongrel tires did their best, and the harnesses helped there as well. Much of the testing was in the warmth of the desert, so the sunshade of the roof was also nice. Our Maverick was fine on fuel during our driving, but another brand begged for the fuel we carried in the solidly mounted CARB- and EPA-certified Rotopax fuel can be mounted in the bed to the Blingstar bed rack system.
We had more pleasant surprises at night. First, the stock headlights allow you to see terrain undulations pretty well, but the light has a yellow cast to it. We flicked on the two light bars and it was like the eclipse was over. The combination of the light bars and stock lights is pretty incredible. According to the speedo, we were a bit slower across sections we ran in the day, but not by much. It was actually easier to pick smooth lines at night! There wasn't a single part added to the car that we felt was superfluous. The whole package makes for awesome days exploring off-road—really fast exploring.
PARTS AND SUPPLIERS LIST
BLINGSTAR: (951) 279-3861, www.blingstar.com
Maverick bed rack system: $474.36
Maverick roof rack: $869.95
Maverick Moto 1 rear bumper: $200.82
Maverick suicide doors: $563.41
Maverick harness mount bar: $159.47
Maverick rear bumper: $258.34
40-inch LED light bar: $199.95

GBC: www.gbcmotorsports.com
30x10R14 Mongrel tires: $210
ITP WHEELS: www.itptires.com
Black Ops SD dual-beadlock 14×7 wheels: $215

CT RACING: (562) 945-2453, www.ctracing.net
Side mirrors: $75
S Star UTV seat belt 3×3-inch 4-point harness w/ 2 front phone bag: $101.95
ROTOPAX: www.rotopax.com
3-gallon gas can: $99.95
Pack mount: $32.95