MASSIMO T-BOSS 550 TEST
Fully loaded UTV for $8,199
By the staff of Dirt Wheels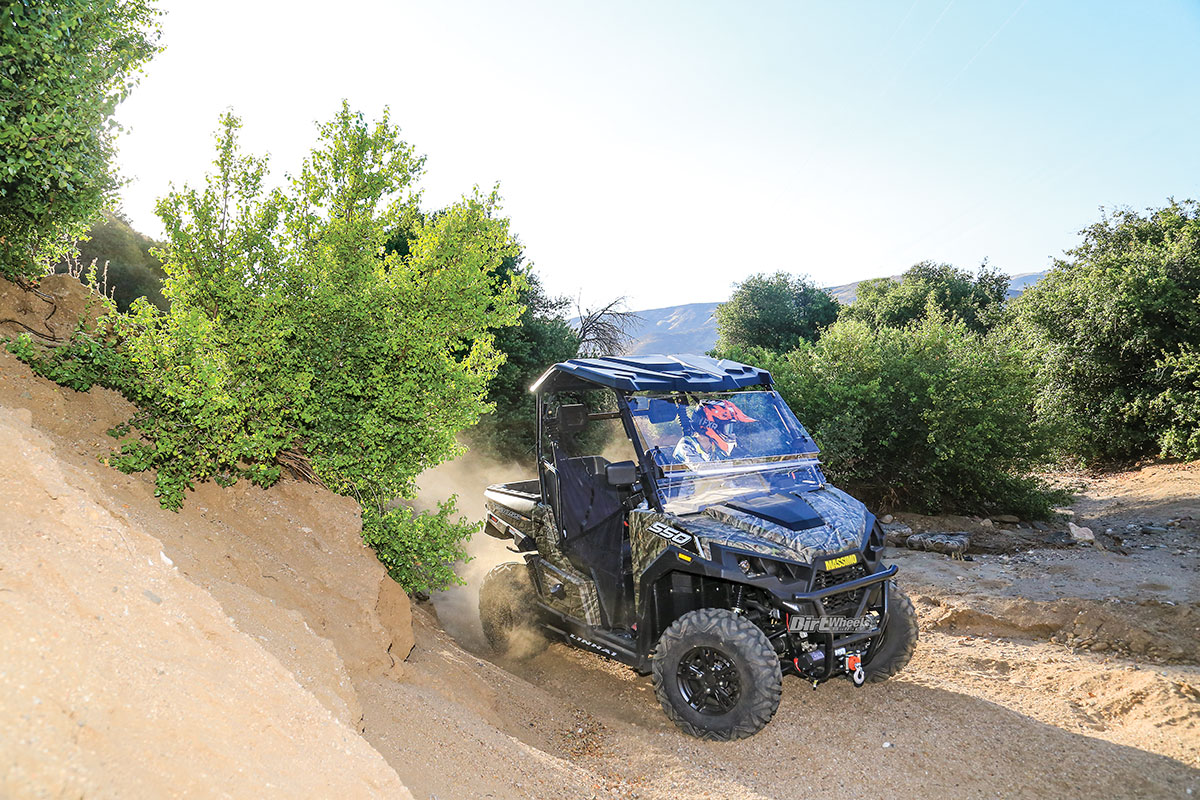 MASSIMO T-BOSS 550 TEST
In the October issue of Dirt Wheels we tested the Massimo Warrior 800. We pointed out that the machine was quite unique as far as machinery sourced from China goes, since it had a very different look. Most offerings from the region have a strong Yamaha Rhino resemblance. While the Warrior broke that mold, the Massimo T-Boss 550 sibling is vastly conventional in look and design.
It breaks no new ground and (for good reason) closely imitates the original Yamaha Rhino plan. It has a single-cylinder engine, CVT transmission, selectable 4WD with diff-lock and a compact dump bed. Where it shines is in superior levels of standard equipment while delivering competent performance at a stunning price. The MSRP (without transportation and setup) is $8199. You'd be lucky to find a base model at that price, but the Massimo has a roof, mirrors, a winch, cast-aluminum wheels, a tow hitch, dump bed, turn signals, a fold-down center console and a clever split windshield.
UNDER THE SKIN
Massimo did its own engineering. We compared the specs to a 2007 Yamaha 450 Rhino, and the T-Boss is a couple of inches shorter in wheelbase at 72 inches, and it is a 1/2-inch narrower in track at an even 54 inches. Numbers like that are no handicap for a utility machine or for a casual recreation ride. We found that we were not happy on trails with aggressive cambers and wide ruts to deal with.
Trails that are plenty wide for a 60-inch car are like a freeway for the T-Boss. It is fully at home on narrow routes, though it will not fit on 50-inch trails. At 999 pounds, it does meet weight-restricted guidelines.
Narrow cars rarely have big travel numbers, and that is the case here. Both the front and rear suspension are conventional independent A-arm designs. All four shocks are robust in construction but are only preload-adjustable. Suspension travel is a modest 7 inches. It has four hydraulic disc brakes for the four wheels and a cable-operated parking brake.
Tires are 25-inch Duros mounted on 12-inch cast-aluminum wheels. The front differential locks, and you may select two-wheel drive if you wish. The steering is manual, but with such a light machine and relatively small tires, it works well. The wheel tilts, but there is not enough seat adjustment to worry about the wheel telescoping.
When the seat is all the way back, our taller drivers wished for a little more legroom, though we had folks 6-foot-1 that drove the machine.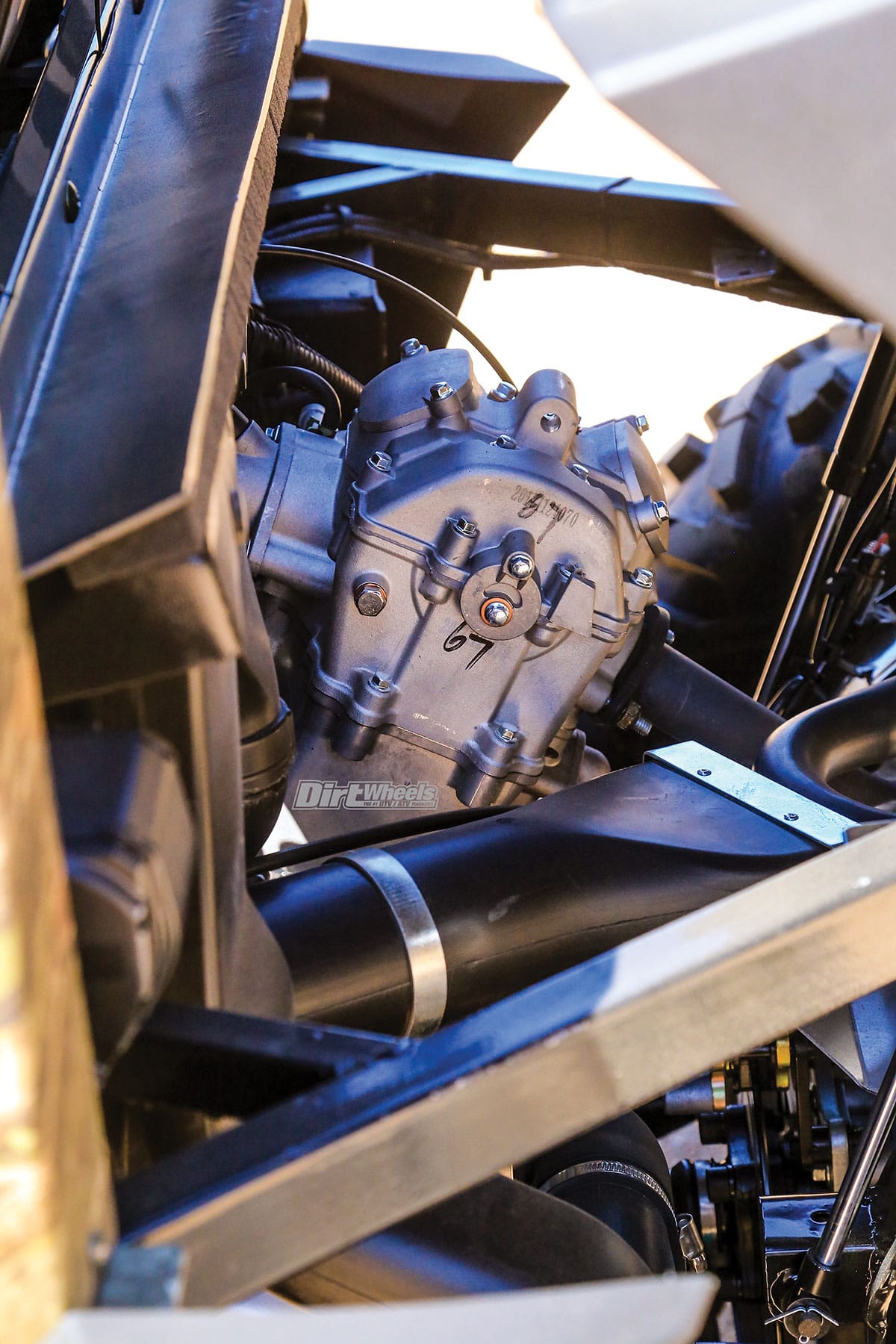 MASSIMO T-BOSS 550 TEST
POWER DEPARTMENT
We never had the 493cc engine put a foot wrong during our test. It always started and ran cleanly with a controllable response to throttle inputs. There is no park in the transmission, so you must use the dash-mounted e-brake. Forget to release the brake and you aren't going anywhere. Massimo claims 33 horsepower for the liquid-cooled single.
That isn't a huge number, but reasonable for an engine this size that is tuned for torque rather than flashy high-rpm performance. Shifting is easy and reliable, but we did find the gearing in both low and high range to be on the tall side. Lower gearing would aid acceleration and response, and we don't believe it would reduce the top speed at all.
We found that the CVT reacts very smoothly in forward or reverse. Engine braking drops away with the rpm. It, obviously, happens earlier in high range. The engine braking is more consistent in low range, but it eventually drops out if you coast off-throttle long enough.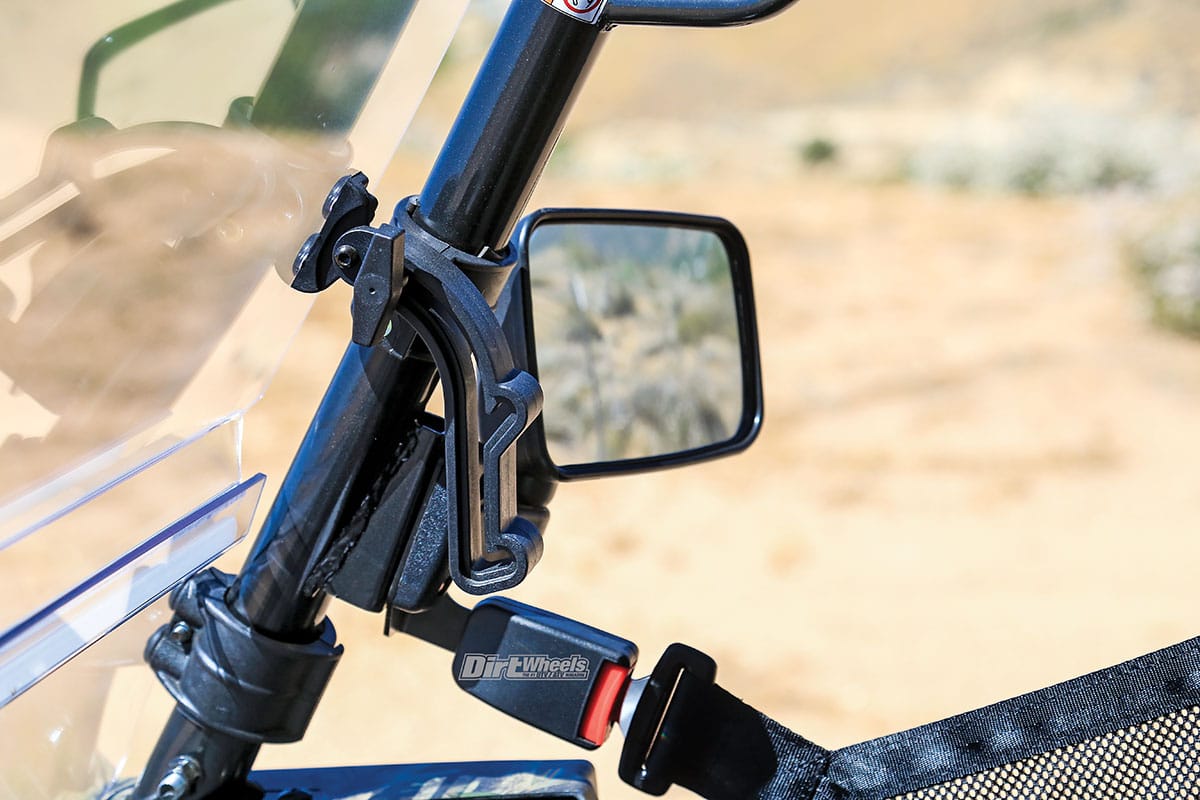 THE INSIDE
Compared to the Warrior 800, the T-Boss 550 interior is a little more deluxe in appointments. It has a glove box in the dash as well as a good-sized cubby above it. The seat is a bench, and typically for these types of machines the headrests are mounted to the roll cage instead of the back of the seat.
The middle part of the back of the seat is held to the cage with magnets. Pull it down onto the seat and it acts as an armrest and a two-place cup holder. Shifting is accomplished with a dash-mounted lever. The car shifts easily and smoothly. Large but unobtrusive door nets seal up the sides of the cab. They are easy to fasten and snug into place. It was hot while we tested the machine, so we were happy to have the in-cab airflow. We like the double rear-view mirrors.
MASSIMO T-BOSS 550 TEST
Perhaps the most unique cab feature is the split windshield. A typical quarter windshield runs along the dash. Above that is another windshield panel that closes off the front cage opening. It is mounted to beefy curved brackets. Loosen two T-handle screws and the windshield can slide open. The brackets have two locations that act as stops for the T-bolts. Tighten the bolts at your chosen location. Having the windshield open allows for great airflow but still protects the cab's occupants.
The windshield brackets are attached to the cage uprights. They are plastic with rubber segments underneath. One side slipped, and we nearly lost the rubber parts. It was easy to line everything back up and get the windshield straightened out again.
OUT ON THE RANGE
With the T-Boss 550, Massimo built a completely opposite machine from the Warrior 800 we tested in October. The Warrior was steel, heavy, wide and stable. The T-Boss 550 is compact, light and nimble. It is easy to drive for new and experienced pilots.
We can see that a machine at this price would truly appeal to those that need a basic machine that will handle work around the place. It should equally be adept at transporting two people to a favorite hunting or fishing location. It could work for camping as well. With the roof and windshield, it is relatively secure in weather. In the heat, we appreciated the roof and the vented windshield opening.
The steering is fine, and it doesn't demand a lot of muscle despite lacking EPS. We would like a little more articulation in the suspension. The modest travel numbers work fine for casual use, but pass on a lot of trail if you get spunky with the throttle in the rough. We found the machine feels solid with good build quality. Though the parts are Chinese, Massimo does final assembly, and that seems to be working. There is a one-year warranty, but many common wear-and-failure items that are susceptible to abuse are excluded.
The seat belts are easy to use. For the speeds this machine is expected to see, the lack of doors is understandable, but we do like the feeling of security from the full-coverage door nets. It is easy and quick to adjust the straps until the nets are tight. That way you feel secure and they don't flap in the wind. We loved the mirrors. Every UTV should come equipped with them.
MASSIMO T-BOSS 550 TEST
CONCLUSION
For this price, you would expect a fairly basic machine, but what you get with the T-Boss 550 is a capable machine that feels like a quality unit. You also get a surprising amount of creature comfort that is true value-added. The cockpit is easy to enter, comfortable and nicely outfitted.
The Duro tires are a cut above some of the odd brands we see on some budget machinery. It carries 400 pounds of cargo and tows 1200, but save the towing for flat ground or mild climbs. If you want the security of a new machine without breaking the bank, the Massimo T-Boss 550 is a worthy contender for your cash and interest.
MASSIMO T-BOSS 550
Engine 493cc, 4-stroke SOHC single
Fuel system Electronic fuel injection
Fuel capacity 6.9 gallons
Starting system Electric
Final drive Shaft
Suspension/wheel travel:
Front Dual A-arm/7.0"
Rear Dual A-arm IRS; 7.0"
Tires:
Front 25×8-12
Rear 25×10-12
Brakes:
Front Hydraulic disc
Rear Hydraulic disc
Wheelbase 72"
Length/width/height 103.5"/54"/76"
Ground clearance 9.3"
Cargo bed capacity 400 lb.
Towing capacity 1200 lb.
Curb weight 999 lb.
Color Camo, blue, red and white
MSRP $8199
MORE INFORMATION YOU'LL LIKE BELOW:
https://dirtwheelsmag.com/buyers-guide-2018-utvs/
https://dirtwheelsmag.com/cub-cadet-challenger-7499/
https://dirtwheelsmag.com/utv-test-2018-hisun-strike-900/
https://dirtwheelsmag.com/new-polaris-ranger-4999/
https://dirtwheelsmag.com/save-2000-on-new-stampedes/
Get free $25 gift card> hi-torque.com/product/subscribe-to-dirt-wheels/
.
.
.